(Updated July 4, 2015): I've written a new article, "A PanAm Touch for Afrofest 2015 in Toronto". By the way, my older links to the previous years of Afrofest might not work.
(Updated June 11, 2014): Here's the link to Afrofest 2014, running July 5-6 in Woodbine Park.
(Updated June 1, 2013): The 2013 Afrofest in Toronto returns to Woodbine Park for July 6 and 7, 2013 for more free African music. As of June 1st, they still seek volunteers to work at this event. (Updated July 6, 2013): "Five Free Toronto Events for July 6-7, 2013" includes Afrofest as one of the six free festivals, so check that for the current information. This 2012 article has more of the background. (I added the "Taste of Lawrence" after the article had  been published, and I refused to change the title from "Five" to "Six").
Toronto Afrofest 2012 moves away from its former venue at Queen's Park. The new location is Woodbine Park, at Lake Shore Blvd. East at Coxwell Ave.
The Basics for Afrofest 2012 in Toronto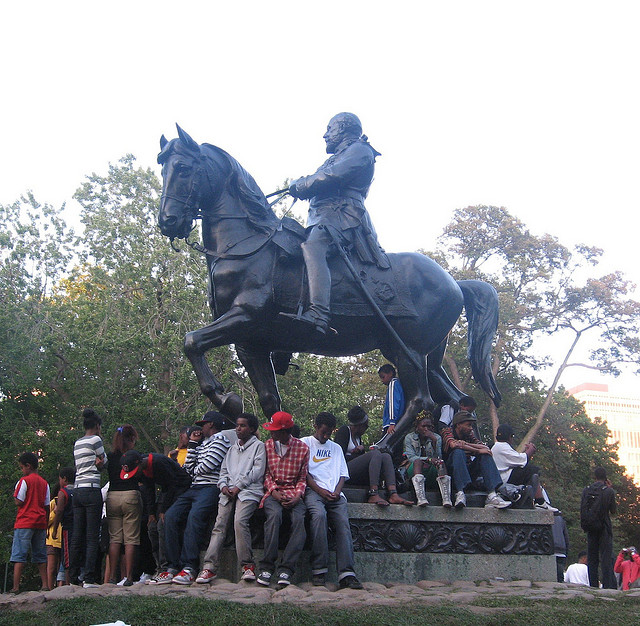 Celebrate Afrofest 2012 on the July 7-8 weekend from noon to 10pm, with free admission to enjoy nearly two dozen bands.
The Afrofest Toronto festivities include children's and youth activities, the sale of African crafts, and about 30 purveyors of African cuisine.
Those new to these cuisines might find excuses to patronize African restaurants in Toronto in the coming months.
Music and dance feature prominently. For example, the main stage starts Saturday with the Joy Lapps Trio at 1pm, and closes with the African Guitar Summit starting at 8:50. On Sunday, the Samba Squad leads off at one; the final performance features Sam Fan Thomas at 8:50pm.
Afrofest 2012's second stage, the Baobab, includes dance and fashion shows.
How to Find Afrofest 2012 at Woodbine Park in Toronto
It's easy to find Woodbine Park for Afrofest 2012. Take the 22 Coxwell bus south from the Danforth subway line, and exit either at Queen Street or on Eastern Avenue. I'm not sure whether the Queen streetcar service will have recovered from road work by the weekend. Parking your car would be a real pain in the driver's rear end, but the Martin Goodman Trail provides bicycle access right to Coxwell at Lake Shore. Be sure to press the traffic light button to get a "walk" signal across Lake Shore Blvd!
Woodbine Park is bounded by Eastern Avenue on the north (just south of Queen Street); Northern Dancer on the east; Lake Shore Blvd. East on the south; and Coxwell Ave. on the west.
Once you're anywhere near Woodbine Park, Afrofest will be impossible to miss.
Special Notes about Afrofest 2012 at Woodbine Park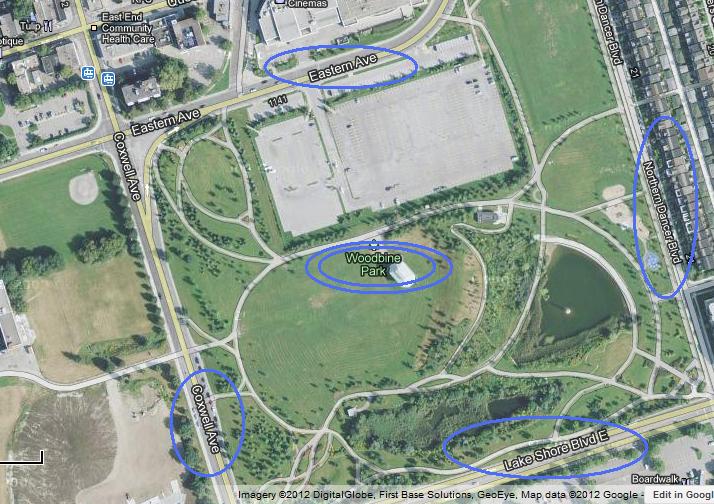 The Afrofest 2012 organizers ask that you bring your own (plastic) water bottles, since the city does not want them to distribute such containers.
Keep track of your small children; there are a couple of open ponds in Woodbine Park. It's also a pretty large venue!
More Details about Afrofest 2012 in Toronto
Officials decided that Afrofest had outgrown the space and facilities available at Queen's Park. The downtown core's loss should be the gain of Toronto's Beach community with Afrofest 2012 finding a home at Woodbine Park.
Find more details at the official Toronto Music Africa site. (updated 2012-07-10).
Looking for More Annual Toronto Events?
Click the "Toronto Events" category at the bottom of the left-hand column for recent articles in this category. Thanks!
Disclaimer: DeHaan Services has no relationship to the organizer(s); I am not reimbursed for writing this article.