The upcoming 2014 Groundhog Day in Canada will be a bit more crowded, with Dundas Donna competing against Wiarton Willie and Groundhog Gary to predict when Ontario will change from winter to spring.
(Updated Jan. 27, 2016): My latest is "The North American 2016 Groundhog Day". (Added Jan. 31, 2015): "Prepare for Groundhog Day 2015 in Canada and in the USA" is ready to report on the predictions.
But who is this new weather prognosticator? What do we really know about the mysterious Dundas Donna?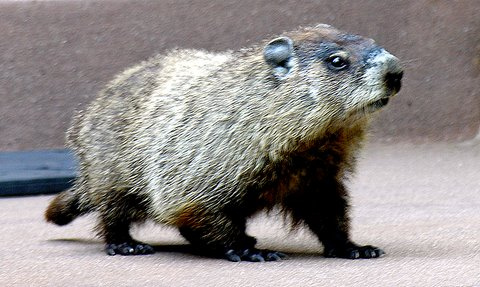 Facts and Speculations about Groundhog Dundas Donna
Dundas Donna will make her Groundhog Day predictions from Yonge-Dundas Square in Toronto, Ontario. That's all the news identically reported by CITY-TV and 680News in Toronto, a "power couple" in Toronto's TV, radio and media business. (Added Feb. 2, 2014): The time of the forecast was to be 1:30pm. This allows spectators to take a TTC subway to Yonge-Dundas Square for the ceremony.
My assumption is that Dundas Donna is indeed a groundhog. She hasn't published a selfie or an autobiography. Feel free to follow @dundasdonna on Twitter, if you trust what you read posted online.
At the time of writing, I could not find independent confirmation of an event from the official Yonge-Dundas Square web site, nor from the official City of Toronto site.
CP24, a cable news channel which recently became a rival of CITY-TV, has no entry for the groundhog "Dundas Donna" at this time. My further speculation is that whoever CITY-TV or 680 News reporter was assigned to drive to Wiarton for Sunday's Groundhog Day prediction suggested it'd be cheaper to hire a local groundhog. But that's all pure speculation on my part.
When is Groundhog Day in Canada?
Groundhog Day is an annual winter event, on the second day of February in Canada and in the United States.
Other Weather Predicting Groundhogs in Canada
Wiarton Willie, the albino groundhog, lives in the southern section of the Bruce Peninsula northwest of Owen Sound and northeast of Sauble Beach. His forecasts of early or late spring go back to about 1958 or so. Ontario also has Groundhog Gary in Kleinburg.
Shubenacadie Sam works in Nova Scotia, and makes the first prediction on Feb. 2nd. Balzac Billy, known as "the Prairie Prognosticator", is actually a Richardson's Ground Squirrel. He does a fine job for Calgary, Alberta.
Québec hosts Fred la Marmotte. Manitoba has a trio: Winnipeg Willow, Manitoba Merv (at the Oak Hammock Marsh) and Brandon Bob.
Did I miss anyone? Please e-mail me so I can add your favourite to this list.
Several All-American Groundhogs
Probably the most famous weather forecasting groundhog is Punxsutawney Phil Sowerby of Pennsylvania. Other proud American woodchucks include Buckeye Chuck in Ohio; General Beauregard Lee in Georgia; and Staten Island Chuck of New York.
A Further Guide to Groundhog Day
Last year I wrote "The 2013 Groundhog Day in Canada and the USA", which provided the links to sites for many of these groundhogs. Read that article to learn how to find your local woodchuck for Groundhog Day 2014.
What to do on Groundhog Day? The obvious thing is to visit your local weather predictor. In Toronto, I had suggested looking for woodchucks at the Metro Toronto Zoo on Groundhog Day. Now, I can add "Or go downtown to Yonge-Dundas Square". However, since it's a Sunday morning and they haven't announced the time of the big reveal, it's hard to recommend taking the subway if the trains don't start running before the show starts.
(Added Feb. 2, 2014 and updated Feb. 3, 2014): The 2014 Groundhog Day Roundup of Predictions
The groundhogs have spoken their 2014 Groundhog Day Prediction, but not with a united voice.
Saw a Shadow, so Retreated for Six Weeks of Winter
These marmots retreated from their scary shadow, thus predicting six more weeks of winter:
Note that Dundas Donna's "March 19" is the earliest possible date for the vernal equinox, the start of spring based on solar astronomy. In 2014, the spring equinox officially takes place on "March 20 at 12:57pm" according to Almanac.com. The usual groundhog "start of spring" refers to a seasonal warming trend.
Saw

No

Shadow, so Called for an Early Spring
Cloudy skies allowed these woodchucks to forecast an early spring:
Not Yet Reported
These groundhogs need better media coverage of their weather predictions for 2014:
Brandon Bob of Brandon, Manitoba;
Groundhog Gary in Kleinburg, Ontario.
(Added Feb. 2 2014): What is a Coati?
Dundas Donna is a coati; by appearances, she is a "ring-tailed coatimundi". They have an extensive range in South America. A relative of the raccoon, this omnivorous mammal forms social groups of four to two dozen females and young males. Adult males are solitary except during mating season. Hopefully Dundas Donna will be housed with some female friends while awaiting her next big workday.
By the way, as I write this at 3:55pm, I see bright sunshine.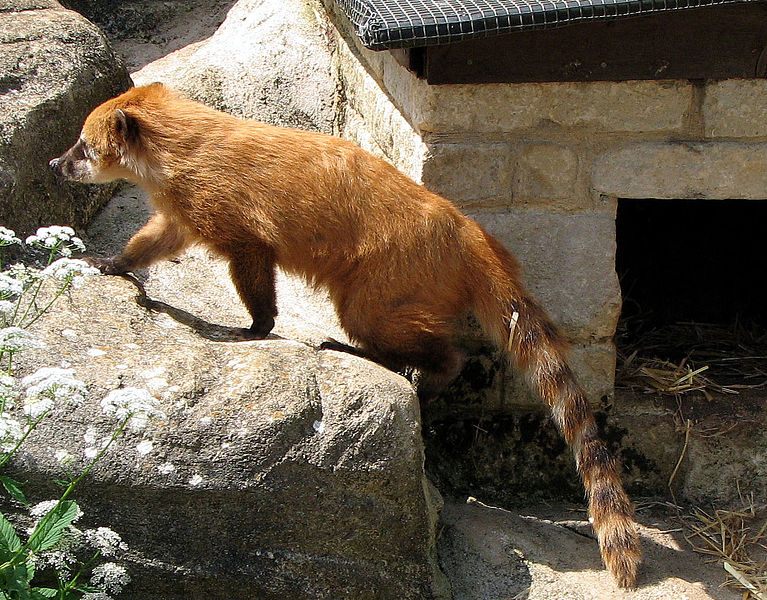 .
(Added Feb. 2 2014): Enjoy Groundhog Day Carols
Go for the full kitsch. Amazon offers a Kindle book called "Carols for Groundhog's Day" through its online Canadian and American sites.  Learn the lyrics to over a dozen Groundhog Day carols; the tunes are familiar Christmas carols. As a bonus, this volume offers recipes and decorating tips. "Can you believe the American version is selling at a discount price?", he asked with a smile.
Looking for More Annual Events or a Holiday in Toronto Canada?
You can find more annual events for your vacation in Toronto Ontario; or for local residents wanting things to do in Toronto this weekend.
Ideas for a Toronto Vacation or Staycation
This blog tracks the annual Toronto events that I find most interesting, and provides ideas for fascinating, free or frugal things to do in Toronto. I especially like to cover special events in Toronto Canada, especially for Canadian holidays.
Disclaimer: DeHaan Services has no relationship to the organizer(s); I am not reimbursed for writing this article. However, DeHaan Services does write web site or advertising copy for clients. Our skills are demonstrated in online articles in Decoded Science, Decoded Pregnancy and my Fitness and Weight Control blog. That's why DeHaan Services highlights those online articles on this site.
Click the "Toronto Events" category at the bottom of the right-hand column for recent articles in this category. Thanks!
Thanks for reading about the upcoming, somewhat more crowded 2014 Groundhog Day in Canada.