Where can you find Victoria Day Fireworks in Toronto this year?  One venue offers a free fireworks display as an annual Toronto event; and there's another where you can pay to watch a day earlier.
Either way, celebrating Victoria Day is an annual spring event in Toronto that brings all of us together to "ooh and aah" at the bursts of fiery colour.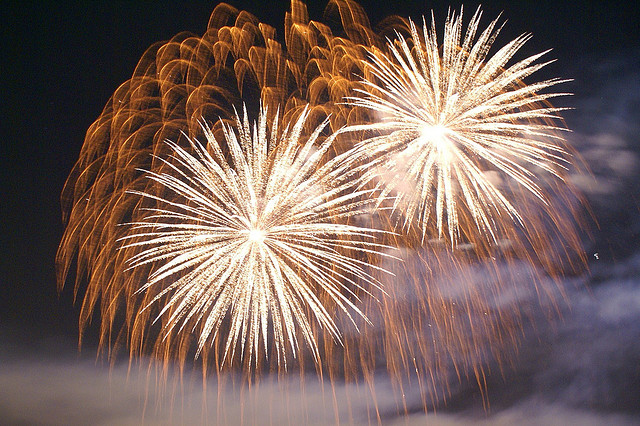 Victoria Day Fireworks at Ashbridges Bay: an Annual Toronto Event
Ashbridges Bay, in the eastern Beaches area, hosts an annual fireworks display every Victoria Day. This is on the true statutory holiday, Monday May 18, 2015.
Keep these five key points in mind to fully enjoy this event:
Arrive early. The fireworks should start at 9:45pm. Plan to be on site by 9pm at the latest. Here's why:
The streets and sidewalks will be packed. The nearest streets are usually closed; and every parking spot will be full long before you arrive.
The TTC will do a great job, but the 22 Coxwell bus won't push aside the cars in its way. Nor will the 501 Queen streetcars.
Lots of families will walk with their young children.
Bring a jacket; wear comfy shoes. If you spend a few daylight hours at the beach, protect yourself from sunburn.
Ashbridges Bay is south of Lake Shore Blvd East, at the foot of Coxwell Ave. It's a short walk south from Queen St. and the streetcar, and even shorter from the southern end of the bus route.
Ride your bike to find Ashbridges Bay along the Martin Goodman Trail. If you're coming from downtown, note that the trail has been closed inside Clarke Beach Park (just east from "Cherry Beach") for months. Take Unwin Ave. instead. And remember your lights… it will be dark!
The ever-alert Beaches Living Guide includes this annual Toronto event in their current Beaches Living Guide events listing.
Victoria Day Fireworks at Canada's Wonderland
Canada's Wonderland also presents fireworks on several annual holidays; but they choose Sunday night, May 17, 2015 to honour the British monarch's birthday. Yes, you may celebrate 2015 Victoria Day early!
The fireworks start around 10pm, at Wonder Mountain. If you visit Canada's Wonderland for the day, be aware that some rides may close early for safety reasons. Of course you have to pay to enter the site.
If you need to learn more about Canada's Wonderland, their "Fireworks at Canada's Wonderland" page should be a good starting point.
Looking for More Annual Events or a Holiday in Toronto Canada?
My blog tracks many of the annual Toronto events that I find interesting, free or frugal.
Disclaimer: DeHaan Services has no relationship to the organizer(s); I am not reimbursed for writing this article. However, DeHaan Services does write web site or advertising copy for clients. Our skills are demonstrated in online articles in Decoded Science, Decoded Pregnancy and other online sites. That's why DeHaan Services highlights those online articles on this site.
Click the "Toronto Events" category at the bottom of the sidebar for recent articles in this category. Thanks!
Thanks for reading about the 2015 Victoria Day fireworks in Toronto.