As a baker's dozen groundhogs and other furry critters prepare to predict the weather on Groundhog Day 2015, let's get ourselves ready for the onslaught of prognostication.
(Updated Jan. 27, 2016): My latest is "The North American 2016 Groundhog Day". (Added Jan. 31, 2015): I had provided links to the official web sites of these plucky prognosticators in previous articles; please check "A More Crowded 2014 Groundhog Day in Canada" and "The 2013 Groundhog Day in Canada and the USA" for their own stories.
This article goes to press a few days before Groundhog Day; so expect an update once the predictions have been made and publicized.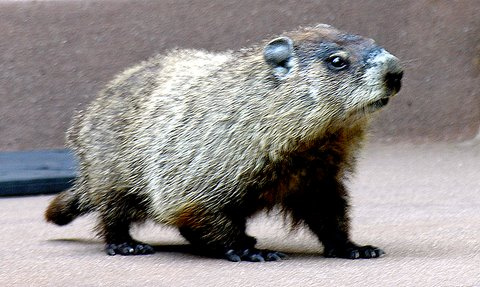 The Folklore of Groundhog Day
What is the folklore of Groundhog Day?
North Americans adapted a European tradition of checking the progress of winter with hedgehogs on Candlemas, February 2nd. (Read more in "Groundhog Day, Hedgehogs and Candlemas" by Francine McKenna-Klein). Since groundhogs (marmots, woodchucks, whistling pigs, or Marmota monax) are plentiful in this hemisphere, they've taken over this duty.
How would I tell the Groundhog Day folktale?
"The groundhog wakes up from hibernation on the morning of February 2, climbing from the burrow to greet the dawn. On a sunny morning, the groundhog's own shadow frightens him! He flees back down for another six weeks of hibernation, so winter lingers on. On a cloudy February the second, however, the groundhog stays outside, active and awake. This predicts an early spring".
The Canadian Contenders for Groundhog Day 2015
Let's list the Canadian groundhogs by province, from east to west, since that is the sequence of sunrise.
Nova Scotia begins Groundhog Day in Canada with Shubenacadie Sam (Nova Scotia).
La Belle Province de Québec boasts of Fred la Marmotte.
Ontario has three mammals:  Wiarton Willie (Wiarton); Groundhog Gary (Kleinburg); Dundas Donna (a South American coatimundi working at the Yonge Dundas Square  in Toronto).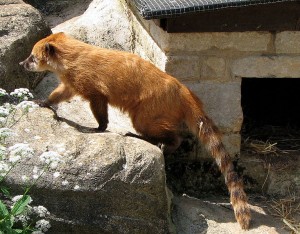 Manitoba also has three, but all are groundhogs: Winnipeg Willow, Manitoba Merv (in the Oak Hammock Marsh) and Brandon Bob.
Alberta has only one, Balzac Billy, who is actually a Richardson's Ground Squirrel living in Calgary.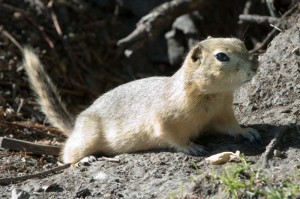 Let's admit that the groundhog, as a marmot, is also a member of the ground squirrel family. So it's not a big stretch for the
The technical name for the Richardson's Ground Squirrel is Urocitellus richardsonii.
Meanwhile, Dundas Donna, a coatimundi ( Nasua nasua) technically is a raccoon. This is an appropriate choice for a Toronto weather mammal, since our North American raccoons thrive in this city. So it seems the only mammal serving Groundhog Day in Toronto is the South American coati, Dundas Donna.

American Groundhogs who Forecast Weather
The most famous American weather predictor is Punxsutawney Phil Sowerby of Pennsylvania. Ohio's Buckeye Chuck, Georgia's General Beauregard Lee, and New York State's Staten Island Chuck are the others whom I've found in previous years. I'm always eager to learn about others; send me an e-mail with a link to your favourite.
Early Spring Predictions from Groundhog Day 2015 (Added Feb. 2, 2015)
The following groundhogs did not see their shadows, perhaps because of blizzard conditions outside their burrows. Therefore, the following have voted for an early spring:
Wiarton Willie reported from the "Visit Wiarton" site. Ontario has a new hope for 2015.
Winnipeg Willow agreed with Wiarton Willow, so Manitoba may also rejoice. The CBC News article on Shubenacadie Sam mentioned her. By the way, CBC says that all the weather forecasting marmots are male; the females wait another week or so before ending their hibernation. I'd always thought of "Willow" as a feminine name; my apologies if requested.
Balzac Billy reassured Alberta that spring is on its way, according to SILive.
Staten Island Chuck promised an early spring for New York State, according to the New York Daily News.
Buckeye Chuck predicted an early spring; also in SILive.
General Beauregard Lee promised Georgia an early spring from the Yellow River Game Ranch; thanks to the Gwinnet Daily Post for their article.
Thanks to Christiane M. for her Facebook post with this story from WDTV which introduced French Creek Freddie as yet another early-rising rodent who failed to see his shadow today. West Virginia must appreciate Freddie's forecast.
Note that some of these links go to permanent pages that are updated from year to year; others are one-time news articles.
Groundhog Day 2015 Predictions for Six More Weeks of Winter (Added Feb. 2, 2015)
These groundhogs did indeed see their shadows, and predict six more weeks of winter:
Shubenacadie Sam reported from Nova Scotia via CBC News.
Later in the day, Fred la marmotte saw his shadow; thanks to Le Journal de Montréal for posting this. Fred lives in Val d'Espoir, in the Gaspé Peninsula of Québec. Their sub-title says, "La marmotte québécoise Fred de Val-d'Espoir, en Gaspésie, a vu son ombre tôt lundi matin. Le printemps sera donc tardif". Google's online translation software says, "Fred Quebec Marmot Val d'Espoir, Gaspé, saw his shadow early Monday morning. Spring will be late".
Punxsutawney Phil was quoted in the above CBC News article.
Potomac Phil, with whom I had

not

been acquainted, agreed with his Pennsylvanian namesake; Washington, DC will be wintry for six more weeks. Again, thanks to the CBC News article.
Chuckles the Eighth of Manchester, Connecticut predicted six more weeks of winter. Thanks to SILive for introducing me to yet another marmot.
Not Yet Reporting their Groundhog Day 2015 Predictions (Added Feb. 2, 2015)
I wonder whether Dundas Donna returned to her native South America. She has been mute leading up to the 2015 Groundhog Day, and there is no mention of an event today at Yonge Dundas Square.
Celebrate Groundhog Day in Song
Amazon's Kindle reader version of "Carols for Groundhog's Day" provides lyrics for a dozen Groundhog Day songs, set to familiar Christmas carols. It's a real value via Amazon's online Canadian and American sites, since it also offers recipes and decorating tips.
Looking for More Annual Events or a Holiday in Toronto Canada?
My blog tracks many of the annual Toronto events that I find interesting, free or frugal. Today's article happens to cover an annual winter North American tradition instead.
Disclaimer: DeHaan Services has no relationship to the organizer(s); I am not reimbursed for writing this article. However, DeHaan Services does write web site or advertising copy for clients. Our skills are demonstrated in online articles in Decoded Science, Decoded Pregnancy and other online sites. That's why DeHaan Services highlights those online articles on this site.
Thanks for reading about Groundhog Day 2015 in Canada and in the USA.