(Updated Nov. 5, 2015): I've just updated "GTA Remembrance Day 2014 Venues" with 2015 dates and links, so please head there instead. And if you're looking for Toronto, please read "Remembrance Day Events in Toronto for 2015".
Remembrance Day always falls on Nov. 11, although some communities choose to mark this solemn occasion on the nearest weekend to make it possible for working families to attend. This article highlights Remembrance Day 2013 in the GTA (Greater Toronto Area). Or did you want 2013 Remembrance Day in Toronto instead?
Remembrance Day 2013 in the GTA
Here are a few of the ceremonies and Remembrance Day parades planned for GTA communities: in Streetsville (Mississauga); in Bronte and Oakville; Brampton; Whitchurch-Stouffville; and Whitby.
2013 Remembrance Day in Mississauga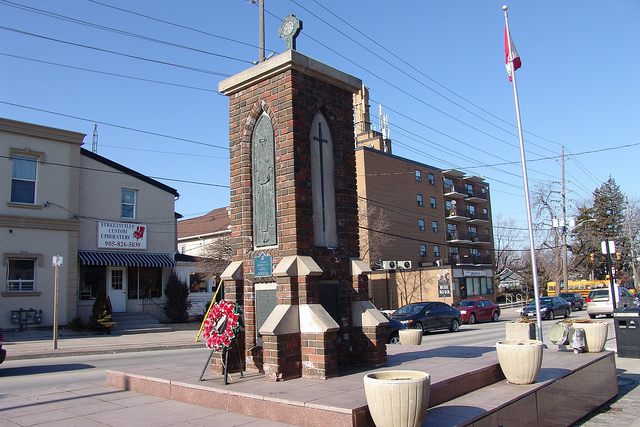 The Remembrance Day 2013 Parade and Ceremony in Mississauga will be held on Mon. Nov. 11. The central location is the Streetsville Main Street Cenotaph at Queen and Main Streets in Streetsville, Ontario.
The Streetsville Pipes and Drums will perform. They will assemble at Royal Canadian Legion Branch 139 (101 Church St., Mississauga). That's only a few hundred metres north from the cenotaph.
2013 Remembrance Day in Oakville and Bronte
The pair of 2013 Remembrance Day Parades in Bronte and Oakville advertise together.
The Bronte parade assembles at the Bronte Legion (79 Jones St.) at 9:30am on Sun. Nov. 10.
The Oakville parade assembles at the Oakville Legion (136 Church St. at Navy) at 9:00am on Mon. Nov. 11.
2013 Remembrance Day in Brampton
The 2013 Remembrance Day Parade in Brampton centres on Ken Whillans Square (City Hall, 2 Wellington St. W, Brampton). The one-hour service begins at 11am on Monday Nov. 11.
2013 Remembrance Day in Whitchurch-Stouffville (Added Nov. 10, 2013)
Whitchurch-Stouffville will commemorate Remembrance Day 2013 with a ceremony in the Stouffville Legion at 11am on Monday Nov. 11, followed by a light lunch. Legion Branch 459 is at 150 Mostar Street, Stouffville.
2013 Remembrance Day in Whitby
The 2013 Remembrance Day Parade and Service in Whitby starts at 10:15am on Nov. 11, with a parade from the Whitby Royal Canadian Legion (Byron St. South). The Whitby Brass Band performs during the parade which heads north to Dundas St., then east on Dundas St. to the cenotaph. The Remembrance Day service at the cenotaph should begin around 10:45am.
Whitby also hosts another service at 10:30am, in Intrepid Park at 2008 Boundary Road. See the official Whitby Legion site for these, and several other opportunities to participate during the afternoon and evening.
Setting a Tone for Remembrance Day
Robin Morrison's "Remembrance Day and War Poems" is one person's view of war. With family members who fought in World War II, the survivors' stories and slain soldiers' lost lives affected Morrison, who also personally "saw the devastation in Bosnia". This Amazon Kindle book, available in Canada, may set one tone for us on Remembrance Day.
Looking for More Annual Events or a Holiday in Toronto Canada?
Remembrance Day is one of many annual events, although perhaps the most solemn. This blog often reports on fascinating, free or frugal annual autumn events in Toronto.
Disclaimer: DeHaan Services has no relationship to the organizer(s); I am not reimbursed for writing this article. However, DeHaan Services does write web site or advertising copy for clients. Our skills are demonstrated in online articles in Decoded Science, Decoded Pregnancy and my Fitness and Weight Control blog. That's why DeHaan Services highlights these online articles on this site.
Click the "Toronto Events" category at the bottom of the right-hand column for recent articles on this topic. Thanks!
Thanks for reading about ways to commemorate Remembrance Day 2013 in the GTA.