Buskerfest
2012

in Toronto in August (

Updated July & Aug. 2012

; Aug. 2013)

(Updated Aug. 3 and 19, 2013): In 2013, Toronto Buskerfest will move from the St. Lawrence Market to Yonge Street, for Aug. 22-25 2013. See "How to Find the 2013 Toronto Buskerfest" for the new venues. So the locations are out-dated in the rest of this article.

The annual summer event known as Scotiabank Buskerfest will return to Toronto for August 23-26, 2012 in the St. Lawrence Market district. Expect an amazing assortment of artistic acts.

BuskerFest 2012 also is mentioned in "Toronto Ashkenaz Festival 2012 at Harbourfront or BuskerFest?", since it's easy to schedule visits to both.

Most of this article is unreviewed and unchanged from last year and should be reasonably accurate; there's a link to the Toronto Buskerfest official site farther down the page.
The Rest was in the
Past

: Toronto Buskerfest 2011

We expect it to return in August 2012.
What is Buskerfest in Toronto?
In its twelfth year in 2011, it claimed to be North America's largest street festival for buskers, performers, magicians, musicians, dancers and entertainers of almost any ilk. Someday I expect to see "interactive street ballet"; take a note, Karen Kain!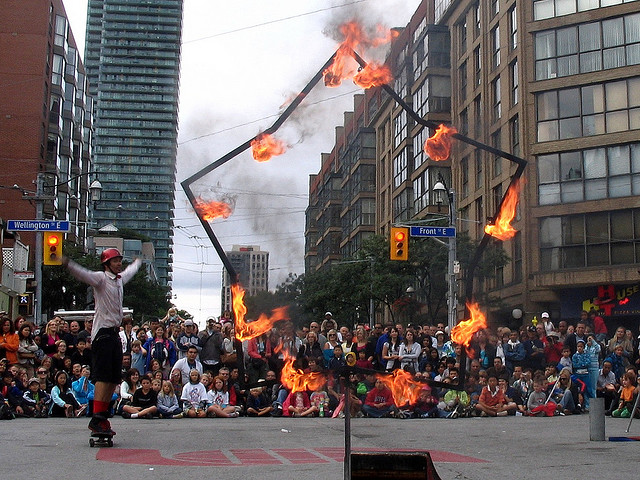 The long history of "busking", or performing in public places while hoping for donations, has been somewhat twisted in Toronto. For some years, the TTC (Toronto Transit Commission) has been licensing buskers in selected subway stations. Purists may despise organized busking, which normally is one of the last bastions of truly free enterprise. (Running afoul of "aggressive panhandling"and "squeegee kid" laws do make these, and similar pursuits, difficult as routes to long-term self employment).
How to Get to Toronto's Scotiabank Buskerfest
(This section is out of date beginning in 2013). It is convenient to take a bus along Jarvis Street to Front Street, or as close as it will take you in case of road closures. For the rest of us, please check the next paragraphs.
For out-of-town visitors, consider taking a Go Train to Union Station. Once there, find your way out the main doors; the Royal York Hotel should be directly to the north, across Front Street.
Those already in Toronto with easy access to the subway should head for Union Station, too.
Walk east, away from the CN Tower (more than a tourist attraction, it's a great landmark!), along Front Street. Cross Bay Street and Yonge Street. The next intersection is Scott Street, the western border of the Scotiabank Buskerfest on Thursday. The St. Lawrence Centre for the Performing Arts is at this corner.
Dates and Times for Toronto's Scotiabank Buskerfest in 2011
The dates for Toronto's Scotiabank Buskerfest are Thurday, Aug. 25 through Sunday, Aug. 28, 2011.
Thursday and Friday start at noon, and end at 10 and 11pm respectively.
Saturday and Sunday start at 11am, but end at 11 and 8pm respectively.
Program Notes for Toronto's Scotiabank Buskerfest in 2011
Take note of the childrens' programme, called "Buskerplay for Kids". Go to the north side of Front at Jarvis.
This blog entry cannot possibly do justice to the variety of acts.
"Epilepsy Toronto", The Charity Connection for Toronto's Scotiabank Buskerfest in 2011
Epilepsy Toronto is the charity benefiting from the Bank of Nova Scotia's sponsorship plus public donations at the Scotiabank Buskerfest in Toronto.
Your Money
Yes, you may donate to Epilepsy Toronto; you may pay for specific shows; and you should indeed tip the buskers at Toronto's Scotiabank Buskerfest, as they will encourage you to do.
Toronto Buskerfest's
Official Site
See the official site for Scotiabank Buskerfest here. This annual summer event has become a must-see Toronto attraction for the last weekend of August.
Looking for More Annual Toronto Events?
Check the "annual events" or "Toronto events" categories toward the end of the left-hand menu for other fascinating, free or frugal annual events in Toronto.