Each year we can choose among a range of Remembrance Day events in Toronto. Of course, it's fitting that most venues host Remembrance Day ceremonies annually; but here's a reminder of the most obvious choices for your Remembrance Day 2015 in Toronto.
Of course, you know that Nov. 11 is always the date for Remembrance Day. It does not float to a convenient Friday or Monday; so even those who have a day off work cannot guarantee a long weekend in November. However, a few venues hold ceremonies on other dates.
Since 11am signals the "two minutes of silence", most memorial services begin somewhere between 10:15 and 10:45am.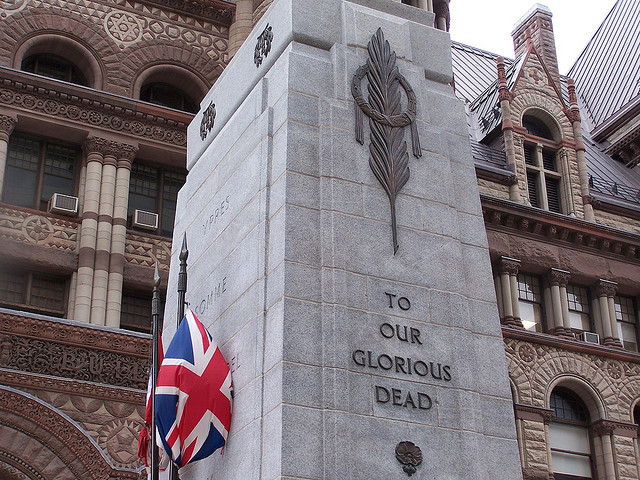 Remembrance Day 2015 at Queen's Park in Toronto
Queen's Park is the seat of the most senior government in Toronto: it's the home of the provincial parliament.
Queen's Park hosts a Remembrance Day ceremony annually, starting at 10:45am. Look for the crowd standing by a granite wall on the front lawn, south of the legislature. Take the #1 Yonge/University subway line to the Queen's Park station, or the 506 Carlton streetcar to University Avenue.
At press time, the official web page for the Remembrance Day ceremony at Queen's Park still shows the 2014 date.
City of Toronto 2015 Remembrance Day Ceremony
The City of Toronto hosts ceremonies at the Old City Hall cenotaph, as well as other locations. The events will be on Nov. 11, unless otherwise noted.
Old City Hall's ceremony also begins at 10:45am. It's on the north-east corner of Queen and Bay. The 501 Queen streetcar is the best TTC choice for east/west commuters; or walk west from the #1 subway's Queen St. station.
The East York Civic Centre's ceremony also begins at 10:45am. It's at 850 Coxwell at Mortimer; take the 70 O'Connor bus north from the Coxwell station on the #2 Bloor-Danforth subway line.
The Etobicoke Civic Centre starts its service early, at 10:15am. It's at 399 The West Mall, at Burnhamthorpe.
The North York service begins at 10:45, in the George Weston Recital Hall inside the Toronto Centre for the Arts. If you want to avoid a rainy day, this is one of the few indoor ceremonies. Take the #1 subway line to the North York station, and go to 5040 Yonge St.
The Scarborough Civic Centre, at 150 Borough Drive, hosts the ceremony on Sunday Nov. 8 at 2pm. Brimley, Ellesmere and McCowan are the major roads bordering this centre.
The York Civic Centre's Remembrance Day ceremony begins at 10:45am, at 2690 Eglinton Ave. West (at Keele).
Experience Remembrance Day in a military setting, at Fort York; also at 10:45am. Fort York is a Toronto museum and a national historic site. Day-long tours are under $10/person. Head to 250 Fort York Boulevard, north of Lake Shore Blvd and west of Bathurst. Look for the Strachan Avenue Military Cemetery.
The Metro Toronto Zoo conducts a brief Remembrance Day ceremony at 10:55am sharp at the Waterside Theatre. That's in the Children's Zoo Discovery Zone. Ask for directions when you arrive. Veterans (in uniform or wearing their medals), as well as uniformed members of the armed forces and civic EMS workers, gain free admission from 9:30-11am.
Many Toronto parks have cenotaphs or other war memorials. You may live or work near a park holding a Remembrance Day service; check your local free advertising newspaper or ask your city councillor, neighbours, or co-workers.
(Added Nov. 6, 2015). In the Beach area, for example, my city councillor just sent this list:
Sunday Nov. 8 at 1:30pm: A veterans' parade marches from Shoppers' World at Danforth and Victoria Park, to Legion Branch 11 on Dawes Road. A memorial service will begin there at 2pm.
Wednesday Nov. 11 at 11am: A Memorial Day ceremony will be held at the cenotaph in Kew Gardens, with a luncheon at the Baron Byng Legion.
Also Wed. Nov. 11, but at 2:30pm: A Remembrance Day ceremony in the Naval Club of Toronto on Gerrard St. (north side of Upper Gerrard, just west of Woodbine).
I'm sure your city councillor is eager to share a similar list of Remembrance Day events in Toronto for your ward.
Links to References for Remembrance Day in Toronto
This official City of Toronto web page for Remembrance Day mentions Old City Hall, the Civic Centres, and Fort York. Click on Nov. 11 on the Metro Toronto Zoo events page to learn more.
Part of Toronto's military history is revealed by Benn & Jackman's "Historic Fort York, 1793-1993" in the Canadian or American Kindle version. Fort York lost its first battle in the War of 1812. What happened next? How has Fort York changed over two centuries?
Remembrance Day Ceremonies in Ontario
I've just updated "GTA Remembrance Day 2014 Venues" with 2015 links and dates.
The Ontario government supplies a handy online guide to Remembrance Day ceremonies in Ontario. I'm not convinced it is complete, but you may find exactly what you seek.
Looking for More Annual Events or a Holiday in Toronto Canada?
My blog tracks many of the annual Toronto events that I find interesting, free or frugal.
Disclaimer: DeHaan Services has no relationship to the organizer(s); I am not reimbursed for writing this article. I do enjoy writing about annual Toronto events; and I consider this particular post to be a public service announcement. (The site is monetized; buy something through an ad and I should earn a commission).
DeHaan Services does write web site or advertising copy for clients. Our skills are demonstrated in online articles in Decoded Science, Decoded Pregnancy and other online sites. That's why DeHaan Services highlights those online articles on this site.
Click the "Toronto Events" category at the bottom of the left-hand column for recent articles in this category. Thanks!
Thanks for reading about Remembrance Day events in Toronto for 2015.