(Updated Nov. 5, 2015): Updated for 2015, with corrected links. Please note that the early events are on Sunday Nov. 8, 2015. Remembrance Day is still Nov. 11, but it's Wednesday in 2015.
Where can GTA (Greater Toronto Area) residents attend Remembrance Day ceremonies in 2015 2014? Here are some of the venues this year; hopefully you can attend one to honour those who served this country in past conflicts.
The first two are on Sunday Nov. 8, 2015 9, 2014; most of the others wait until Remembrance Day proper, on Tues. Nov. 11.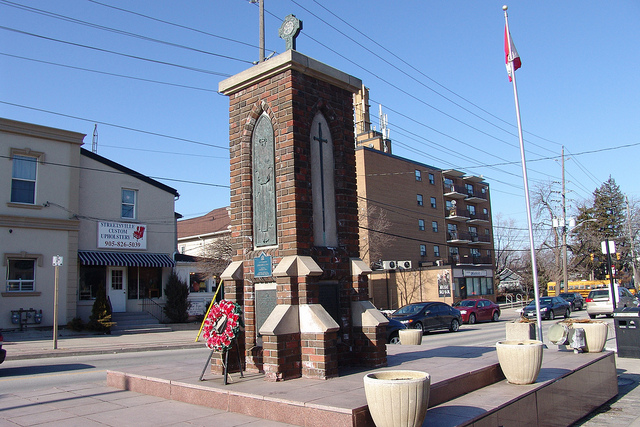 The Remembrance Day Parade in Aurora on Nov. 8, 2015 9, 2014
Aurora holds a Remembrance Day ceremony on Sunday Nov. 8. The parade starts at about 10:20am from Dr. G.W. Williams High School, which is bounded closely by Yonge St., Dunning Ave., and more remotely by Wenderly Dr. and Edward St.
The Streetsville Pipes and Drums march in this parade.
Remembrance Day Parade in Bronte (West Oakville) on Nov. 8, 2015 9, 2014
Bronte also holds its Remembrance Day parade on Sunday. The parade begins at 10:30am at the Branch 486 Legion Hall (79 Jones St. at Marine Dr., a block SW of Lakeshore Rd West). It ends at the cenotaph at Bronte Harbour.
Two Remembrance Day Events in Burlington on Nov. 11
Burlington observes two ceremonies: first, a half-hour "sunrise service" at 9am on Tues. Nov. 11, at Spencer Smith Park in Burlington's Downtown Waterfront district.
At 10:30am, the Remembrance Day parade heads from Central Public School along Brant. The parade ends at the Burlington City Hall cenotaph, for the 11am ceremony.
Mississauga Hosts Several 2015 Remembrance Day Ceremonies on Two Days
Mississauga holds a variety of Remembrance Day events each year; please link to its page in the "References" section below to find the details.
Two Remembrance Day events in Mississauga are actually on Sun. Nov. 8: the Army Navy and Air Force Veterans in Canada parade starts from 765 Third Street; the Cooksville Royal Canadian Legion Branch 582 parades begins from 456 Hensall Circle.
The rest are on Tues. Nov. 11, and begin sometime before 11am. The major civic event is at the Mississauga Civic Centre Community Memorial. This is in Celebration Square, at 300 City Centre Drive. It begins, without a parade, at 10:45.
Online References for these GTA Remembrance Day 2015 Events
Here are the online references for these 2015 Remembrance Day events.
The Streetsville Pipes and Drums annually participate in Aurora and in the Streetsville Legion Branch 139 parade.
The 2015 Bronte Remembrance Day Parade page is here; click on .
The Burlington Remembrance Day events are here.
The many Mississauga Remembrance Day events are here.
I'd written "Commemorate Remembrance Day 2013 in the GTA".  Most, if not all, are annual events in the GTA. Toronto readers should find "Remembrance Day Events in Toronto for 2015" more useful.
Remembrance Day Ceremonies Across Ontario
(Added Nov. 5, 2015): I found this online guide to Remembrance Day ceremonies in Ontario. while writing about the Toronto services.
Looking for Annual Events in Toronto Canada?
Besides noting some special GTA events, my blog tracks many of the annual Toronto events that I find interesting, free or frugal.
Disclaimer: DeHaan Services has no relationship to the organizer(s); I am not reimbursed for writing this article. However, DeHaan Services does write web site or advertising copy for clients. Our skills are demonstrated in online articles in Decoded Science, Decoded Pregnancy and other online sites. That's why DeHaan Services highlights those online articles on this site.
Click the "Annual Events" category near the bottom of the right-hand column for recent articles in this category. Thanks!
Thanks for reading about 2015 GTA Remembrance Day venues.