Normally I preview images for articles elsewhere, but these pictures are much more relevant here since this site often deals with Toronto events.
Where else are these "Toronto Casino Project" Images Published?
My Decoded Science article, "A Sample Case Study of Math for a Casino Project Proposal", uses the business proposition for a Toronto casino as a simplified business case study example that uses math to review a project proposal.
These images will appear in that article. To establish my copyright, I always publish my original artwork in one of my own sites before publication elsewhere.
Out with the Old and In with the New Hosting Fee Formula

This image compares the effects of the old "averaged" Hosting Fee funding formula to the new version, which the OLG (Ontario Lottery and Gaming Corporation) wants to implement throughout the province.
Note the difference in revenue required to hit a Hosting Fee payout of $50 million under the old versus new formulae.
For anyone who's wonders how Ernst and Young estimated up to $168 million in hosting fees, without a formula of explanation: my article reveals a clue I found!
Projected Hourly Revenue per Slot Machine in Toronto

Here we simply extrapolate the revenue per slot machine from the projected $1.25 billion per year.
Estimated Historic Revenue per Slot Machine at Flamboro Downs

As it happens, the city of Hamilton is currently reviewing a proposal for a downtown casino. The OLG proposal includes some figures about the hosting fees from the 800 slot machines at the nearby Flamboro Downs race track. This image shows my calculation of the hourly revenue for those slots.
Comparing Projected Toronto Slot Machine Revenues to Estimated Historic Flamboro Slots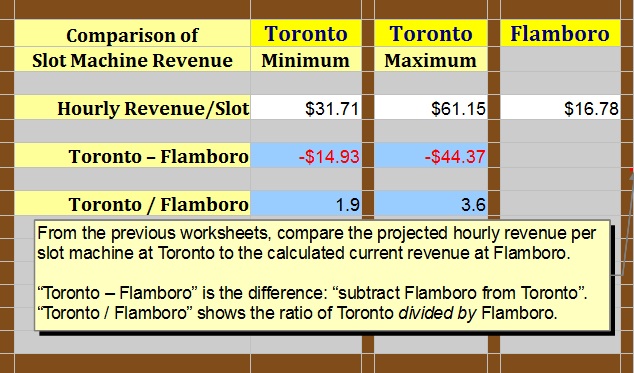 Rather than ask readers to flip between two images, I brought the hourly revenue calculations together here. In my view, it's important both to see the "difference by subtraction" and the "ratio by division" values.
Perhaps a columnar graph would provide a more "graphic" illustration. My goal was to understand whether the revenue projection required for the target Hosting Fee would be feasible, by comparing to historic data.
Reasons to Decode the Toronto Casino Proposal for Science
As a Canadian citizen living in Toronto, I was concerned about the OLG's proposal for a Toronto casino. My questions included:
Would it make sense financially for the city of Toronto to host a casino?
Do we understand the proposal?
How will such a casino affect people's lives in the surrounding neighbourhoods?
I've already highlighted the public consultations in "OLG Proposal and Links to Toronto Casino Consultation", which included some of my observations. The OLG proposal definitely includes slot machines and casino gaming tables; with options for casino hotels and live theatre.
However, I also write about mathematics for Decoded Science. When I realized that I was doing these calculations to try to understand the OLG project for the Toronto casino, I pitched the idea to my editor. She approved, I wrote, and we've published the article on Jan. 18, 2013.
Professional Writing by DeHaan Services
DeHaan Services writes web site or advertising copy for clients. Our skills are demonstrated in online articles in Decoded Science and other online sites. That's why we highlight these online articles on this blog page.
To only see our Toronto events or fitness articles, please click on the appropriate category in the "Categories" section at the bottom of the right-hand margin.
Click the "Toronto Events" category at the bottom of the right-hand column for recent articles on this topic. Thanks!
Thank you for reading about a simplified case study on math to analyze a project proposal; in this case, about the possible OLG casino in Toronto.