(Added Dec. 25, 2013) Prepare for 2014 Winterlicious in Toronto
(Added Dec. 25, 2013). Merry Christmas 2013, and welcome to a brief update for Toronto Winterlicious 2014. I'm working from a borrowed Internet connection to get around the power outages from the ice storm.
The prix fixe promotional dinners return for Toronto Winterlicious 2014, from Jan. 31 through Feb. 13. Why not make it an early Valentine's Day date? Book directly with participating restaurants; they will begin accepting Winterlicious reservations on Jan. 16, 2014.
You could have begun buying tickets for the culinary events starting Dec. 12, 2013.
This is the first time I've noticed the #LiciousTO hashtag for your restaurant reviews.
The main Toronto Winterlicious 2014 web page differs from last year. Be sure to click their FAQ link. Remember that when you find their list of participating restaurants, you can select and sort using options like "vegetarian", "wheelchair access", neighbourhood, and cuisine. (For some of these sort options, click "Sort List" first, rather than the underlined options such as "neighbourhood". You could type your own keyword like "risotto", or simply scroll down to check some boxes).
(Added Jan. 18, 2014) Time to Make Your 2014 Toronto Winterlicious Reservations
(Added Jan. 18, 2014). While your New Year resolutions may have been achieved, or forgotten, it's now time to make your reservations for Toronto Winterlicious 2014. The restaurants began taking reservations Jan. 16, while the actual promotional event runs from Jan. 31 through Feb. 13, 2014.
The rest of the page is the original 2013 Winterlicious article, but many of the pointers still apply.
(Back to 2013 Winterlicious…)
It's always tricky to know when to mention Winterlicious in Toronto, but hopefully this is the perfect time for your 2013 winter dining season.
Prix Fixe Dining for Toronto Winterlicious 2013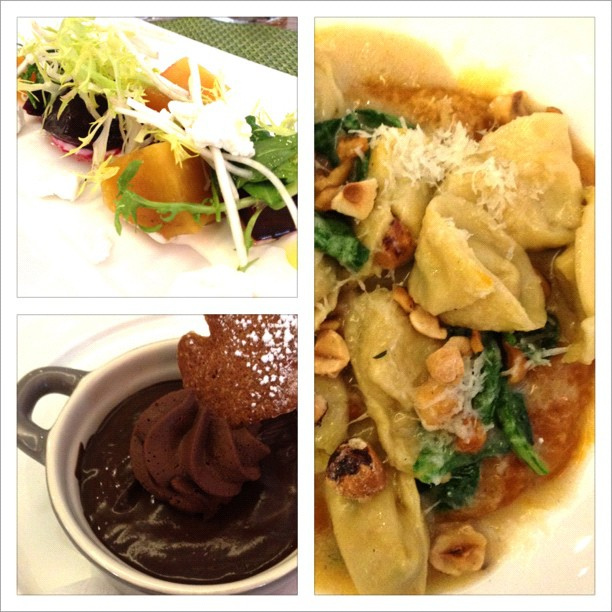 As always, the key feature of Toronto's Winterlicious is prix fixé dining to introduce some of the best restaurants in Toronto to new patrons.
The fixed price excludes drinks, gratuity and tax.
Each year, Toronto restaurants join (or leave) the Winterlicious (or Summerlicious) program, so be sure to check the official City Hall Winterlicious web page for the officially best Toronto restaurant deals.
That page links to maps and listings. Do you want the best restaurants in downtown Toronto, or do you want to dine closer to where you live? For example, Olio is in the north-west, and Joey Bravo's in the north-east.
(I recognized these names from last summer's
"Summerlicious 2012 Hosted by Top Toronto Restaurants". These participants are still the most geographically distant from Toronto's downtown core).
Search to Satisfy Your Winterlicious Taste by Cuisine, Location or Price
If you care more about the cuisine and less about the location, find the "Sort List" link/button to select by different keywords.
In fact, you can fine-tune your search by several criteria. One group is the price, ranging from $15 to $45. Then there's a 38-item cuisine list including "Asian",  "Japanese", "Seafood" or "Smokehouse". You can also search in 13 Toronto neighbourhoods; some prefer restaurants in downtown Toronto, for example.
As well, you can limit the choices to vegetarian, vegan or local foods. Finally, you can ensure that the restaurant is fully accessible…and that can be the most important point for a new Toronto dining experience.
Special Culinary Events for Toronto Winterlicious 2013
Winterlicious in 2013 also hosts several intriguing culinary events. It's easy to imagine what "Parisian Pleasures" or the "Highland Way" involve, for example.
Personally, I'm most intrigued by the "Josef Sudek Exhibition" brunch at the AGO (Art Gallery of Ontario) on January 26, 2013. The meal is inspired by the collection of Czech photographer Josef Sudek's work, and follows a guided tour.
All these events are linked from the main official page as noted above.
The Important Questions about the 2013 Toronto Winterlicious Events
When will the 2013 Toronto Winterlicious restaurants serve us?
Winterlicious 2013 runs from January 25 through February 7. (Tickets have been on sale since Dec. 15, 2012; and guidebooks since Jan. 7. Act now or wait until June or July for Summerlicious).
Why should I bother with Winterlicious? Why do the best Toronto restaurants participate?
Yes, there are always choices for dining in top Toronto restaurants. However, Toronto Winterlicious presents high quality at introductory prices. Diners seeking post-Christmas bargains can try new cuisine or establishments. Meanwhile, restaurants effectively collaborate on advertising and marketing. They also compete to attract and retain new clients.
Does every Toronto restaurant participate in Winterlicious?
No; follow the links from the official Winterlicious site to find the best restaurants Toronto offers that participate in Winterlicious.
Can I just waltz into a participating restaurant?
Winterlicious really and strongly recommends making a reservation. (Here's my terrible joke: "I always approach a new restaurant with reservations"). Most of them are quite busy and on a tight schedule to fit in all their Winterlicious patrons.
Does every meal cost the same fixed price?
No; follow the links from the official Winterlicious site to find the prices, which vary by lunch versus dinner, as well as by restaurant.
What about the special culinary events?
The 2013 Winterlicious special culinary events really need reservations; do not happen every day; and cost more than the usual prix fixé meals.
Are Winterlicious and Winter City related?
My very first DeHaan Services blog post, "WinterCity versus Winterlicious in Toronto", covered that question.
What was that official site for Winterlicious in Toronto, again?
Start clicking links from the official Winterlicious page.
Looking for More Annual Toronto Events?
Check the "annual events" or "Toronto events" categories toward the end of the left-hand menu for other fascinating, free or frugal annual events in Toronto.
Disclaimer: DeHaan Services has no relationship to the organizer(s); I am not reimbursed for writing this article. However, DeHaan Services does write web site or advertising copy for clients. Our skills are demonstrated in online articles in Decoded Science and other online sites. That's why DeHaan Services highlight these online articles on this blog page.
Thanks for reading about the Winterlicious 2013, the annual Toronto winter event for the best of Toronto restaurants.