(Updated Jan. 11, 2013): Be sure to read my current "Prepare to Savour 2013 Winterlicious in Toronto", too.
Summerlicious 2012 is almost open for dining, so make your lunch or dinner reservations now.
What is Summerlicious?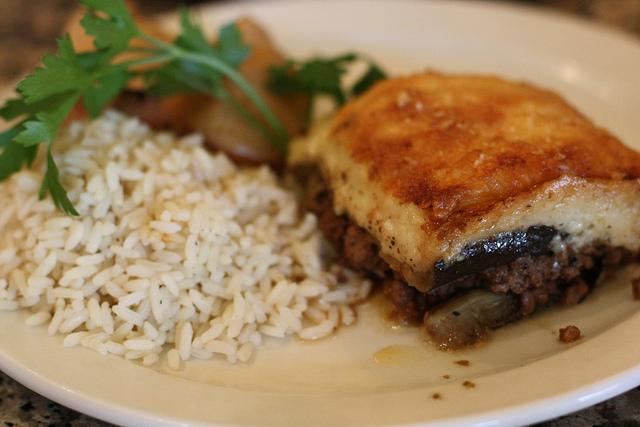 Summerlicious is the summertime opportunity to sample Toronto's top restaurants at great prices. Twice a year, well over one hundred restaurants offer three course meals, whether lunch or dinner or both, at special prices. The January event is known as "Winterlicious".
Since the list of participating restaurants will change somewhat from year to year, it's important to check for updates. I've featured a picture of mousaka from Ouzeri on Danforth Avenue, partly because they are still participating in Summerlicious 2012.
The restaurants choose whether to offer lunch and/or dinner, and the prices for each. Lunches are $15/20/25; dinners $25/30/35; drinks, taxes and tips are extra. Each meal includes an appetizer, entree and dessert.
When is Summerlicious?
This year Summerlicious runs from July 6 through 22, 2012. Restaurants began taking reservations on June 21st, but American Express cardholders were permitted "Front of the Line" service on the 19th and 20th.
I wonder whether theatres in Toronto see more bookings thanks to the savings on meals?
The Source for Summerlicious Scoops on the Top Restaurants in Toronto
Get the official scoop on Summerlicious from the source, in the Toronto City Hall web site. In 2012, this is "Celebrating 10 Delicious Years of Toronto Cuisine!".
Before you click that link, here's how I use the City of Toronto's Summerlicious site to find the top Toronto restaurants.
If you want to find restaurants in a specific area, click their "map" in the "Map, Sort and Share" paragraph. Then you can hover and click on a specific restaurante to see their details. For example, here are the geographic extremes:
South-West: "Pulcinella" at 3687 Lake Shore Blvd West.
North-West: "Olio" at 801 Dixon Road.
North of the 401 has three obvious choices: "Trio"; "Oliver and Bonacini Cafe Grill"; and "Joey Bravo's".
South-East: "Veloute Bistro" at 2343 Queen St. East.
Naturally, there are many Toronto restaurants downtown, Greektown restaurants on Danforth Avenue, and more scattered throughout the city.
The full list of restaurants is found by clicking "restaurants" in the "Summerlicious Guides" paragraph. The full list, sorted alphabetically by name, shows some important details in the various columns:
Restaurant name, address and telephone number; click the "Menu" for the City Hall guide to that restaurant.
Vegetarian options are shown by a green leaf.
The wheelchair access symbol is another optional display.
Prices for lunch and/or dinner. The "lunch/dinner" information is critical to planning the time.
District plus cuisine.
Telephone the restaurant of your choice to book a reservation; Summerlicious is popular, especially for the downtown Toronto restaurants!
Further Toronto Events in July 2012
Further festivals in Toronto during July 2012 include the following.
Afrofest runs July 7 & 8, 2012 at Woodbine Park, bounded by Lake Shore Blvd. East, Coxwell and Eastern.
Beaches International Jazz Festival will be held July 20-29, 2012 at venues in the eastern Beaches (Woodbine Park, Kew Beach, etc.).
Big on Bloor covers the street from Dufferin to Landsdowne on the weekend of July 21-22, 2012.
Unity Festival, from July 12-15, 2012, celebrates music and youth.
It may be less festive, but may I recommend the Ironman 5150 Triathlon for your athletic viewing pleasure on July 22, 2012. I've written about it in "How to Sign Up for the 2012 Olympic Distance Toronto Triathlon". One vantage point to see the end of the swim, the start of the bike and part of the run is at Ontario Place just south of the CNE. The race finishes with the run into Coronation Park.   (The second Toronto triathlon, coming to the Toronto Islands in August, is hosted by MultiSport Canada. I've explained the difference in "To Untangle Two Toronto Triathlons in 2012".
Check the "annual events" or "Toronto events" categories toward the end of the left-hand menu for other fascinating, free or frugal annual events in Toronto.
Although Summerlicious is clearly a business and tourism event, it sneaks into my list of annual events in Toronto because it is such a clever promotion and because it offers good value for quality food.
Thanks for reading about the 2012 Summerlicious promotion by the top restaurants in Toronto.
Disclaimer: DeHaan Services has no relationship to the organizer(s); I am not reimbursed for writing this article.