Was Queens Quay truly ready for her 2015 opening in anticipation of the PanAm Games? Was the street ready for this significant one-time Toronto event? Here are my impressions from running along the Martin Goodman Trail on the eastern half of Queen's Quay on June 19, 2015. I think of this as a bit of a public service announcement: here are some things to watch for, and to watch out for!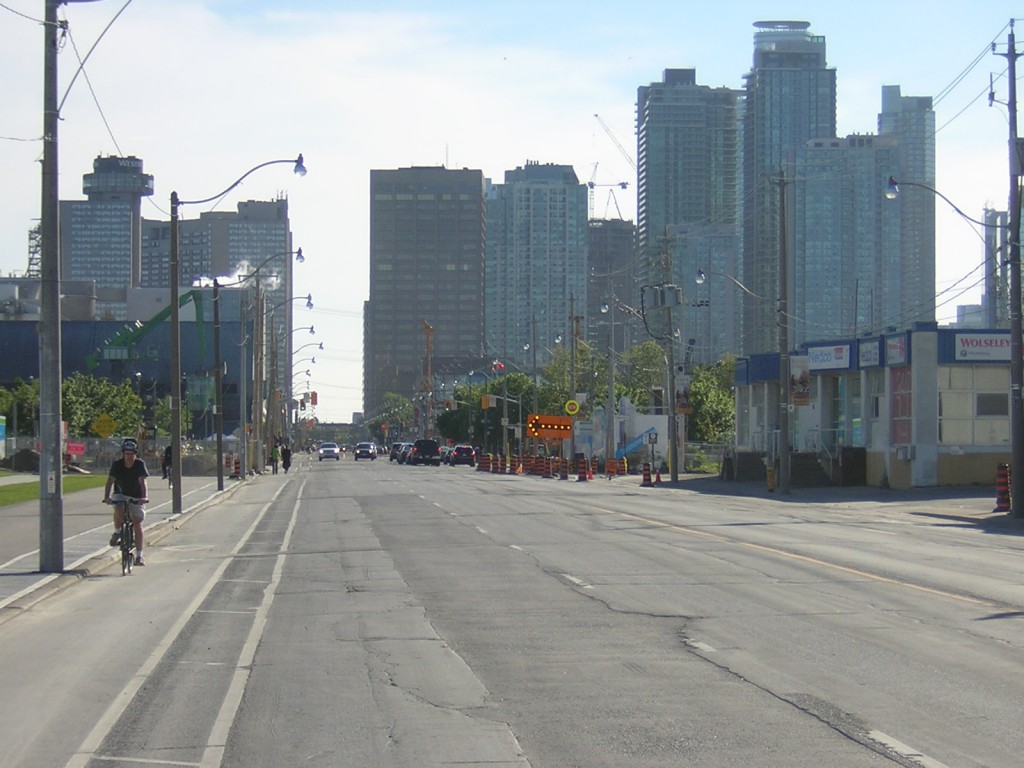 Just at the Eastern end of Queens Quay
The construction area next to the Martin Goodman Trail still affects the corner of Queen's Quay and Lake Shore Blvd East. The trail diverts onto the sidewalk at that point, although both cyclists and pedestrians can move along nicely. Officially, cyclists should take their lane on the street along that eastern portion of Queens Quay.
I did not take a photo of this construction, because it stretches eastward between Lake Shore Blvd and the Martin Goodman Trail. I did not want to count it as a Queens Quay problem.
A Promising Start
I took my first photograph (top of page) on Queen's Quay near Lower Sherbourne, where a trench has kept at least one lane blocked for months. It was spectacular to see all the automobile lanes were open.
But why are pedestrians walking in the bicycle lane on the south side of Queen's Quay? Where are the sidewalk and the Martin Goodman Trail? Why should a flashing arrow warn westbound cars about something in the north lane?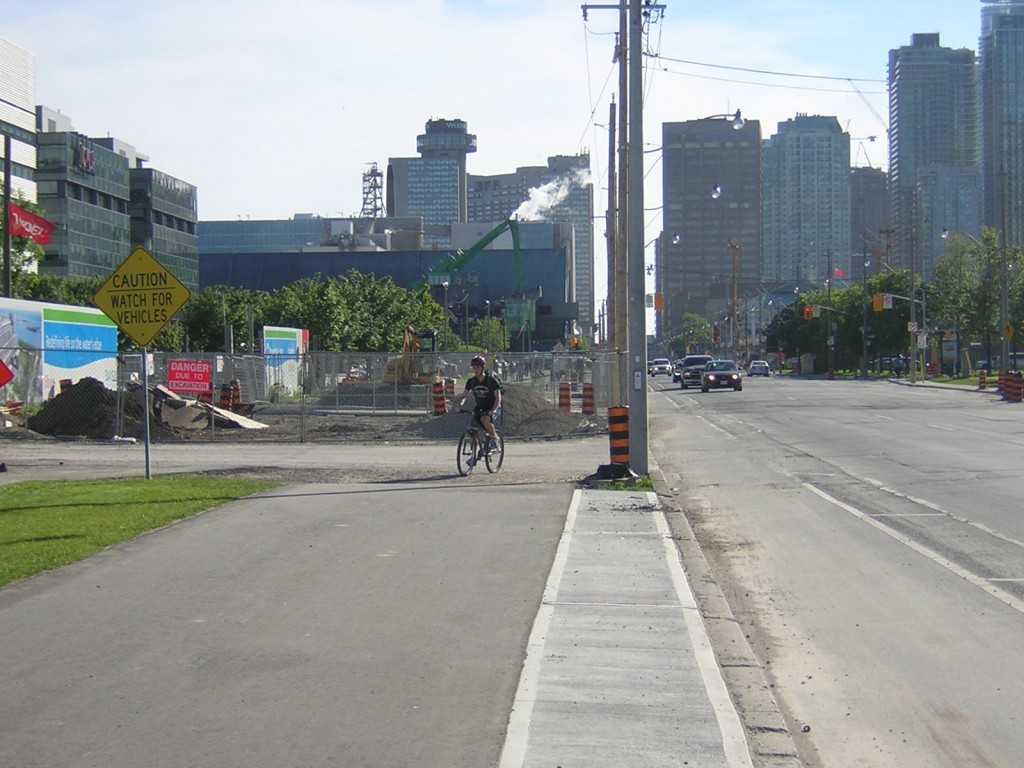 There's the reason: this non-road area is still under construction, although all the car lanes are now open. Note that the sidewalk and bicycle trail are still cut off.
Warning Paint on the Martin Goodman Trail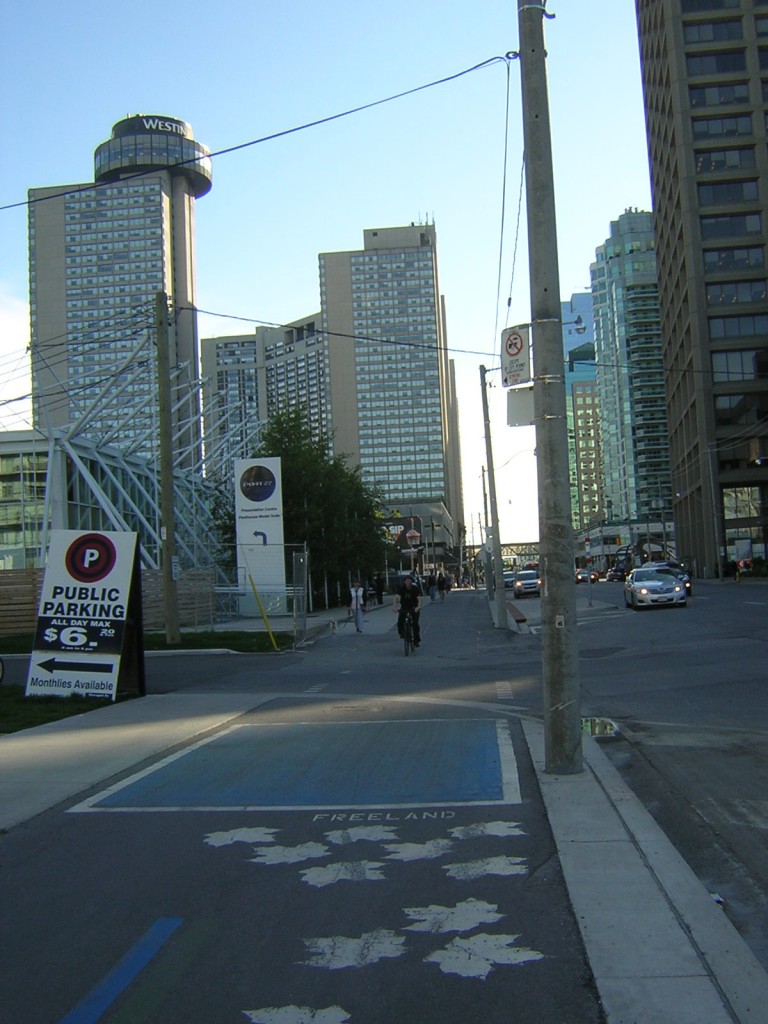 A bit further west, we find the sidewalks and Martin Goodman Trail in reasonable condition. The blue area, along with the stenciled white maple leaves, warn cyclists that they are approaching a driveway (or intersection?). I would need to spend more time with the fairly official guide to the Revitalized Queens Quay to be sure.
This section looks pretty good and works well.
Are Pedestrians Confused about Sidewalks and Bike Paths?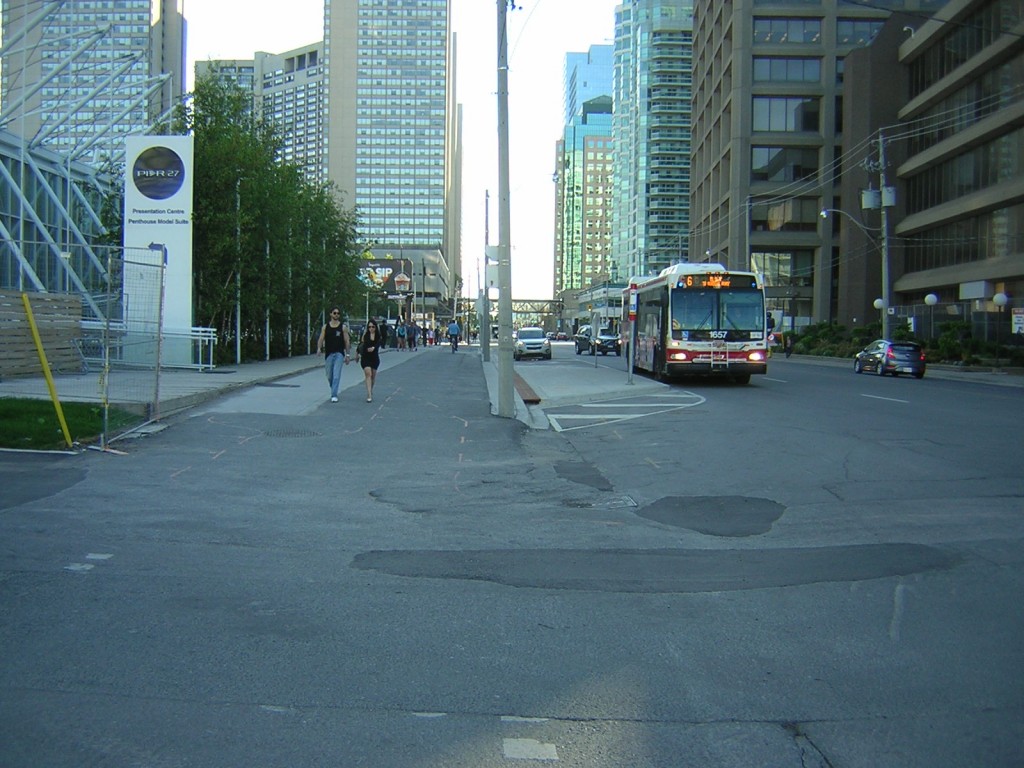 Further west, a section of the Martin Goodman Trail has not yet been completely paved and marked. Note how pedestrians are walking on the bike path, although the sidewalk is available.
I must confess that I ran on the edge of the bike path from time to time, rather than staying on the sidewalk. The sidewalk was quite crowded with people walking east from Yonge Street toward the Redpath Waterfront Festival at Sugar Beach. I did not photograph that "crowd", but for a couple of stretches, it did affect where I could run.
By the way, that's a slightly elevated boardwalk to the south of the sidewalk. I ran on it when heading home, but it's only a short strip in front of a few buildings.
Two Queens Quay Puzzles in One Photo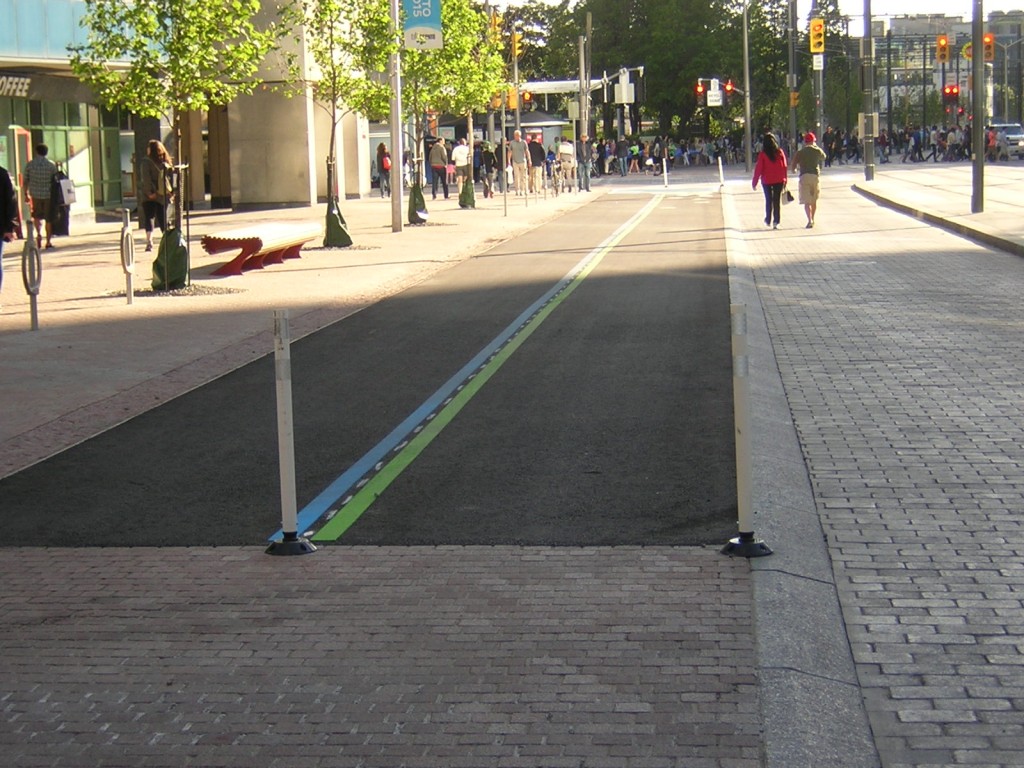 Probably I am not the only person confused by this orphaned stretch of bike path for the Martin Goodman Trail. The two people walking west, in the upper right of this picture, may have been on a car lane. Or maybe not.
At any rate, this little stretch of bicycle lane left me very puzzled.
(Updated June 22, 2015): A photo and explanation in today's Toronto Star leads me to believe that the area in the foreground of the photo is a mixing zone, where cyclists may encounter cars from a driveway. The Hume's TorStar article, "New Queens Quay a redesign for everyone",  showed a pedestrian/cyclist mixing zone. The bollards help keep cars off the bike path. Hopefully it will be self-evident to cyclists and everyone else on Queen's Quay.
(Updated June 22, 2015): Hume's article quotes Dutch landscape architect, Adriaan Geuze, explaining that "Every block had to be negotiated". Hume reported that some property owners declined to participate in this project. That may explain why I found the Queen's Quay makeover to be incomplete: perhaps this is as good as it will get, because all the work is done where the willing parties had agreed to it.
However, my general impression was that it's a very pretty section of Queen's Quay.
A Blue Ribbon to Open Queens Quay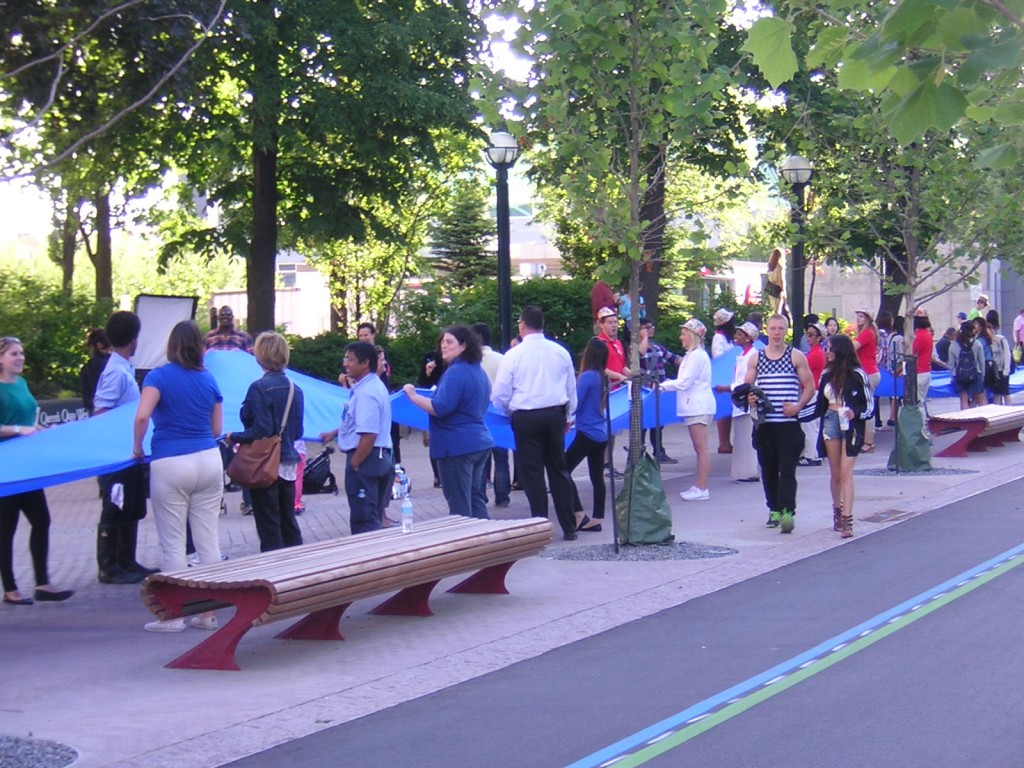 Here's the blue ribbon being waved by volunteers, before the official opening of Queens Quay in 2015.
In "Queens Quay Officially Re-Opens", 680 News reporter Nicole Bauman stated the ribbon was 650 metres long. I would have believed it to be much longer; it seemed to stretch on forever.
Here, the Martin Goodman Trail bike path has its proper lane markings. A slight gutter separates it from the granite sidewalk, although it's certainly possible for people to walk in that gutter.
You can't see it in this photograph, but the TTC streetcar right-of-way is just behind me. While taking these photos, I saw a couple of men walking beside the tracks, as though it were a sidewalk. Just as I drew breath to shout at them, the approaching streetcar rang its bell. The men dodged south, out of harm's way.
Is Queens Quay Open? Does the Martin Goodman Trail Function?
I did not have time or energy to run the rest of Queen's Quay. (Updated July 13, 2015): My report on the western end of Queen's Quay is less than a month tardy, in "Queens Quay West during a TO2015 PanAm Weekend in Toronto".
Several years of work, and years of planning before that, have gone into improving Queens Quay. It should be a magnet to draw tourists to waterfront amenities, to induce Toronto residents to buy condos, and to welcome recreational athletes to get some exercise near Lake Ontario. Oh yes, and to be a photo op for some PanAm Games events.
While Queen's Quay is "officially open", several sections still require attention, especially for the bike path. (Updated June 22, 2015): Or perhaps all the work is done that was permitted by property owners.
I assume there is, or will be, a continuous bicycle path along Queen's Quay once the work is complete. That's a tremendous, day-versus-night improvement over the earlier incarnation of this street. At that time, the painted bike lanes simply disappeared from the central stretch of Queens Quay, leaving cyclists to squeeze between every parked motor coach bus and moving automobile.
It's hard to predict how quickly the majority of people will figure out how to share the space. Certainly pedestrians are likely to wander across the cycling lanes, except for extremely busy periods in the summer.
However, I do rank it as the best and prettiest pedestrian-friendly street that I've encountered in Toronto. But was it really ready to be officially open? Will cyclists consider Queens Quay to be ready for PanAm festivities when there are gaps in the Martin Goodman Trail?
Looking for More Events or a Holiday in Toronto Canada?
My blog tracks many of the annual Toronto events that I find interesting, free or frugal.
Disclaimer: DeHaan Services has no relationship to the organizer(s); I am not reimbursed for writing this article. However, DeHaan Services does write web site or advertising copy for clients. Our skills are demonstrated in online articles in Decoded Science, Decoded Pregnancy and other online sites. That's why DeHaan Services highlights those online articles on this site.
Click the "Public Service Announcements" or "Toronto Events" categories at the bottom of the left-hand column for similar previous articles. Thanks!
Thanks for reading about the 2015 opening of Queens Quay.