It's time to learn where to find the official Canada Day fireworks displays in Toronto for 2015. Every year on July 1st, Canadians celebrate this national holiday with fireworks or other displays of patriotism.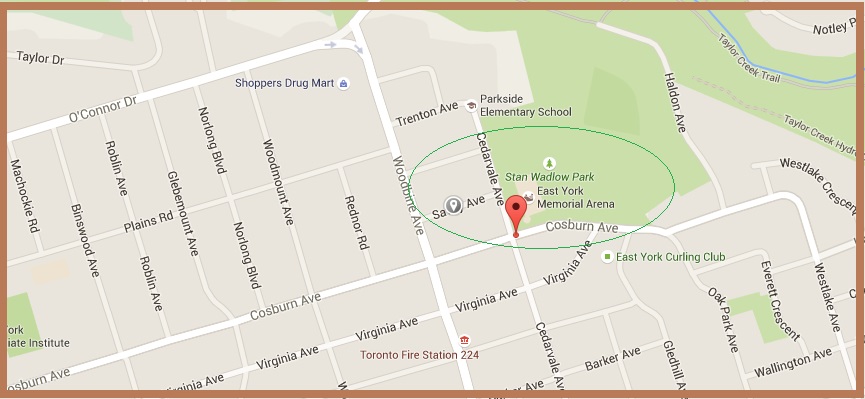 A Free Fireworks Display Closes Canada Day at Mel Lastman Square in North York
For north Toronto, Mel Lastman Square is the place for free fireworks display to finish off Canada Day celebrations.
The evening starts at 5pm with the Zero Gravity Circus, as well as face painting for the children. Free music, from a capella doo-wop through Jamaican blues and jazz to salsa provide the entertainment until fireworks at about 10:15pm.
The North York station on the #1 Yonge subway line is the obvious way to get there.
See "Special Events in Toronto on Canada Day" for more details.
Free Fireworks on Canada Day at Ashbridges Bay
I watch the free Canada Day fireworks display from Woodbine Park, just north of Ashbridges Bay. This saves a few steps across Lake Shore Blvd East at Coxwell Ave., and there's great lines of sight to watch the fireworks burst above the trees.
In fact, Q107 hosts its Canada Day Picnic at Woodbine Park, starting at noon. They promise "food, fun and good tunes". And you're in the right spot for the closing fireworks just to the south.
Ashbridges Bay Park is on the south side of Lake Shore. Follow the crowds along the paved trail south, to get up close and personal with the fireworks display.
The usual start time is about 9:30pm. Get there early! It's always sad to see the cars slowly crawling down Coxwell. Roads get closed since drivers would be distracted by the booms and sparks; and parking spots fill up long before sunset.
The TTC provides extra bus service along Coxwell Ave. for the evening, to connect north to the #2 Bloor/Danforth subway line. Or take the 501 Queen streetcar east/west. Cycling along the Martin Goodman Trail is a fine option, but be sure to have your lights for your return home; and pack plenty of patience until the pedestrians disperse.
See the "Beaches Living Guide Event Listings" for details about both the Ashbridges Bay fireworks and the Stan Wadlow Park celebrations.
I took some photographs of the free "Canada Day Fireworks in Toronto at Ashbridges Bay" on July 1, 2015. Here is one.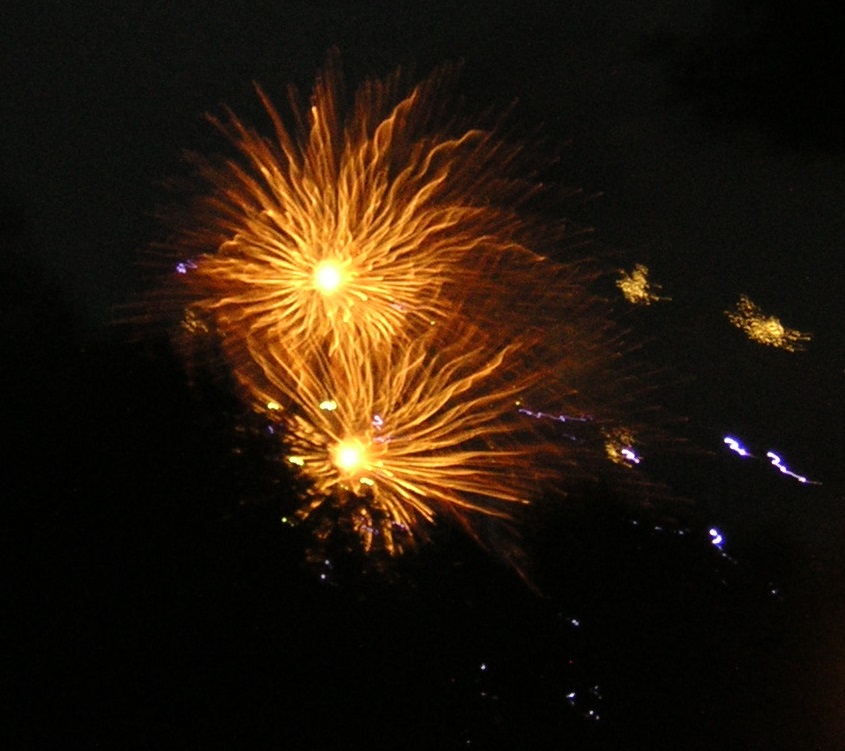 Fireworks Finishes the East York Canada Day Celebrations at Stan Wadlow Park
The Canada Day celebrations at Stan Wadlow Park in East York is a local gem that starts at noon .
Stan Wadlow Park is at 888 Cosburn Ave., east from Woodbine Ave. It's south of O'Connor Drive but well north of Danforth Ave. Take the 91 Woodbine (North) bus from the #2 Bloor-Danforth subway line.
My wife and I took photos of "Canada Day at the East York Parade and Stan Wadlow Park", although we did not stay for the fireworks in the park. Here is just one image by my wife, showing the more "local" nature of some of the marching groups.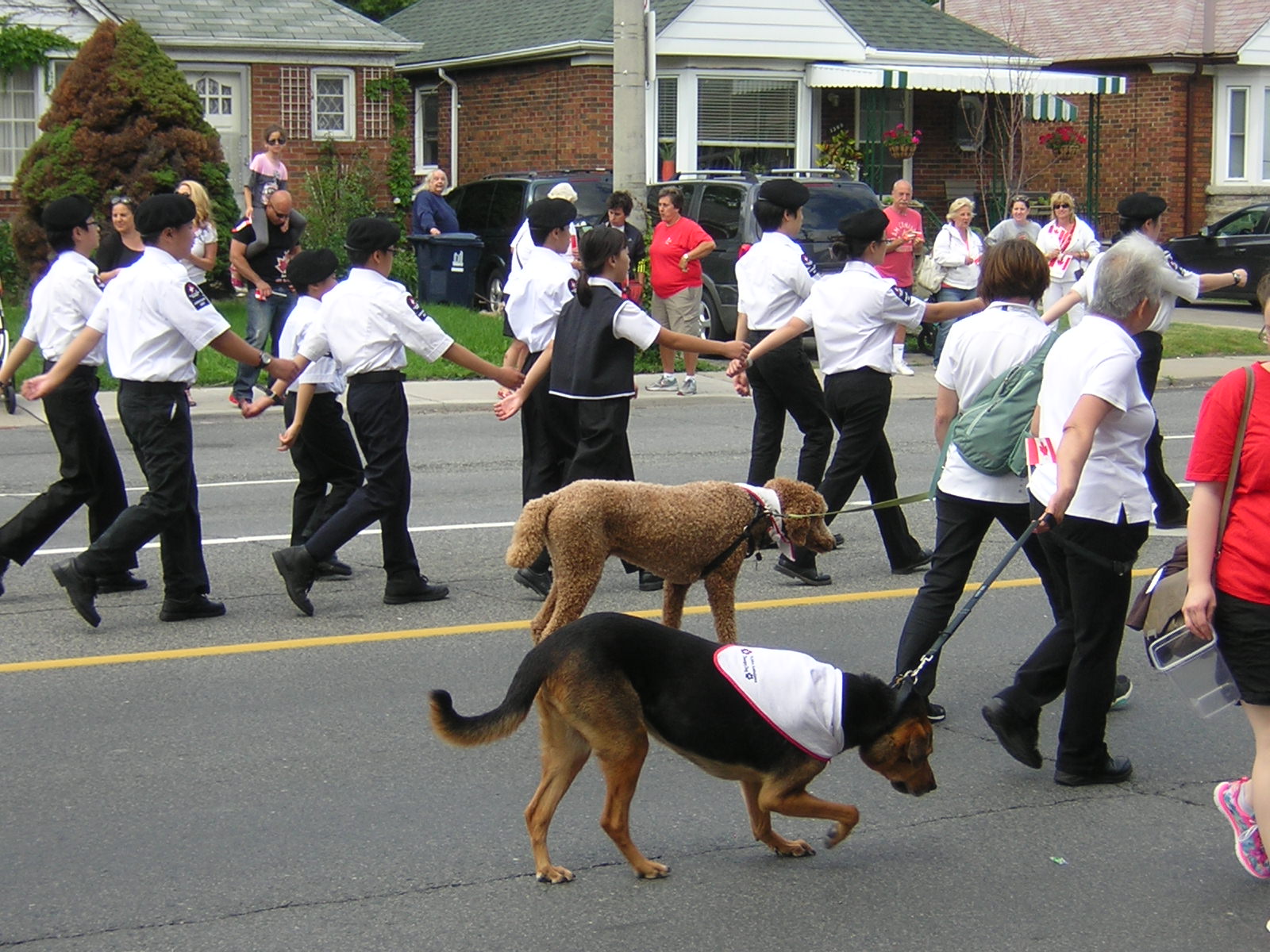 Free Fireworks Display at Various Toronto Parks
(Added June 30, 2015). 680 News reports a number of fireworks displays that I had missed. Let's tackle these in alphabetical order.
Amesbury Park (Lawrence Ave. W., just west of Keele) offers a strongman competition, plus other activities. Last year, they started with tea at 10am, children's activities from 11am, and began their musical entertainment around 2pm. Fireworks at 10pm (or 9:45pm, last year) complete the day.
Finish digesting your BBQ'd ribs at Centennial Park (off Eglinton West, west of Renforth) by watching fireworks at about 10pm.
Downsview Park (near Keele and Sheppard) with its fireworks display on Canada Day at about 10pm.
Lion's Park (2125 Lawrence Ave. W., between Scarlett and Weston) begins celebrating Canada Day at 5pm. The fireworks display should begin around 10pm.
Milliken Park (McCowan just south of Steeles) launches fireworks "at dusk" to finish Scarborough's Canada Day celebrations. (You could start with pancakes in Thompson Memorial Park).
Pay for your Fireworks Display at Canada's Wonderland on Canada Day
If you've made a day of the holiday at Canada's Wonderland, stick around for the fireworks at Wonder Mountain. That show starts around 10pm.
Canada's Wonderland explains more at "Fireworks at Canada's Wonderland".
Harbourfront Fireworks are for the Early Birds
(Added June 29, 2015). I almost forgot that Harbourfront hosts a free fireworks display one night early, on June 30th. Their 20-minute show will start around 10pm (or so… possibly starting as late as 10:40pm according to a 680 News report).
Harbourfront Centre is at 235 Queens Quay West. Take the 509 Harbourfront or 510 Spadina streetcars from the Union Station stop on the #1 Yonge/University subway, or cycle along the Martin Goodman Trail with its newly-reopened Queen's Quay section.
Harbourfront Centre has a bit more information on its Canada Day at Harbourfront page.
What about Canada Day 2015 in the GTA?
"Canada Day Fireworks and Festivals in the GTA for 2015" is another article altogether.
Professional Writing by DeHaan Services
DeHaan Services writes web site or advertising copy for clients. Our skills are demonstrated in online articles in Decoded Science, Decoded Pregnancy, and other online sites. That's why we highlight these online articles on this blog page.
To only see our Toronto events (for things to do in Toronto) or fitness articles, please click on the appropriate category in the "Categories" section at the bottom of the left-hand margin.
Thank you for reading about Canada Day fireworks displays in Toronto.