My latest DeHaan Fitness article, "Hot and Cold Therapy for Pain Treatment after Exercise", introduces the safe use of heat or cold for muscle pain treatment.
Let's face it: almost everyone who exercises for fitness or at work will have muscle pain sometime. Hot and cold therapy options can help significantly in muscle pain treatment
The "PRICE" of First Aid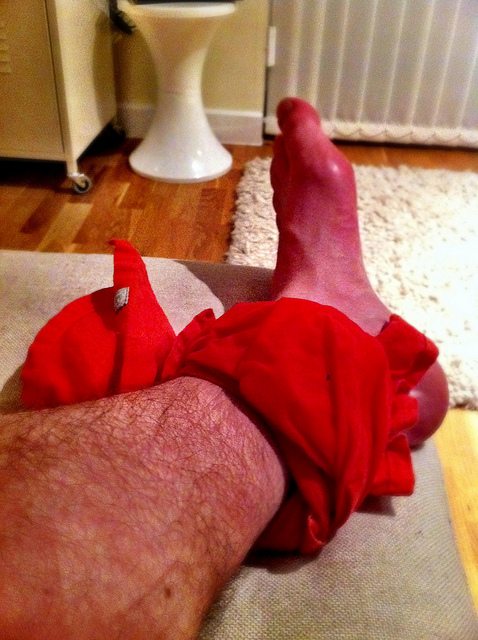 One standard First Aid approach to an acute injury such as a sprained ankle is PRICE:
Protect the injury.
Rest the injury.
Ice the injury…or apply cold.
Compress the injury.
Elevate the injury.
The picture shows a man applying the RIE components.
My article explains more about choosing between heat and cold for pain treatment of acute or chronic injuries.
Why Improvise? Invest in a Reusable Hot and Cold Pack for Pain Treatment
The "SofTouch Hot and Cold Pack" earned a 4.7/5 star rating with 46 reviews at Amazon. It uses clay rather than gel, and has a soft surface so it feels better on the skin.
The clay can fit better around joints than some of the stiffer hot and cold pads on the market. One concern is that it may not heat evenly in the microwave, so knead it every minute or so to distribute the heat more evenly. This is a low-priced product compared to the competition. It's reusable and versatile.
My article explains why it's more economical to buy a couple of hot and cold packs for home use; especially compared to one-time chemical packs.
It's a lot easier to handle a reusable ice pack than to improvise by crushing ice cubes in a plastic bag. And the "hot and cold gel packs" are more versatile than buying a separate ice pack and electric heating pad.
Find a First Aid Course in Canada
While the St. John Ambulance folks also provide First Aid training, it was easy to find the "find a first aid course" page for the Canadian Red Cross. Take a course; learn to save lives and alleviate pain.
I do consider pointing readers to first aid courses to be a public service announcement.
Professional Writing by DeHaan Services
DeHaan Services writes web site or advertising copy for clients. Our skills are demonstrated in online articles in Decoded Science and other web sites. That's why we highlight these online articles on this blog page.
To only see our Toronto events (for things to do in Toronto) or fitness articles, please click on the appropriate category in the "Categories" section at the bottom of the right-hand margin.
Thank you for reading about muscle pain treatment using hot or cold therapy.
Disclaimer: The information contained in this article is for educational purposes only and should not be used for diagnosis or to guide treatment without the opinion of a health professional. Any reader who is concerned about his or her health should contact a doctor for advice.