Apparently the Hon. Vic Toews, Canada's minister of public safety, had announced that May 6-12, 2012 is "National Emergency Preparedness Week" in Canada.
I certainly can use an annual reminder to re-stock my emergency first aid kit.
But I only noticed this because of the red banner on the Environment Canada weather site that I check almost every day.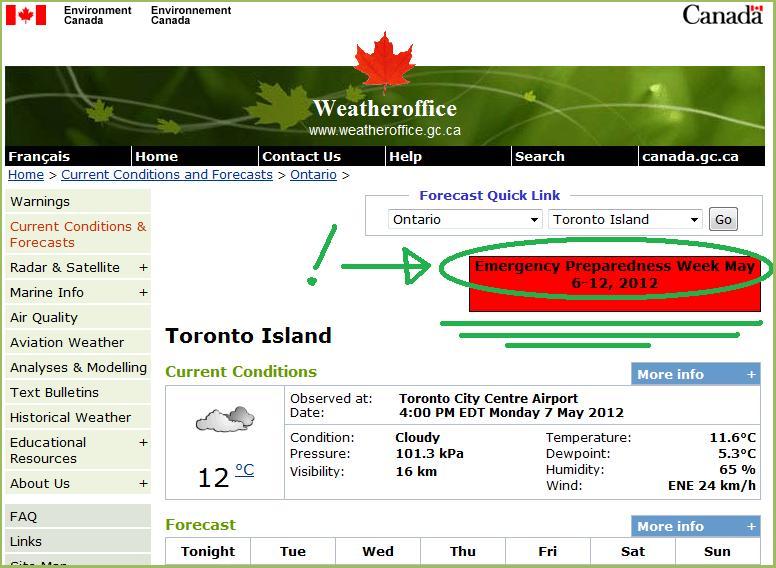 Prepare for Emergencies during May 6-12, 2012
The important resource is the Government of Canada's "Is Your Family Prepared?" site.
Read and heed, if you please!
A Gap in Online Coverage for Emergency Awareness?
This afternoon I ran a quick search for "toews safety emergency" in the Bing search engine. Other than official Canadian government web sites or historical news and articles, the only other top-10 reference that I noticed was that the MarketWire service did publish an advisory on May 2nd. Didn't the media cover this event and publish it online? The announcement was to have been made on May 3rd.
I know that I hadn't noticed it in the news…so I assume most of Canada missed it, too.
Valuable Emergency Preparedness Information from the Canadian Government
The government site has links to a number of publications and articles.
We may think we know about storing emergency candles in the home, and keeping a sleeping bag in the car's trunk. Do we actually keep some clean drinking water handy in case the water main breaks?
It's a lot easier to read about emergencies and to prepare for them before they occur. As the Boy Scouts might say, "Be prepared"!
Feedback: Did You Know about Emergency Preparedness Week?
After being flooded with spam comments some time ago, I added a "captcha" and now receive very few. I just tried to make a comment, and received an "internal server error". (Insert expletive of your choice).
Please send me an e-mail if you already knew about about "National Emergency Preparedness Week", and your source of information. Thanks!