Groundhog Day comes every February 2nd, no matter what the weather. And that's the modern point, really: to celebrate winter, especially the hope that spring will arrive soon. (Updated Feb. 2, 2016 with the predictions).
Since the groundhog checks its shadow when it wakes up, let's chase sunrise from east to west in Canada and the USA.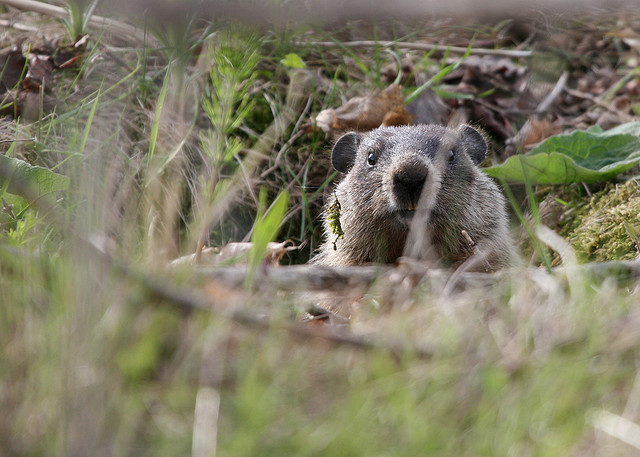 Where do Canadians Celebrate Groundhog Day?
The first Canadian groundhog to predict the end of winter is Nova Scotia's Shubenacadie Sam.
Québec asks Fred la Marmotte about sunshine and shadow in Val d'Espoir, in the Gaspé Peninsula .
Ontario needs a team of marmots. Wiarton Willie celebrates his 60th sunrise in Wiarton. Groundhog Gary works in Kleinburg. I suspect Dundas Donna was a one-year wonder; she's a South American coatimundi who visited Yonge Dundas Square  in Toronto in 2014.
Manitoba's three groundhogs are Brandon Bob, Manitoba Merv in the Oak Hammock Marsh, and Winnipeg Willow. (Merv is actually a hand puppet, but apparently he pays his union dues to the live critters). CBC reports that Winnipeg Willow died in late January; apparently without a pre-arranged successor. [see Merv's report, below].
Balzac Billy of Calgary, Alberta, is actually a Richardson's Ground Squirrel.
I'd say that most people think of Shubenacadie Sam or Wiarton Willie when asked about "Groundhog Day Canada".
Groundhog Day in the USA
New York State's Staten Island Chuck inherited his post from Charlotte, who'd had an unfortunate encounter with Mayor de Blasio in the zoo.
The most famous Yankee groundhog is Punxsutawney Phil Sowerby of Gobbler's Knob in Punxsutawney, Pennsylvania.
Other eastern Americans include Chuckles the Eighth of Manchester, Connecticut (at the Lutz Museum); and Potomac Phil of Washington, DC.
Ohio's Buckeye Chuck, Georgia's General Beauregard Lee (Yellow River Game Ranch in Atlanta, and the only groundhog who holds two doctorates), and  French Creek Freddie in West Virginia are other prognosticators in this annual round of weather prediction. Michigan's Woody the Woodchuck just came to my attention this year.
The Predictions of Groundhog Day 2016
Here are the 2016 Groundhog Day predictions.
These Groundhogs Predict an Early Spring in 2016
Thanks to enough cloud cover in the morning, the following groundhogs enjoyed the dark dawn and predicted an early spring.
First out of his burrow, Shubenacadie Sam had enough cloud to claim that Nova Scotia would be blessed with an early spring. [610 CKTB's and Wiarton Willie says report].
Manitoba Merv added to the joy from his post in the Oak Hammock Marsh. [Early spring coming to southern Manitoba, weather-predicting puppet says]. In Calgary, Balzac Billy was also under a cloud. [Balzac Billy announces early end to winter for Calgarians]
Punxsutawney Phil, the most famous and poetic groundhog, closed his prognostication with "There is no shadow to be cast, An early Spring is my forecast!" [Stormfax Weather Almanac's 2016 report].
Here are the other Americans looking for an early spring in 2016. Chuckles the Eighth predicted that Connecticut's ski season will be cut short. [Chuckles VIII Predicts An Early Spring]. By the way, Chuckles is one of the few females on the elite international team of weather varmints. Potomac Phil agreed for the District of Columbia (that's Washington, DC). [Potomac Phil, the D.C. area's groundhog, did not see his shadow]. Staten Island Chuck and Chattanooga Chuck also predicted an early spring. [see the Buckeye Chuck reference below]. General Beauregard Lee agreed. [General Beauregard Lee predicts early spring]
Six More Weeks of Winter for 2016
Fred la Marmotte foresaw a lengthy winter in this morning's sunshine. [6 more weeks, says Fred la marmotte]. Environment Canada predicts some 20cm of snow for Montreal in the near term.
Wiarton Willie's prediction of a longer winter was probably good news for Ontario's ski and tourism industry. We've had pretty mild conditions and very little snow up to this time. [610 CKTB, above].
Balzac Billy agreed on the "6 weeks" prediction for Alberta [also noted in 6 more weeks, says Fred la marmotte].
Down in the USA, Buckeye Chuck saw the portents in his shadow in Marion, Ohio. So did Woody the Woodchuck in Michigan. [Groundhog Day 2016: Buckeye Chuck predicts more winter…]. So did French Creek Freddie, over in West Virginia. [French Creek Freddie Predicts More Weeks of Winter].
How to Celebrate Groundhog Day
If you live near any of these groundhogs, the best plan is to wake up early and join the festivities; many of them are free to attend.
For an extreme example, Wiarton Willie hosts nearly a week of events from Jan. 28 through Feb. 2nd. Skate, examine a yurt, learn to appreciate ice sculptures, "and so much more". Many of these are free; check the Wiarton Willie Festival page.
Why not sing for the joy of winter's impending end? "Carols for Groundhog's Day", in Amazon's Kindle reader version, has lyrics for a dozen Groundhog Day songs. You already know the Christmas carols tunes! It's a real value via Amazon's online Canadian and American sites, with seasonal recipes and decorating tips.
More Annual Events in Toronto Canada
My blog tracks many of the annual Toronto events that I find interesting, free or frugal. Today's article happens to cover an annual winter North American tradition instead.
Disclaimer: DeHaan Services has no relationship to the organizer(s); I am not reimbursed for writing this article. However, DeHaan Services does write web site or advertising copy for clients. Our skills are demonstrated in online articles in Decoded Science, Decoded Pregnancy and other online sites. That's why DeHaan Services highlights those online articles on this site.
Thanks for reading about the 2016 Groundhog Day in both the USA and Canada.