There must be a better way to adjust the schedule for the Toronto Centre Island ferry than to wait until after the Victoria Day weekend.
Make Your Own Toronto Event: Take the Centre Island Ferry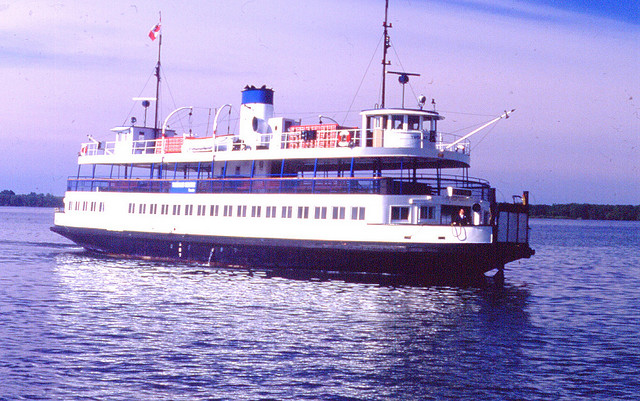 The winter and spring of 2012 have been remarkably mild and pleasant. I've had fewer training runs in snow or rain than usual. Birds and butterflies migrated earlier than usual.
Yet, once again, mainstream media such as 680 News has reported that "Big crowds cause lineups and delays at Toronto's ferry docks". On May 20, the Sunday of the Victoria Day long weekend, "the ferry service, still on its spring schedule, could not keep up with the demand".
An estimated 15,000 people used this service yesterday.
In 2011, the Toronto Star reported "Gridlock — and good cheer — at the ferry docks" for Dragonboat racing in June 2011. Presumably the ferries were on their summer schedule.
But in 2010, the same newspaper stated that "Crowds overwhelm single Toronto Island ferry" on a warm April weekend. At that time, it was reported that the ferry schedule is planned about half a year in advance. This includes inspection, maintenance, and hiring temporary crew; tasks that cannot be jiggered and rushed based on a quick change of weather.
A Modest Suggestion for the Toronto Centre Island Ferry Schedule
A quick glance at the official Toronto web page, "Toronto Islands – Ferry Schedules & Fares", shows the spring/fall schedule changes to summer on May 25, 2012.
By my reckoning, there are about six extra scheduled "departures from the city" to Centre Island on weekends and holidays after the change from spring/fall to summer. This can be improved on an ad hoc basis, depending crowds or weather, if all the ferries are in commission.
The change from 24 to 30 scheduled departures for Centre Island does not seem like much; but 6/24 is a 25% improvement.
OK, Toronto Parks management, that's only a week after the long weekend. Surely to goodness you can plan to be up and running at full capacity a week sooner.
Why Visit Toronto's Centre Island?
Toronto's Centre Island is a great place to visit: walk, lounge on a beach or picnic. BYOB, meaning "bring your own bicycle", for trails but be courteous to pedestrians. Or rent one from the Toronto Island Bicycle Rental station.
The Centreville Amusement Park generally is open on weekends in May and September, and daily from June through August. Check their web site for details. It is a very child-friendly attraction for the whole family. (Amusingly, Centreville is on "Middle Island" or "Olympic Island", not "Centre Island".
As an alternative on a crowded holiday weekend, arrange for a canoe tour from Harbourfront's Canoe Toronto on Queen's Quay and Rees Street (Robertson Crescent). They can guide you across the harbour so you can paddle around the Islands, rather than joining the crowds on the ferry.
The 24th Dragon Boat Race Festival will be held on June 23 and 24, 2012. As I had noted in an earlier article, "To Untangle Two Toronto Triathlons in 2012", Multisport Canada will hold short-distance events on the Islands on Aug. 25 and 26, 2012.
Plus, the Islands give a terrific view of downtown Toronto. Enjoy!
(Thank you for reading this "public service announcement", or at least my opinions on this Toronto public service).