Every year, shortly after children go back to school, the search begins for effective head lice treatment methods. I'd dealt with "how to get rid of head lice" a couple years ago in a no-longer-available article, "Itching to Get Rid of Head Lice", but, as a public service announcement, here are a few highlights.
(Updated Oct. 12, 2015): My articles were published in now-defunct web sites, so they are no longer available.
(Added Feb. 1, 2013): I've noticed that this article has been popular in January too. The head louse life cycle is not tied to the school year, so it is important to check your children every few months.
(Updated April 21, 2013, with slight revisions throughout).
(Updated Sept. 18, 2013, in the "Final Notes…" section, specifically about the TDSB [Toronto District School Board] document).
Head Lice Pictures Aid the Diagnosis of a Head Lice Infestation, or Pediculosis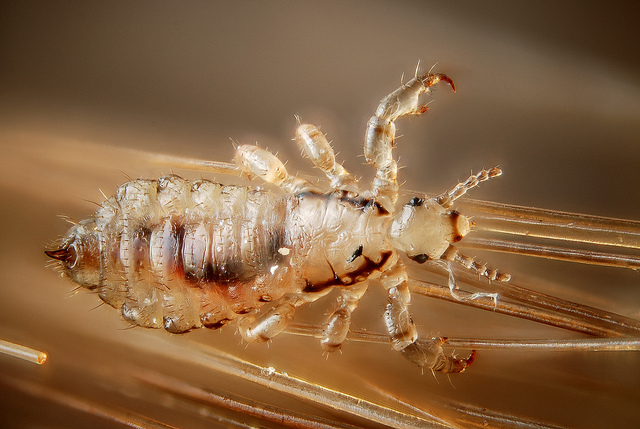 A head louse, Pediculus humanus capitis, is pretty small, and crawls quickly. It's actually tricky to see unless you have experience. If you catch something in your comb, check some head lice pictures for confirmation.
(That word, "Pediculus", leads to the formal name for a lice infestation, "pediculosis". The word "capitis" refers to the "head". You can guess what "humanus" means).
My article, noted above, has a couple more pictures of head lice.
Simply seeing head lice eggs, or "nits", attached to the hair is not considered a complete diagnosis.
Use a fine-toothed lice comb as a diagnostic tool.
Very few children would have over two dozen live head lice at a time.
How to Kill Head Lice
The standard way to kill head lice is to apply the right insecticide formulated as an external medical treatment. Ask your pharmacist, double check the instructions, and follow them closely. The safest chemicals are permethrin and pyrethrin. Lindane is tricky to use safely. Children over the age of four may be treated with a myristate/cyclomethicone solution which dissolves the exoskeleton of a head louse; but it can irritate human skin.
Before chemical insecticides were available to treat head lice, the only approach was to comb out the adults. Even the best fine-toothed head lice comb is less effective than the proper chemicals. However, I'd still use the comb in addition to the insecticide; discuss this with your pharmacist.
Just don't try "old fashioned home remedies", which are usually ineffective or downright dangerous. They are not ways how to treat head lice.
Head lice eggs are much harder to kill than the newly-hatched nymphs or adult head lice, so the insecticide treatment should be repeated in about ten days. That gives the nits time to hatch, but the nymphs will still be immature.
It's a good idea to wash pillowcases in hot water and dry at high heat for fifteen minutes, but probably not absolutely necessary.
Again, my previously noted article has more details on how to kill head lice.
Natural Treatments for Head Lice
(I added this section on Jan. 14, 2013 and updated it slightly on Feb. 1st).
Online natural goods retailer Abe's Market sells a variety of products to prevent and treat head lice infestations.
"Lice Repel Shampoo" is a preventative with several aromatic oils to discourage lice from visiting. The "Logic" brand recommends a triple treatment: "LiceLogic Clear & Free Treatment Shampoo" requires a half-hour shampoo and soak, followed by the ritual of combing out each louse, and finishing with a rinse plus louse-repelling hair conditioner. This product claims to be hypoallergenic, not toxic to people and free of pesticides.
Although they don't list all the ingredients in these products, they seem to use essential aromatic oils that a head louse would find revolting.
Since head lice do not actually spread diseases, it seems safe enough to try these natural products if you have any reason to doubt the safety of the "chemical insecticides" noted in the previous section. Remember that you're depending much, much more on combing out each and every head louse than on killing them with a pharmacy's medicated shampoo. Thorough combing is the trick with natural remedies for pediculosis.
A proper "nit comb" or "lice comb" is a fine-toothed metal comb. Again, Abe's Market sells a metal nit comb; the teeth are grooved to trap each egg, or "nit", and force out any remaining lice. Don't rely on standard combs; the teeth aren't close enough together, or will bend apart rather than seizing the nit.
Final Notes and Reference Materials about "Head Lice Infestation" or "Pediculosis Capitis"
(Updated Sept. 18, 2013 for the TDSB lice policy reference and the "Fact Sheet"). Different school boards have different rules about children with an active case of pediculosis or "head lice infestation". The Toronto District School Board's (TDSB) policy and procedure for Head Lice (Pediculosis), in PDF format is to keep the infested student out of school until the head lice treatment is successful. Some have argued that there is no reason to segregate students with pediculosis; I am staying out of that debate. The TDSB's "Head Lice Fact Sheet" offers an excellent summary of the pediculosis problem, head lice symptoms, and how to get rid of head lice.
However, the only medical concern is the itching that may develop as a person becomes sensitized to the saliva that the head louse injects into the scalp while it feeds.
My main reference is "Head lice infestations: A clinical update" by the Canadian Paediatric Society.
A very comprehensive set of reference materials starts with "Head Lice" by Toronto Public Health.
Professional Writing by DeHaan Services
DeHaan Services writes web site or advertising copy for clients. Our skills are demonstrated in online articles in Decoded Science, Decoded Pregnancy, and other web sites. That's why we highlight these online articles on this blog page.
To only see our public service announcements or for notes about online articles, please click on the appropriate category in the "Categories" section at the bottom of the right-hand margin.
Thank you for reading about my article on effective head lice treatment.
Disclaimer: The information contained in this article is for educational purposes only and should not be used for diagnosis or to guide treatment without the opinion of a health professional. Any reader who is concerned about his or her health should contact a doctor for advice.