"Did the Temple of Solomon Define Pi in the Bible?" reviews the mathematics of the "molten sea" that King Solomon installed in the Temple at Jerusalem.
The Mathematics of "Pi" in the Bible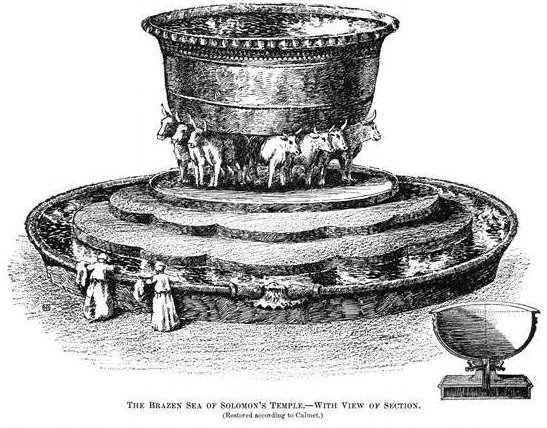 My Decoded Science article looks at the Bible verse that gives both the circumference and diameter of this large basin, and explains how those two numbers should allow us to calculate π (pi). Does the Bible give the approximate answer of 3.14159265…?
My article also reports on whether any US states have adopted the Bible's evaluation of π.
Publicity for my Article about Solomon and Pi
My Blog of Writing includes a wise writing tip as "Math and the Bible meet Pi and King Solomon" links to my article.
Professional Writing by DeHaan Services
DeHaan Services writes web site content or advertising copy for clients. Our skills are demonstrated in online articles in Decoded Science, and other online sites. That's why we highlight these online articles on this blog page.
Americans looking for a new laptop or desktop computer might check Lenovo's lineup of products and services. You might not need it to calculate π, but imagine what Solomon might have done with 3D engineering software.
To only see our Toronto events or fitness articles, please click on the appropriate category in the "Categories" section at the bottom of the left-hand margin.
Thank you for reading about King Solomon's mathematical encounter with π in Decoded Science.