(Updated Jan. 11, 2013): My latest Winterlicious article is "Prepare to Savour 2013 Winterlicious in Toronto"; I'd also written the complementary "Summerlicious 2012 Hosted by Top Toronto Restaurants".
(Updated Aug. 11, 2012): Apparently "WinterCity" was cut from Toronto's budget for 2012; but Winterlicious continued.
Winter, of course, continues in the face of climate change; at least for the present time and in Ontario.
These mascots may have nothing to do with this article, but the snow speaks to me of winter; and they are at Toronto City Hall.
(End of update).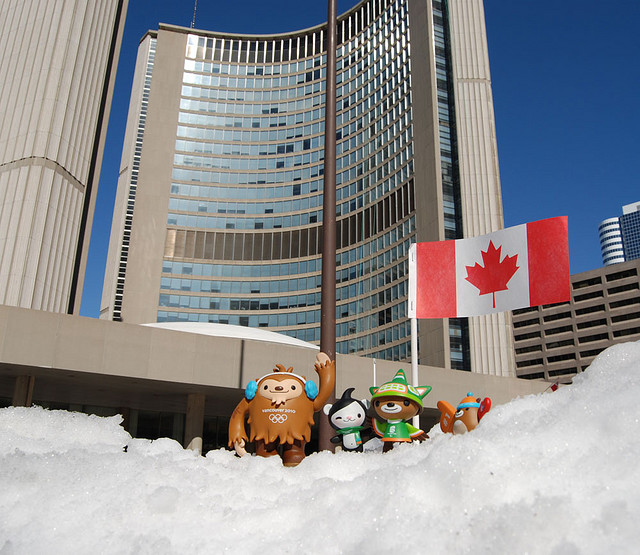 WinterCity

versus

Winterlicious

in Toronto
Briefly:
WinterCity 2010 runs from January 29 to February 11, 2010.
It combines "culture, creativity and cuisine" (as noted in City Hall's page: http://www.toronto.ca/special_events/wintercity/2010/ .
WinterCity includes shows and art installations at Nathan Phillips Square (which I usually read as "Toronto City Hall" – but it's the square in front of city hall, at Queen and Bay streets). These events are:
Friday, Jan. 29  at  8 pm: 'Time Is…': Chinese themes on a vertical stage
'Cosmogonia': The Genesis creation in "cascading water and fire" on three dates:

Saturday, Jan. 30  at  8 pm

Sunday, Jan. 31  at  7 pm

Saturday, Feb. 6  at  8 pm

Friday, Feb. 5  at  8 pm: 'Namastey': Bollywood themes on a vertical stage
'Angel of the Apocalypse': An interactive and/or choreographed flaming art installation by the

Flaming Lotus Girls

:

Jan. 29 – 30  from  6 – 9:30 pm

Jan. 31 from 4 – 8pm

Feb. 1 – 4  from  6 – 10 pm

Feb. 5 – 6  from  6 – 9:30 pm

Feb. 7 from 4 – 8 pm
Toronto WinterCity includes events at other venues:
The

National Film Board

has screenings and workshops – visit their website NFB Mediatheque ; call (416) 973-3012 for information and to make reservations; and then trek to  150 John St. at Richmond.
The

Guvernment

hosts a family dance event on Jan. 30 from 2 – 5pm: call (647) 430-5599 and express your surprise that they really want to host the whole family at 132 Queen's Quay (at Lower Jarvis St.).
Attend the multimedia performance, 'Tumbling into Light', at the

Young Centre for the Performing Arts

on Jan. 31. In this case, they recommend translating "Young" into the phrase "12 and up". Call (416) 866-8666.
Attend 'Temples 2 Terabytes' at the

Bread & Circus

in Kensington Market (299 Augusta Ave.) on Feb. 5 – 7. Call (416) 925-8898 for reservations or to learn more about this South Asian music and dance performance. (As a spell-a-holic, I'm curious as to which spelling of the show's name will actually be printed on the program. Please let me know!)
Interact with 'A Midwinter Night's Dream' in the

Roof Salon

at the Park Hyatt (4 Avenue Road) on Feb. 11 or 12. They want an "adult audience" for poetry, music, fortune-telling, and other entertainment. Call (416) 944-1101 to learn more.
Toronto's Winterlicious 2010 runs from January 29 to February 11, 2010 – the exact same dates!
(As astute readers will note below, City Hall's URL for Winterlicious hints that it is closely related to Winter City).
This is the part of the Winter City festival that covers cuisine. City Hall's page: http://www.toronto.ca/special_events/wintercity/2010/culinary.htm lists 10 special events; but toronto.com's page http://www.toronto.com/winterlicious lists all the participating restaurants.
Participating in what, did you ask?
The real deal is the meal: each restaurant offers a prix fixe menu, at a significant value. Look through toronto.com's multiple pages of restaurants, phone them to make your reservations, and enjoy.
Unfortunately, that's all the time I have for this initial post – I expect to update it later.
[This post was last updated 2012-08-11.]