Mayor Rob Ford and his brother, councilor Doug Ford, have completed their "Cut the Waist" diet challenge.
My DeHaan Fitness article, "Toronto Mayor Rob Ford Ends One Cut the Waist Challenge", looks at what the rest of us could learn about losing weight from their experiences.
The Long and Winding Challenge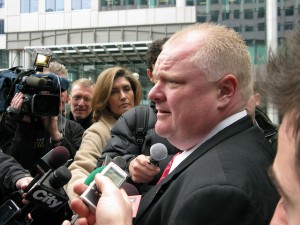 Mayor Ford started his "Cut the Waist" diet challenge in January 2012. After a remarkably strong first week, successes were hard won and infrequent.
On a weekly basis, I'd actually updated a separate account in "Weight Loss Risks for Toronto Mayor Rob Ford". Luckily, Rob Ford avoided any of the risks that I had envisioned at the outset of his journey of weight loss.
He has indicated that he still is interested in pursuing further weight loss. I would be glad to write about his future successes.
(Added 2013-03-20): It's not clear whether Mayor Ford gleaned any weight loss tips from diet coaches. If memory serves, he spoke of reducing his carbohydrate intake, and news reports suggested he drank water rather than soda pop. It's almost certain he didn't register in any weight loss programs. His early success with quick weight loss at the start did not go the distance.
Publicity for my Cut the Waist Article
In my Blog of Writing, "Food for Thought from Cut the Waist" offers a writing tip based on my experience writing about our Toronto mayor's "Cut the Waist" challenge.
Professional Writing by DeHaan Services
DeHaan Services writes content or advertising copy for clients. Our skills are demonstrated in online articles in Decoded Science, and other web sites. That's why we highlight these online articles on this blog page.
To only see our Toronto events or fitness articles, please click on the appropriate category in the "Categories" section at the bottom of the left-hand margin.
Thank you for reading about finding lessons in the Ford brothers' "Cut the Waist" challenge in Toronto.