Does Aesop's fable, The Tortoise and the Hare, actually teach us about fitness and how to pace your run? Maybe not, but it helped me put an insight into perspective in "The Tortoise and Hare Approach to Running Pace", my latest DeHaan Fitness post.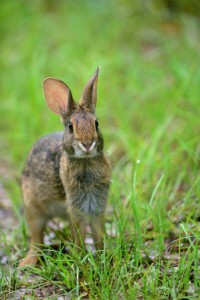 Okay, Aesop Really Didn't Say Much about Fitness
I'd like to feel as quick as this rabbit, but as I admit in that blog post, I felt really slow at the start of that fitness session.
And no, Aesop truly did not discuss "pace" for exercising. He had a different insight about competition. Actually my blog post is about setting a wise pace early in the run. I used the "Tortoise and Hare" phrase to highlight the contrast between trying too hard versus starting with a sustainable pace.
Two Sources for Aesop's Fables
I found a couple of good Kindle books of Aesop's fables, in Amazon. Read them for Aesop's wisdom on a range of subjects… or to give your children something to dream about.
"Aesop's Fables (Kindle Edition)" has a low price, and a 4-star rating from 7 reviewers. Each modernized fable has its own illustration. Check it out in the Canadian edition or the American edition.
The "Aesop's Fables (Oxford World's Classics – Kindle Edition)" version has a whopping 600 fables! The only review gives it 5 stars. This version has been translated anew from the Greek. It's recommended for the parent who wants to know what the original stories really said. Check it out in the Canadian edition or the American edition.
Professional Writing by DeHaan Services
DeHaan Services writes web site or advertising copy for clients. Our skills are demonstrated in online articles in Decoded Science, Decoded Pregnancy, DeHaan Fitness, and other sites. I also promote my articles with writing tips in my Blog of Writing site: for example, "One Writing Tip from Running with Aesop". That's why we highlight these online articles on this blog page.
To only see Toronto events, or only the fitness articles, please click on the appropriate category in the "Categories" section at the bottom of the right-hand margin.
Disclaimer: The information contained in these articles is for educational purposes only and should not be used for diagnosis or to guide treatment without the opinion of a health professional. Any reader who is concerned about his or her health should contact a doctor for advice.