(Added March 1, 2014): A year after the original post: the Toronto International Bicycle Show 2014 runs from Feb. 28-Mar.2. Just scroll down to the official site near the end of this article, with my apologies for not writing a new article. The rest of this post is from 2013.
* * *
More formally, the 2013 Toronto International Bicycle Show runs in the Better Living Centre on the CNE grounds from March 1-3, 2013.
Yes, there's a link to the official site near the end of this article.
Why Attend the Toronto Bike Show?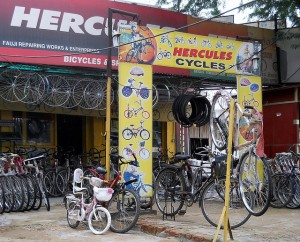 Now in its 27th year, the spring Toronto Bicycle Show will feature 150 exhibitors, several bike riding competitions, hands-on experiences and the chance to connect with cycling clubs and tour organizers.
Become inspired because cycling is a great fitness activity for your weekends. It's also an environmentally-friendly way to commute to work. The Toronto Bicycle Show will have the personnel to help you find that inspiration.
Remember that cycling is a healthy exercise that can contribute to weight control and cardiovascular fitness. Those improvements can lead to a longer and happier life.
Some people turn to bicycling rather than running because it's easier on their knees, ankles or feet.
If you need new gear, anything from the bicycle, through bike accessories and on to cycling clothing, the bike show will supply it.
When and Where is the 2013 Toronto International Bicycle Show?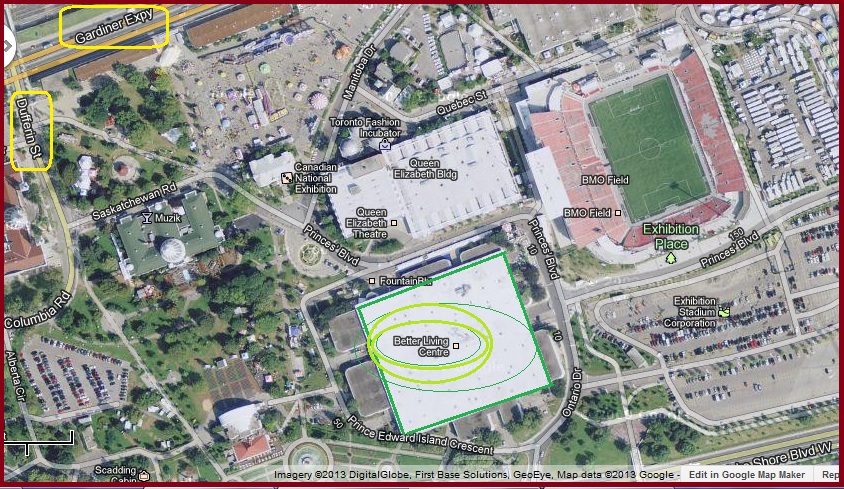 The Toronto Bike Show starts Friday March 1st and ends Sunday March 3rd. The times are:
Friday from noon to 9pm;
Saturday from 10am to 7pm;
Sunday from 10am to 6pm.
The Better Living Centre is in the south-west quarter of the CNE grounds (the Canadian National Exhibition property). The CNE is bounded by Lake Shore Blvd West on the south, Dufferin on the west, the Gardiner Expressway on the north, and Strachan Avenue to the east.
Cycling Competitions at the 2013 International Bicycle Show in Toronto
The International Bicycle Show hosts several different cycling competitions during their March 2013 weekend:
Yakima Canada sponsors a mountain bike race and stunts competition;
BMX racing and tricks competition;
Competitions on ramps and around obstacles;
Bike polo tournament.
Sorry if I've under-stated what's going on; I'm much less of a BMX or competitive cyclist than a leisurely touring rider, myself. Let me know what more to say: add a comment (sorry about the CAPCHA); or use my contact information from the right-hand column.
Other Attractions of the Spring 2013 Bicycle Show in Toronto
Check out new biking technology at this bike show. Perhaps e-bikes will be the cutting edge for the 2013 bicycle show at the CNE. Exhibitors will showcase the newest product innovations in electric bicycles.
You can enter a draw to win a free bike, or test-drive a bicycle in the test ride zone.
The children will have play area, although one parent or guardian has to stay with the tyke.
Learn what cycling clubs and tour organizers can offer to enhance your cycling experience this coming season.
Just see if you can resist buying a new bike, accessories and cycling clothing.
Getting to the Toronto International Bicycle Show
Three good options come to mind for getting to the Toronto International Bicycle Show:
If you're from out of town, take the GO Train to the CNE.
From within Toronto, ride the TTC. Take the 29D Dufferin South bus from the Bloor line's Dufferin subway station.
Bike to the CNE! Feel the envy of car drivers since the bicycles get free parking.
Admission Costs for the 2013 Bike Show in Toronto
The admission costs are in line with many other annual Toronto events that I've recommended. Do check the official link below for exact family, multi-day and discount ticket prices. I assume HST will add tax to the quoted prices.
Adult single day admission is $13.
Children under 5 years of ages are free.
Seniors and youngsters enjoy a discount.
There's a family discout for up to 4 persons.
Get a bargain for a 2-day or 3-day pass.
Four Final Notes about the Toronto Bike Show 2013
Here are three small notes about the 2013 bike show in Toronto.
If You Can Defer Buying a New Bike
If you can defer buying a new bicycle until late autumn, put an entry into your calendar to come back on Sat. Oct. 19, 2013 for the one-day bicycle sales blitz when exhibitors compete to clear out their inventory before the holiday shopping rush.
Online Comparison Shopping for Bikes and Bike Accessories, such as Bicycle Carrier Racks
Do your online comparison shopping before you attend the Toronto Bike Show, so you know how much of a bargain you're getting.
Here's a couple of examples via Amazon.com. Let's pretend you're looking for a bike rack sale.
Cyclists look for two kinds of "bike rack": a bicycle accessory to carry luggage; or bicycle carrier racks.
Among bicycle accessories, Amazon's top rated bike rack is the "Axiom Journey Tubular Alloy Rack in Black". Think about it: this bike rack can carry 150 pounds (68 Kg). Have you ever wished you could load that much gear on your bike? Even if you haven't, now you won't have to worry about your bike carrier being the weak link. Of the 20 reviews, the only serious complaint about this bicycle rack was the need to tighten some nuts about once a month.
For a bike carrier for cars, Amazon's top rating goes to the "HR1400 Sport Rider SE 4-Bike … Hitch Mount Rack". Despite the long name, it seems like a really good car hitch bike rack. This hitch-mounted bicycle rack carries two or four bikes, and folds flat behind your car when it's not needed. Hollywood Racks earned the full 5 stars in 49 of 56 reviews for this bicycle hitch carrier; the other 7 gave "only" 4 stars. One of those few complaints was that the hitch lock didn't fit the customer's hitch; once he bought another lock he seemed satisfied with this bicycle hitch rack.
Previous Articles about Cycling in Toronto
Although I covered winter cycling with "Bike in Toronto a Week after Robbie Burns Day 2013", this is my first article for the spring 2013 cycling season. After all, this is an annual spring Toronto event.
Other annual spring cycling events in Toronto were noted in last year's "Great Reasons to Bicycle in Spring 2012" and "Toronto Bike Month 2012 for Fitness and Events". I'm sure that most or all of these events will return, particularly the Becel Ride for Heart.
The
Official Site

of the 2013 Toronto International Bicycle Show

As thanks for reading so far: here's the official Toronto International Bicycle Show site.
Looking for More Annual Toronto Events?
This blog tracks all the annual Toronto events that I find interesting, and provides ideas for fascinating, free or frugal events in Toronto.
Disclaimer: DeHaan Services has no relationship to the organizer(s); they do not reimburse me for writing this article. However, DeHaan Services does write web site or advertising copy for clients. Our skills are demonstrated in online articles in Decoded Science, for example. That's why DeHaan Services highlights these online articles on this site.
Thanks for reading about the 2013 Toronto International Bicycle Show.