My recent DeHaan Fitness article, "My Worst Week of 5K Training for the Resolution Run", explains why I had a terrible training week before a running event, and what I did about it. Have you ever had "down time" in your exercise program? Read my suggestion there.
(Added Dec. 30, 2013): If you just want to skip to the ending, learn how my race went in "My End of 2013 Resolution Run after a Bad Training Week".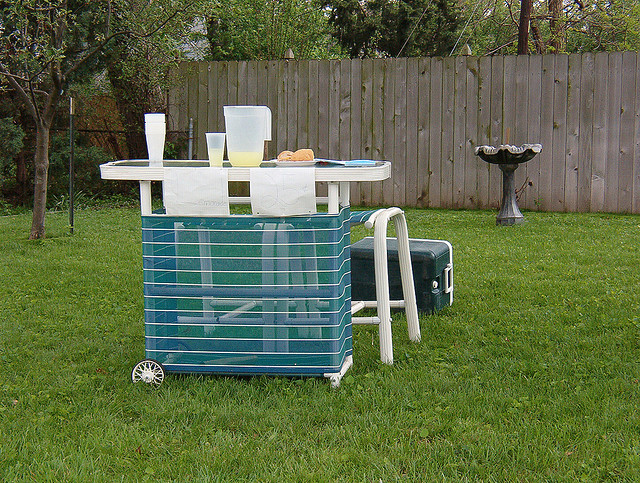 Lemons or Lemonade?
It's not the lemons, it's the quality of lemonade that you can make from them! That's part of the writing tip in my promotional article, "Lemonade versus a Week of 5K Training".
About the Annual 5K Resolution Run in Canada
The Running Room chain of stores promotes the annual 5Km Resolution Run.
It's usually held early on New Year's Day, to mark our "resolution" to become fitter and healthier.
The Resolution Run in Toronto will be held on Sunday Dec. 29, 2013 rather than on New Year's Day. I assume that it was too expensive or difficult to arrange for a venue on Wednesday. The non-competitive race will be held at the Canadian National Exhibition. Apparently we have to run two laps within the CNE grounds; so no motorists should complain about road closures on our account.
Other cities across Canada also host the Resolution Run. It's well worth the entry fee just for the running jacket; keep that in mind during 2014!
What about the 5K and Couch?
I'm referring to "C25K:The Couch to 5K Beginner Running Program" in the Kindle e-reader format. Even couch potatoes can become 5Km runners in only a few months. As one reviewer said, it "gives practical advice we may forget".
Canadians should link to Amazon.ca for "The Couch to 5K Beginner".  Americans, please use Amazon.com's "The Couch to 5K Beginner".
By the way, I hope to lead a Running Room 10Km clinic in early January 2014 at the Running Room store in the Toronto Beach neighbourhood. If you can already run 5Km and want to double your distance, it's a great program. Contact the store for details.
How Many Miles is a 5K Run?
Since "how many miles is a 5K" is a popular question, let's answer it. 5 kilometres is almost exactly 3 miles.
For your convenience and reference for :
1 mile is 5280 feet or 63,360 inches; that's about 1.61 kilometres. We usually round to 1.6Km.
1 kilometre is about 0.62 miles.
5Km is 5 X 0.62 = 3.1 miles.
10Km therefore is 6.2 miles.
A running marathon is exactly 26 miles and 385 yards; that's 42.2Km, within a few centimetres.
That's why Americans run "26.2" and Canadians "42.2" for a marathon!
Professional Writing by DeHaan Services
DeHaan Services writes web site or advertising copy for clients. Our skills are demonstrated in online articles in Decoded Science, Decoded Pregnancy, and DeHaan Fitness. That's why we highlight these online articles on this blog page.
To only see our Toronto events (for things to do in Toronto) or fitness articles, please click on the appropriate category in the "Categories" section at the bottom of the right-hand margin.
Thank you for reading my online articles about my problems this week in training for the 5Km Resolution Run.