Today I checked Google's Insights for Search, specifying neither a keyword nor a category, within Ontario.
Much to my surprise, 'TD' was a "rising search" term.
What are My Insights about Google Insights for Search?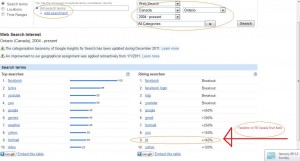 [ Click on the above image to enlarge it…you wouldn't believe how difficult it was for me to place this picture. ]
I was puzzled enough to write an article in my Blog of Writing. While "TD is an Oddly Popular Search Term in Ontario" cannot answer the question for Google, it does discuss implications for web authors who seek out popular key phrases that people have sought in the past.
It also raises some questions for the banking industry…just check the above article.
Since it is an article in my my Blog of Writing, it also offers a writing tip.
Professional Writing by DeHaan Services
DeHaan Services writes web site or advertising copy for clients. Our skills are demonstrated in articles in Decoded Science, and other online sites. That's why we highlight articles on this blog page.
To only see our Toronto events or fitness, please click on the appropriate category in the "Categories" section at the bottom of the right-hand margin.
Thank you for reading about this puzzling search engine result for 'TD'; this "Google Insights" post here in DeHaan Services has become one of my most-viewed in this site, as of Feb. 8, 2012.