Here's a quick note on the annual Krinos Taste of the Danforth, 2016 version, in Toronto.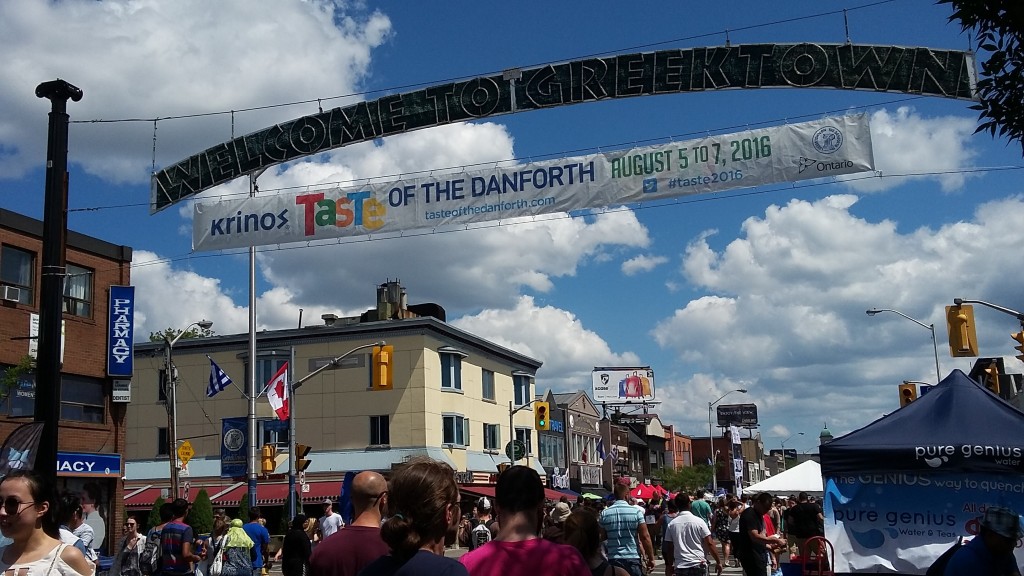 My wife and I went on Sunday just after noon. The only reasonable way to go is by TTC; the #2 Bloor/Danforth line has several stations serving Taste of the Danforth. (You do realize these events close the street to vehicle traffic, right? Okay, that's settled).
Taste of the Danforth, from West to East
We started at the west end, at Broadview. At first we found the lines for food and drink to be pretty short and manageable. I went for a lamb gyro, and my wife for a spinach pie. Good food, and we shared enough that we had some variety.
Later we had chicken shish-kebabs, and took home a dessert. Linda's always careful to bring a sturdy, re-usable shopping bag.
We asked about socks made from bamboo – yes really! – at one store. It turns out that my wife buys Christmas presents from their factory outlet in East York or Scarborough.
The lines were longer, and the street more crowded, as we went east toward Donlands. The total distance is about 2Km.
Taste of the Danforth celebrates the shops and culture along this vibrant stretch of Danforth Avenue. It started as a collection of Greek restaurants. Other ethnic foods are now available, from at least one English pub to Thai or sushi from the Orient. A few vendors come in for the day: I noticed the CFL's Argo team and Toronto FC soccer. Some traditional midway games were available. Live performances were presented from three stages along the route. And perhaps the most enthusiastic presentation was by Assassin's Creed cosplayers.
This annual event runs in early August, on the weekend after Simcoe Day. I've written about it in 2015.
More Annual Events in Toronto Canada
My blog tracks many of the annual Toronto events that I find interesting, free or frugal. Today's article happens to cover the annual Toronto Taste of the Danforth.
Disclaimer: DeHaan Services has no relationship to the organizer(s); I am not reimbursed for writing this article. However, DeHaan Services does write web site or advertising copy for clients. Our skills are demonstrated in online articles in Decoded Science, Decoded Pregnancy and other online sites. That's why DeHaan Services may highlight those online articles here.
Thanks for reading about the 2016 Taste of the Danforth.