Decisions, decisions, decisions in Toronto's Eastern Beaches this spring weekend! Should you enter a small space for small paintings, or walk through some open doors? Why not do both?
Small Paintings in One Small Space in Kew Gardens, Toronto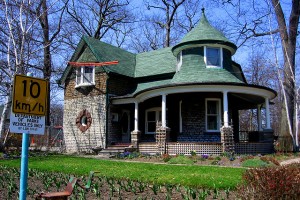 One art show worth seeing in the Beach neighbourhood is Small Paintings for Small Spaces, in the Gardener's Cottage in Kew Beach. The Beach Guild of Fine Art presents some thirty artists, who manage to squeeze their works into this cottage.
Admission is free, although the paintings are for sale. There's even a lucky draw… which is more than you'd find at Toronto Doors Open, I wager.
The exhibit runs Friday – Sunday, May 22-24, 2015. (Friday from 3-8pm; on the weekend, from 10am-5pm). Kew Gardens is on the south side of Queen St. East, well east from Woodbine Ave. but west of Main St. I'd take the 501 Queen streetcar.
Toronto Doors Open 2015 in the Beach Neighbourhood
Before or after viewing those small paintings, take a peek behind the usually closed doors in some of the buildings in east Toronto's Beach neighbourhood. Doors Open is another annual spring event in Toronto; I recommend picking an area and working your way through different buildings without going too far.
The RC Harris water filtration plant, or "The Palace of Purity", is another amazing place for Doors Open. It truly should be on everyone's bucket list. The exterior is Art Deco; the site is gorgeous, looking down from Queen Street; and the interior is stunningly industrial.
The RC Harris doors are open 10am-4pm on Saturday and Sunday. Staff will answer questions, but you are free to guide yourself. It's just east and south of the Neville Park end of the 501 Streetcar line. (Again, really, it's just a short walk downhill from the streetcar turnaround point).
The second open door I would enter is at Fire Station 227, on Queen St. just east of Woodbine. (Hmm… that sounds like Kew Gardens, but the fire station is barely a stone's throw from Woodbine). It's open from  10am-5pm both Saturday and Sunday. The clock tower is an iconic feature of this section of the Beach. Plus, they will let you tour the building and gawk at a fire truck, assuming it's not putting out fires somewhere.
Speaking of industrial buildings, the new Portlands Energy Centre (at 470 Unwin Ave.) is quite the sight. It's about 2Km from Leslie and Commissioners, but the 83 Jones bus still gets down there despite the construction at Leslie and Lakeshore. Try biking the Martin Goodman trail instead. (Updated May 23, 2015): Or drive to the entrance at the east side of the property. The bike path through Clark Beach Park ("Cherry Beach") has been paved, or asphalted, and it's not fenced off. It's a pleasure to use that section of the trail again! One sign still advises you to use Unwin Ave., and there's no centre line marking yet; but I wasn't the only person using the trail in that park.
Sticking with the industrial theme, let's wrap up with the TTC subway yard on Greenwood Ave. Of the Doors Open locations I've mentioned here, it's the only one to offer a children's activity area… and train rides for the whole family. This rail  only open to the public on Saturday from 11am-5pm.
Looking for More Annual Events or a Holiday in Toronto Canada?
My blog tracks many of the annual Toronto events that I find interesting, free or frugal.
Disclaimer: DeHaan Services has no relationship to the organizer(s); I am not reimbursed for writing this article. However, DeHaan Services does write web site or advertising copy for clients. Our skills are demonstrated in online articles in Decoded Science, Decoded Pregnancy and other online sites. That's why DeHaan Services highlights those online articles on this site.
Click the "Toronto Events" category for related articles. Thanks!
Thanks for reading about open doors and small paintings in Toronto for Spring 2015.