The annual Riverdale Art Walk continues on the first weekend of June, 2015 in and around Jimmie Simpson Park. In its 17th year, it's not new but it continues to grow and improve.
My map for Jimmie Simpson Park from 2013 is still useful.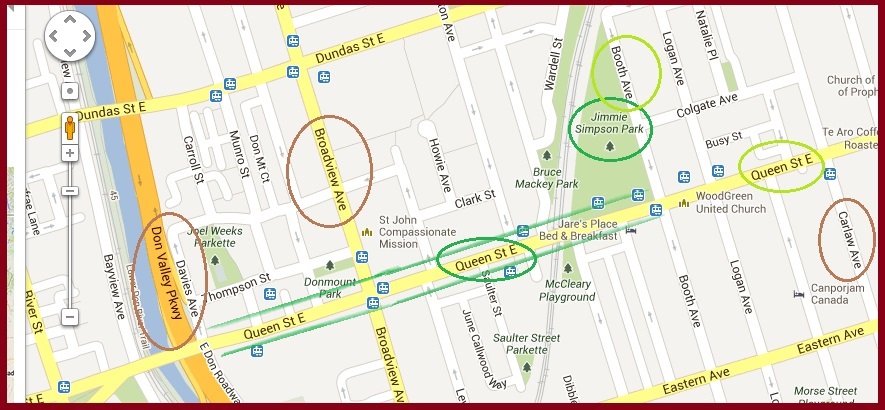 What, When and Where is the 2015 Riverdale Art Walk?
An organization called the Artists Network presents a free outdoor art exhibit in Toronto at different venues. Their season starts with the Riverdale Art in the Park free art show (and sale), featuring some 170 artists.
You may feel intimidated to work through 170 artists, but the "Gallery Wall" on the south side of the park, near Queen Street, is your quick guide to the artists booth locations.
The Riverdale Art Walk runs Saturday and Sunday, June 6-7, 2015, from 11am-6pm. Mark your 2016 calendar: this is an annual summer Toronto event, if you count on "summer" to arrive by early June.
The main exhibit area is in Jimmie Simpson Park. The recreation facility of the same name, at 870 Queen St. East in Toronto, is in the south-west corner of the park.
However, although it's called "Art in the Park", their official address is 761 Queen St. East. More to the point, at 1:30pm on Saturday, you can join a guided walk along Queen Street to see even more art shown in local shops and restaurants.
I'd take the 501 Queen streetcar, or transfer south from the Broadview station on the #2 Bloor-Danforth subway line.
Their official sites include the Neighbourhood Arts Network and the Artists Network Riverdale Art Walk.
Looking for More Annual Events or a Holiday in Toronto Canada?
My blog tracks many of the annual Toronto events that I find interesting, free or frugal.
Disclaimer: DeHaan Services has no relationship to the organizer(s); I am not reimbursed for writing this article. However, DeHaan Services does write web site or advertising copy for clients. Our skills are demonstrated in online articles in Decoded Science, Decoded Pregnancy and other online sites. That's why DeHaan Services highlights those online articles on this site.
Click the "Toronto Events" category at the bottom of the left-hand column for recent articles in this category. Thanks!
Thanks for reading about the 2015 Riverdale Art Walk.