My latest DeHaan Fitness article, "Marathon Training Unlikely to Increase Risk of Heart Attack", actually presents a bit more of a balanced view than the title indicates.
The much larger of the two research papers that I reference, provides results from about a decade of organized marathon events in the USA. They counted both full and half marathon races.
One of their conclusions was that having spectators and professional medical people available reduced the mortality rate in the few heart attacks that occurred.
Both studies showed that there are, indeed, risks in exercising. Nonetheless, the title reflects my sincere belief that most people would be healthier if they would train at a not-too-intense, recreational level for endurance sports such as running or bicycling.
The Toronto Connection for Heart Attacks During Organized Marathon Events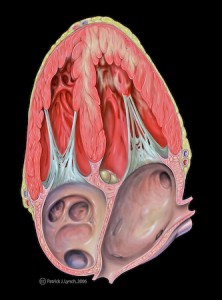 Toronto has hosted, on average, two marathon events a year for quite a few years. Each event includes a full marathon run of 42.2Km (26 miles, 385 yards for our American friends), as well as a half-marathon (21.1Km, "duh").
If memory serves, from what I remember from our local news in the last six to ten years, Toronto has averaged about one death every two years across all these full and half marathon races.
Although participation has grown over the years, let's just use the 2011 entrant numbers to get a rough estimate. The Toronto Scotiabank Waterfront Marathon, held in the autumn, had about 12,750 runners across the two races. The Goodlife Fitness Toronto Marathon, now a spring event, had about 5,300 participants. If these numbers were consistent across all the years, we would have seen about 1 death for every 36,000 entrants.
If my numbers are off…and certainly participation has grown over the years…I would still guess that one death for 25,000 entrants would be somewhat pessimistic.
Disclaimers All Around
Let's note that the news would not report every cardiac arrest, nor every ailment treated on-scene or at hospitals. So I don't have a firm comparison with the "Participating in marathons, half-marathons not found to increase risk of cardiac arrest" article from Medical Xpress (based on a report in the New England Journal of Medicine).
Let me repeat, I also did not go back to research the news archives for the Toronto deaths. I had begun paying attention around 2003 or so, when my own endurance training had started.
Nonetheless, another real problem (especially for anyone who shovels snow) is that cardiac arrests can occur to anyone; and lack of regular exercise is one of the contributing factors.
Also Promoting my Article about Marathon Training and Heart Attacks
In my Blog of Writing, "My Disclaimer for Marathon Training" provides a writing tip about disclaimers, such as:
Disclaimer: The information contained in this article is for educational purposes only and should not be used for diagnosis or to guide treatment without the opinion of a health professional. Any reader who is concerned about his or her health should contact a doctor for advice.
Professional Writing by DeHaan Services
DeHaan Services writes web site or advertising copy for clients. Our skills are demonstrated in articles in Decoded Science, and other online sites. That's why we highlight articles on this blog page.
To only see our Toronto events or fitness, please click on the appropriate category in the "Categories" section at the bottom of the left-hand margin.
Thank you for reading about heart attacks versus marathon training.