Fitness
Healthy Fitness Includes Endurance Training
The primary goal is to be healthy. Endurance training leads to a kind of fitness that promotes a long and healthy life.
Endurance

? Why should I train for endurance?

To achive a goal:
Do you want to run a marathon? Or "just" a 5-Km (3-mile) race?
Do you want to hike across the country?
Do you want to bicycle to another city?
Then you want to train to be an endurance athlete.
Do you want better health?
Health benefits may include:
Lower your resting heart rate – so your heart takes a longer break between beats
Lower your blood pressure (high blood pressure is a warning sign of potential health problems)
Burn fat while you exercise – this can help you lose weight
Trim your body by toning your slow-twitch muscles
Coaching for Fitness

:
Mike DeHaan provides coaching for endurance athletes and want-to-be athletes.
Mike can help you achieve your goals with:
1 free half-hour telephone consultation to discuss your goals and how you might achieve them.
1 active assessment session to determine your current fitness and outline a plan ($30-$75, based on time spent)  OR
1 sit-down assessment session to review your training history and outline a plan ($30-$75, based on time spent).
Active follow-up sessions to re-evaluate your progress and tweak your plan ($30-$75 each, based on time spent).
Ongoing individual coaching sessions, on a schedule that you can afford  OR
Ongoing group clinics for walkers or runners: take 10-15 weeks to either:


Double your distance

(so you can enter and finish a longer race event), or


Improve your pace

(training for a season's best or personal best at your current distance)
Individual ad-hoc sessions cost:

$30 for a one-half hour
$60 for one hour
$75 for two hours

A series of individual sessions cost $30/hour.
A group clinic costs $50 for a ten-week clinic or $75 for a fifteen-week clinic.
About

Mike

DeHaan as a runner and coach:
Mike resumed jogging over ten years ago. While running in his first 5-Km charity event in 2001*, Mike decided to run a marathon.  Ten months of training led to his first marathon, and to crossing the finish line. Mike has run fifteen marathons in all – the latest was the Ottawa Marathon in May 2009.
Mike is currently a group leader (a plucky sidekick, not the instructor) in the 10-Km clinic at the Beaches Running Room in Toronto.
Mike has a current certification in First Aid and CPR through Toronto EMS.
Mike had taught fencing (the safe sport of sword-fighting) to beginners for several years, as a member of the Metro Blade Fencing Club in Toronto. During that time, he passed two "technique" levels, and the first "theory" level, in the National Coaches Certification Program.
*The Toronto Challenge is a 5-Km run/walk "event that raises money for non-profit organizations that are improving the quality of life for seniors in" Toronto. This remains Mike's favourite charity run event.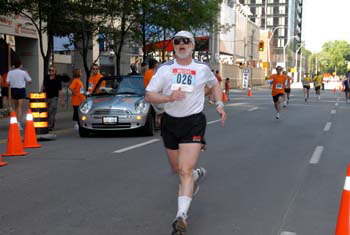 Read Mike's Blog on Fitness and Weight Control
In May 2011, Mike launched the "DeHaan Fitness and Weight Control Blog", hosted by Google's Blogspot.
Its mission includes providing useful information in this field, as well as pointing to related articles.
Mike also points to specific articles from this site's blog entries on the home page; just click on "Fitness" in the "Tag Cloud" to find the posts about fitness.
In-Person Fitness Training in Toronto's Beach and Little India Neighbourhoods
DeHaan Services is ideally situated to serve both Little India and The Beach (or "The Beaches", if you don't live in that area) in Toronto.
Running programs can take advantage of flat lakefront routes as well as climbs of varying intensity.
Those lucky enough to take advantage of in-person training should contact Mike by phone or e-mail for a free assessment.
Others should contact Mike by phone or e-mail to learn what we can do for clients in a long-distance relationship.
[This page was last updated 2012-10-01.]