Each of the thousands of athletes running the 2011 Scotiabank Toronto Waterfront Marathon has a story. Here are ten tales from this windswept test of endurance and conditioning that concluded "Toronto Marathon Week" (as proclaimed by Mayor Rob Ford).
Four Leading Men Celebrated Four Victories in the 2011 Scotiabank Toronto Waterfront Marathon
The four fastest finishers in the marathon were Kenneth Mungara, Shami Abdulahi Dawit, Reid Coolsaet and Eric Gillis.
Kenneth Mungara nipped Shami Abdulahi Dawit by about one-third of a second, in 2 hours, 9 minutes and 50 seconds (2:09:50). Mungara's  margin of victory was 0.3 out of 7790 seconds, or 0.004%. Think about that when you see a photo-finish in the 100m.
It was Mungara's fourth victory in the STWM (Scotiabank Toronto Waterfront Marathon). We hope Dawit was proud of his hard-earned silver finish.
Coolsaet and Gillis were jubilant Canadians. They clinched their status as teammates going to the 2012 London Olympics. Canada will indeed be represented in the men's marathon event once again.
Coolsaet earned his bronze in the 2011 STWM in 2:10:55. Apparently this included a quick "bathroom break". It was a personal best, but it fell short of the Canadian men's record of 2:10:09 set by Jerome Drayton thirty-six years ago in Japan.
Gillis finished fourth in 2:11:27, with one second "to spare" in meeting the Canadian Olympic qualifying time of 2:11:29 for men's marathon.
How Fast Are These Men Running the Marathon?
To put these times in perspective, finishing in 2:07 requires an average 20 Kph speed over the 42.2Km of a marathon. That is the recommended maximum speed for bicycles on Toronto's Martin Goodman Trail.
Top Three Women of the 2011 Scotiabank Toronto Waterfront Marathon
Koren Yal won the women's gold in the 2011 STWM in 2:22:42. She was 13th overall, with a narrow victory over fellow Ethiopian Mare Dibaba in 2:23:35 (15th overall). Yal was not sure her time would qualify her for the Ethipian Olympic team, since others have also raced in 2:22 elsewhere.
Silviya Skvortsova of Russia was third, in 2:27:51 (17th overall).
Two World Records Without Winning in the 2011 Scotiabank Toronto Waterfront Marathon
How can you set a world record without winning? You do have to win your age category…just ask Ed Whitlock and Fauja Singh.
80 Years Old but Top 300 for Ed Whitlock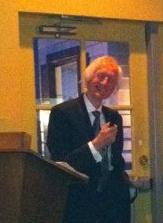 Ed Whitlock placed 296th overall but set the world record for men 80 years of age in 3:15:54. Living in Milton, Ontario, Whitlock has more age-group records at a variety of distances than one would be able to "shake a stick at".
Whitlock had set age-group marathon records at previous STWM events..
Fauja Singh with Success at 100 Years of Age
Fauja Singh is listed near the end of the race results page, coming in at #3849 overall of 3858 finishers, of whom some were his entourage. His time of 8:25:16 should not be regarded as a slow marathon pace, but contrasted with the number of hours anyone would put into a day of work.
This is the ninth world record Fauja Singh claimed this week. As reported in "Records and Relays Before the 2011 Scotiabank Toronto Waterfront Marathon", he set eight records at Birchmount in shorter distances in just one morning.
As well, he had set the world record for men in their 90s at a previous STWM.  Fauja Singh raises money for charities, with a special focus for helping children.
To put his triumph into perspective, some 97 people started the STWM, crossed at least the first timed checkpoint at the 10Km mark, but failed to cross the finish line.
Bonus Congratulations in the 2011 STWM Half Marathon and 5Km
Congratulations to Thomas Breitbach (1:07:21) and Leslie Sexton (1:16:33) for winning the men's and women's half marathon events, respectively.
Likewise to Jeremy Walsh (15:37.5) and Kerri Cook (17:38.8) in the 5Km.
One Death in 2011's STWM Half Marathon
Tragically, one 27 year old man died near the finish of the half marathon. The National Post reported, "Between 2002 and 2006, there were at least four deaths at Toronto races". (My own fallible memory is that Toronto has averaged about one death every two or three years, between what is now the Goodlife Fitness Toronto Marathon and the STWM. This includes both the marathon and the half marathon distances. Chicago and Montreal also have recently experienced similar losses).
I have not been able to find his name in the news reports. May his family and friends find support and consolation to help them through this time of grief.
[Added 2011-10-22]: On Oct. 22, the Toronto Star reported that Kale Garner was the 27-year-old man who died in the 2011 Scotiabank Toronto Waterfront Marathon. He was running his first half-marathon, paced by co-worker Angela Shryane in her eighth. Garner had not mentioned any trouble through the 20.8Km that he did cover. Garner was following Shryane closely near the finish; then he fell. Prompt medical assistance failed to revive him. The cause of death is not yet known.
References:
Paul Gains, STWM, "Mungara Wins Toronto Fourth Time", Oct. 16, 2011.
Postmedia News via National Post, "Runner's death overshadows Mungara's 4th Toronto marathon win", Oct. 16, 2011.
Mike DeHaan, DeHaan Services, "Records and Relays Before the 2011 Scotiabank Toronto Waterfront Marathon", Oct. 14, 2011.
Mike DeHaan, DeHaan Services,"Kew Garden Ceremony for the 2011 Toronto Scotiabank Waterfront Marathon", Sept. 28, 2011.
Paul Hunter, Toronto Star, "Kale Garner had everything going for him when he died running a half-marathon", Oct. 22, 2011.