(Added this paragraph on Nov. 18, 2015): It's time for winter Woofstock, on Nov. 21 & 22, from 10am-6pm at Exhibition Stadium. It's indoors, in the Queen Elizabeth Exhibit Hall. The main web site link still works, but the details have changed. Tickets for winter Woofstock are $10 plus tax; this is still a frugal event in Toronto. Where else will your pooch learn Doga (dog yoga)? Here's a map with some parks near the CNE, if you want to tire out your canine companion ahead of time.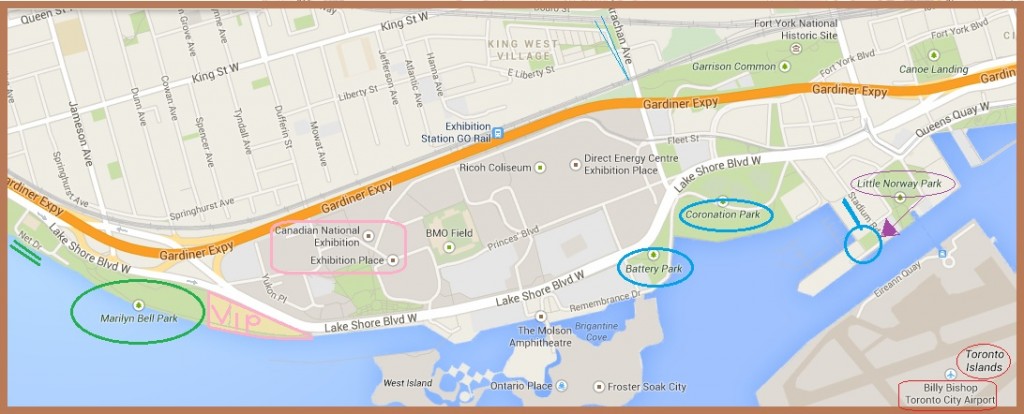 The annual Woofstock Toronto dog festival returns to Woodbine Park in late September 2015. Here's your chance to attend a free dog show with your own canine.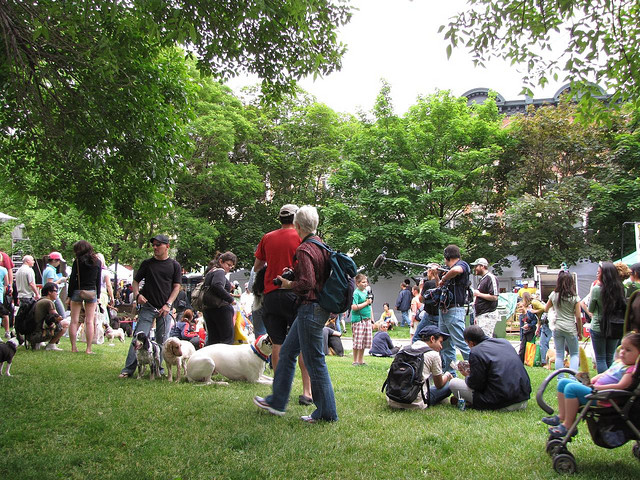 The Autumn Woofstock 2015 Festival in Toronto
Woofstock prides itself on being "the largest outdoor festival for dogs in North America". You and your pooch can expect:
The Purina Pro Plan Dog Stars perform feats of agility and speed.
Enter your pooch in a fashion show, or race your pug or dachshund in their separate categories. Or just watch!
Listen to experts in caring for your family pet.
Other entertainment including photo sessions, dog tricks, and lure chasing.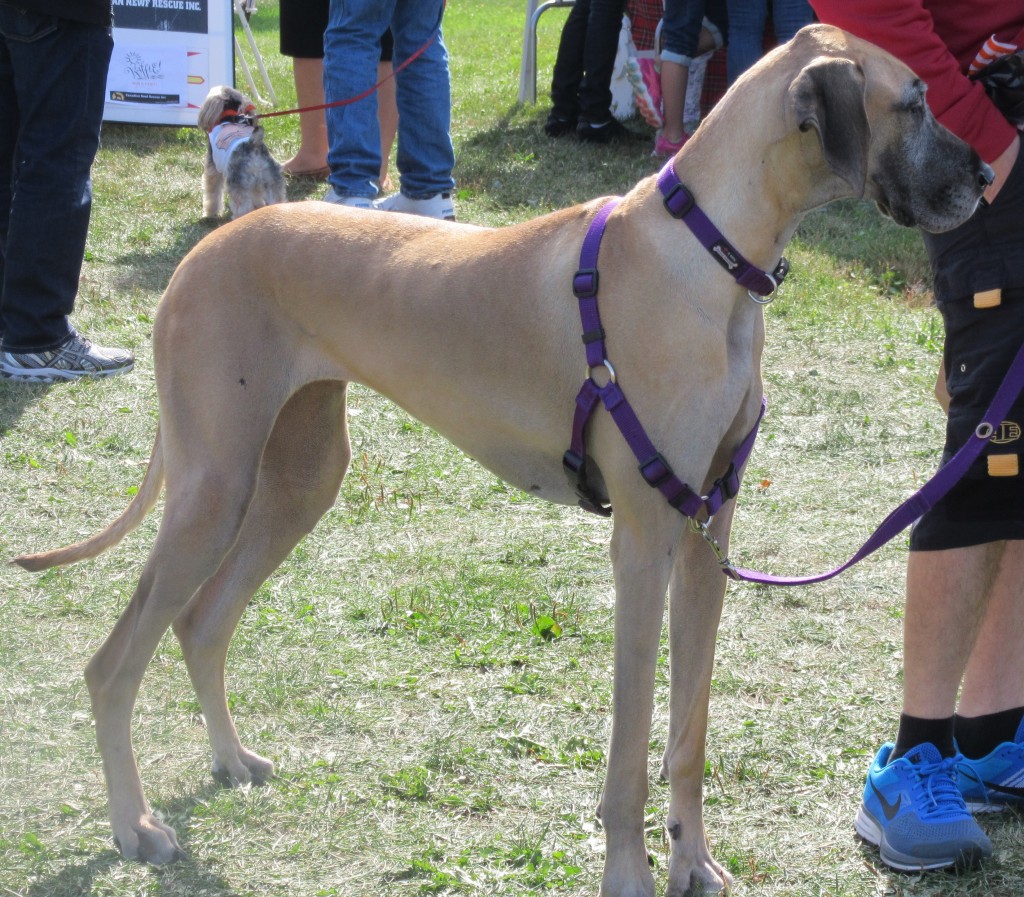 If that's too much excitement, you can still have fun with your dog! Head south to cross Lake Shore Blvd at the traffic light and walk you dog along the Martin Goodman Trail for a while. Or head north to a restaurant on Queen St.; many have water dishes outside to keep your dog well hydrated.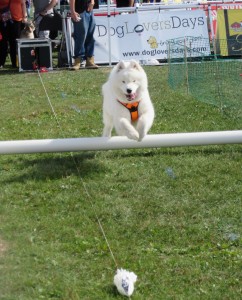 Admission to Toronto Woofstock 2015 is free. Head to Woodbine Park between Eastern Avenue and Lake Shore Blvd East, on the east side of Coxwell. The 501 Queen streetcar travels just a block farther north; the Coxwell 22 South bus comes down from the #2 Bloor-Danforth subway line.
(Added Sept. 26, 2015): Woofstock also offers a free shuttle service from a parking lot on Cherry Street in the Port Lands area, about 4Km south-west from Woodbine Park. That's an absolutely sweet deal, compared to finding parking during a free annual event such as Woofstock in Toronto.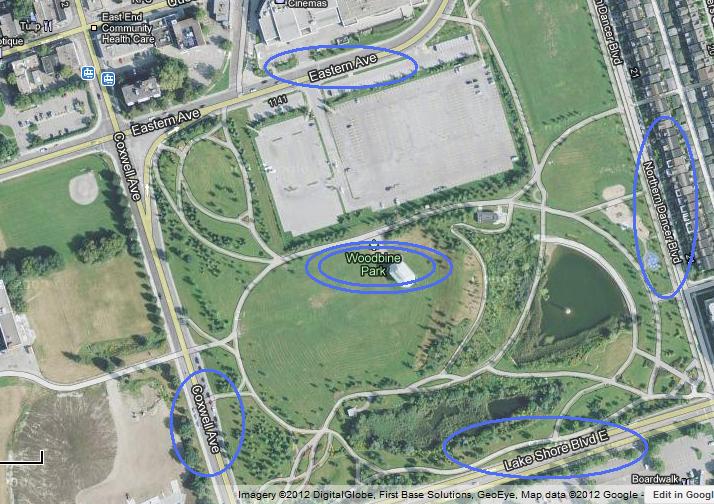 I'd written "The Whereabouts of Woofstock 2012 in Toronto", and  usually updated that article as needed. The venue has changed, but the spirit of enjoying your canine companion has remained and grown over the years. Looking back, this autumn Toronto event seems to be a compromise date between the late spring and late autumn Woofstock festivals of previous years.
(Added Sept. 22, 2015). The dates for the 2015 Woofstock in Toronto are Saturday & Sunday, Sept. 26 & 27, 2015; from 10am through 6pm. We got there at 11am on Saturday; each of the vendors had a line-up for freebies, and the all-day lure obstacle course was running full tilt. These next two dogs were champing at the bit for their turn; note the strain in their owner's arm. They later caught the lure; one chased while the other ambushed from ahead. That was the only successful catch that I saw.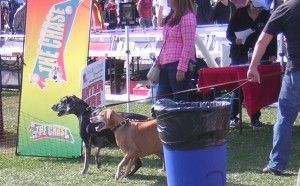 The official Woofstock Toronto web site has more details, of course, including the online forms so you can register your dog in one of the contests.
If you buy dry kibble in 25-pound bags or smaller, an airtight pet food container can help keep the aroma – and your dog's appetite – under control, and help the dry dog food stay fresh.
The Milk-Bone "Brushing Chews" booth was a really popular line-up when we were at Woodbine Park.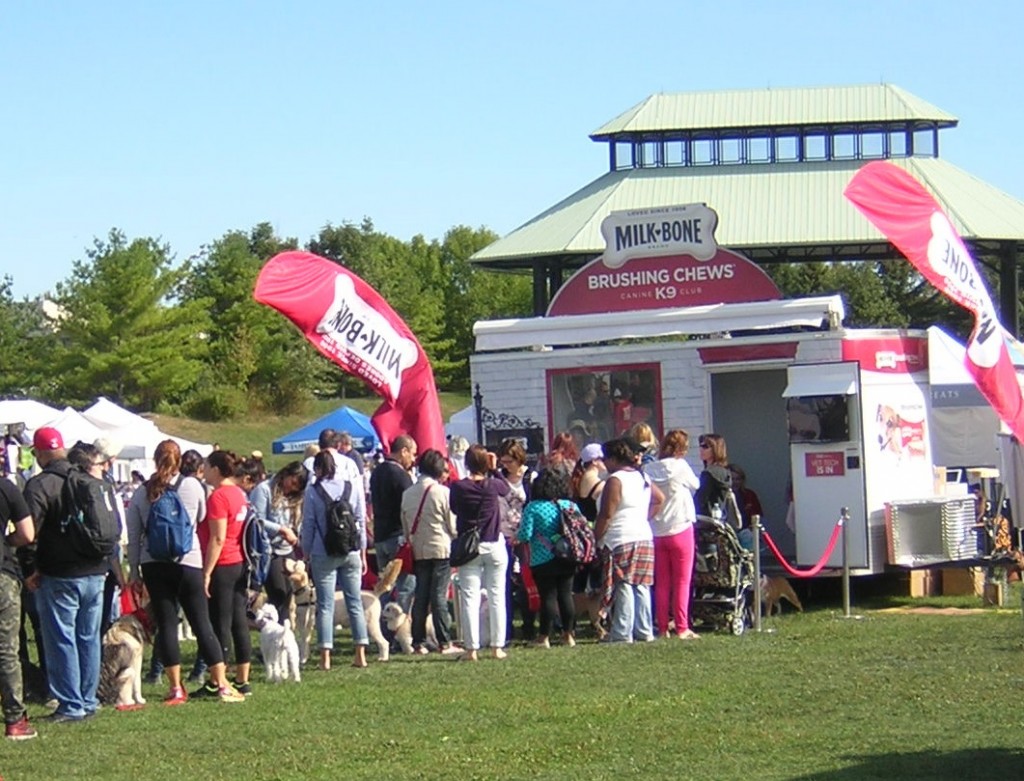 Looking for More Annual Events or a Holiday in Toronto Canada?
My blog tracks many frugal or free events in Toronto.
Disclaimer: DeHaan Services has no relationship to the organizer(s); I am not reimbursed for writing this article. (The site is monetized; buy something through an ad and I should earn a commission). However, DeHaan Services does write web site or advertising copy for clients. Our skills are demonstrated in online articles in Decoded Science, Decoded Pregnancy and other online sites. That's why DeHaan Services highlights those online articles on this site.
Click the "Toronto Events" category at the bottom of the left-hand column for recent articles in this category.
Thank you for reading about Woofstock 2015 in Toronto.