How many free or frugal ways does Toronto offer to celebrate the Labour Day weekend in 2015? Let's review some of the annual summer events.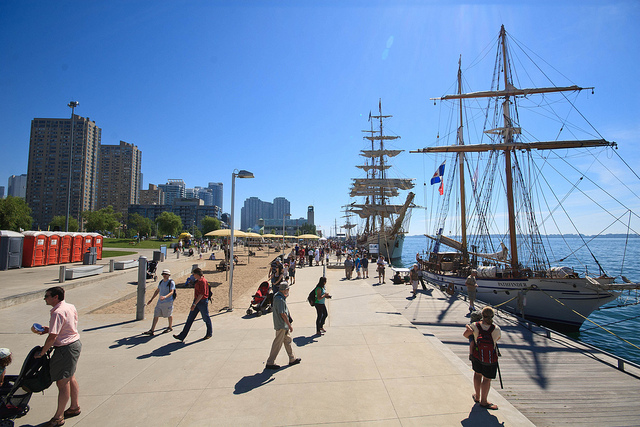 The Harbourfront Hot and Spicy Food Festival of 2015
Harbourfront hosts the Hot and Spicy Food Festival from September 4-7, 2015. This year's theme is "hot, spicy and sustainable": be environmentally friendly to ensure future generations can survive, thrive, and enjoy amazing food.
What can you do at Harbourfront during the Hot & Spicy Festival? Shop for food, especially spices, each day. (Friday from 6pm; on the weekend from noon). Children have their own activities from Saturday through Labour Day Monday. Listen to music in the evenings. Take in cooking classes or demonstrations by a variety of chefs.
Actually, what really catches my eye is the Terrance Drake Fire Show: family friendly but with actual flames. Lots of flames, judging by the photo.
The Hot and Spicy Food Festival is free to attend at Harbourfront at 235 Queen's Quay West in downtown Toronto. Take the subway to Union Station, then catch the streetcar.
More details await you on Harbourfront's web page for the 2015 Hot and Spicy Food Festival.
The 2015 Air Show at the CNE
While you're at Harbourfront on Saturday, Sunday or Monday, slip outside anytime between noon and 3pm and look west along the water's edge.
That's when the Canadian National Exhibition hosts the annual Air Show above the CNE grounds.
The focal point for the aerial acrobatics is just offshore, due south of the CNE grounds. Unless it's incredibly foggy, you can see and hear plenty from Harbourfront. (And do you think the Air Show would go on if it is foggy?)
While the CNE offers a lot of excitement on the grounds, the Air Show is a free annual event if you simply get anywhere close with a clear line of sight.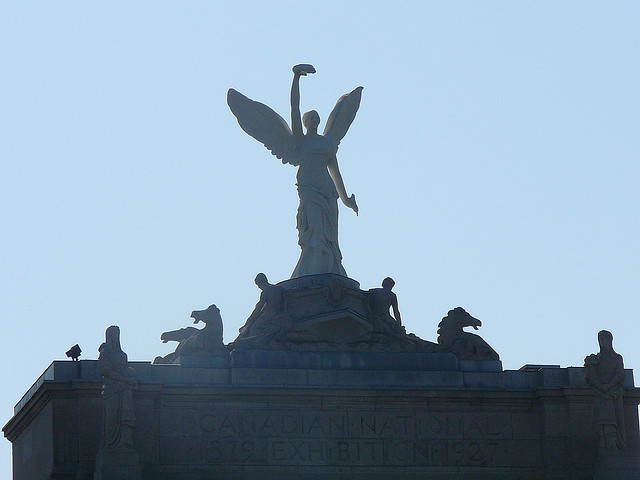 The 2015 Vietnamese Lantern Festival of Toronto
Dufferin Grove Park hosts the free Vietnamese Lantern Festival of Toronto on Saturday September 5 from 2-5pm.
This is a "mid-autumn festival" or moon festival, celebrating the harvest in Vietnam. Many Asian cultures celebrate with moon cakes and lanterns or lights.
Watch the lanterns, enjoy the performances, and send your children into the kids' activities. Of course food vendors, as well as artisans and local businesses, will offer their wares, too.
Dufferin Grove Park is at 875 Dufferin St. Park East. Just walk south from the Dufferin station on the #2 Bloor-Danforth subway line.
More information (but, as of press time, not the schedule) is available on the Toronto Vietnamese Lantern Festival web site.
The 2015 Hispanic Fiesta at Mel Lastman Square
Another annual Toronto event is the Hispanic Fiesta at Mel Lastman Square. This year's fiesta runs from Sept. 4-7, 2015.
Friday night's program starts with Xtravanganza at 7:15pm, and music at 8:30. Throughout the Labour Day weekend, programs begin at 3pm.
Naturally, you will find Spanish cuisine… and a lot of Spanish… at the Hispanic Fiesta. Take the #1 Yonge subway up to the North York Centre station; and follow your ears to Mel Lastman Square.
The Toronto Hispanic Fiesta web site has more details.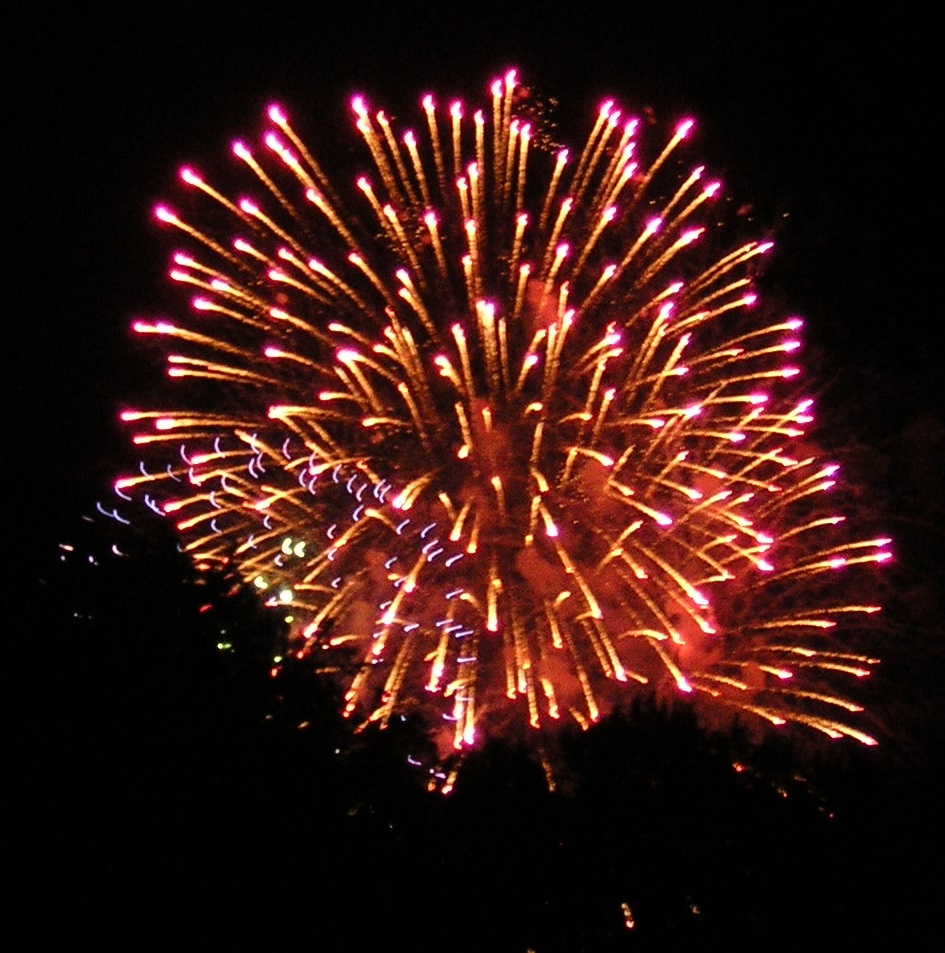 Labour Day Fireworks at Canada's Wonderland
Canada's Wonderland continues its annual summer tradition of hosting a fireworks show on the Sunday night before Labour Day. Wonder Mountain should be well lit at 10pm on Sept. 6, 2015.
Just don't even think about watching it for free from a highway. Either pay your entry fee and stay the day; or find a line of sight from a safe place in the suburbs.
Where can you see Labour Day fireworks in Toronto? Toronto does not host a fireworks display this weekend; so Canada's Wonderland is the venue nearest Toronto.
You could drive even farther, to see fireworks at Niagara Falls on Friday night, Sunday night or Monday night (since it's Labour Day).
Your Choice of Labour Day Parades for 2015
Remember the roots of "Labour Day": a celebration of workers' hard-won rights. The annual Toronto Labour Day Parade will begin at 9:30am on Labour Day, Monday Sept. 7, 2015, at the corner of Queen St. W. and University Ave. Various unions march in solidarity in this parade.
Watch the parade anywhere on Queen St. between University Ave. and Dufferin, or south on Dufferin into the CNE grounds.
Looking for More Annual Events or a Holiday in Toronto Canada?
My blog tracks many of the annual Toronto events that I find interesting, free or frugal.
Disclaimer: DeHaan Services has no relationship to the organizer(s); I am not reimbursed for writing this article. (The site is monetized; buy something through an ad and I should earn a commission). However, DeHaan Services does write web site or advertising copy for clients. Our skills are demonstrated in online articles in Decoded Science, Decoded Pregnancy and other online sites. That's why DeHaan Services highlights those online articles on this site.
Click the "Toronto Events" category at the bottom of the left-hand column for recent articles in this category. Thanks!
Thanks for reading about these six free (or frugal, if you're careful) annual summer events for the 2015 Labour Day weekend in Toronto.