On Simcoe Day, my wife and I went for a quiet walk at Taylor Creek Park in Toronto. It was well-used, but not crowded, with other hikers, dog walkers, cyclists and runners: a mix of fitness and outdoors enthusiasts, and perhaps a few who find it a safe route to bicycle for work or errands.
Since I'd spent many words recently describing the multi-purpose Martin Goodman Trail along Queen's Quay, I thought I'd write about the Taylor Creek trail too.

About Taylor Creek Park in Toronto
The main trail in Taylor Creek Park extends about 3.5 kilometres (about 2 miles) from Victoria Park, west to the parking lot off Don Mills Road. You do have to cross Dawes Road, but the rest of the trail is a multi-use bicycle and walking trail.
There are several stairs or paved climbs out of the valley, with signs like the one in the picture below. The Parks and Recreation department of the City of Toronto has ensured you should not get lost… or at least there are signs to let you know where you are.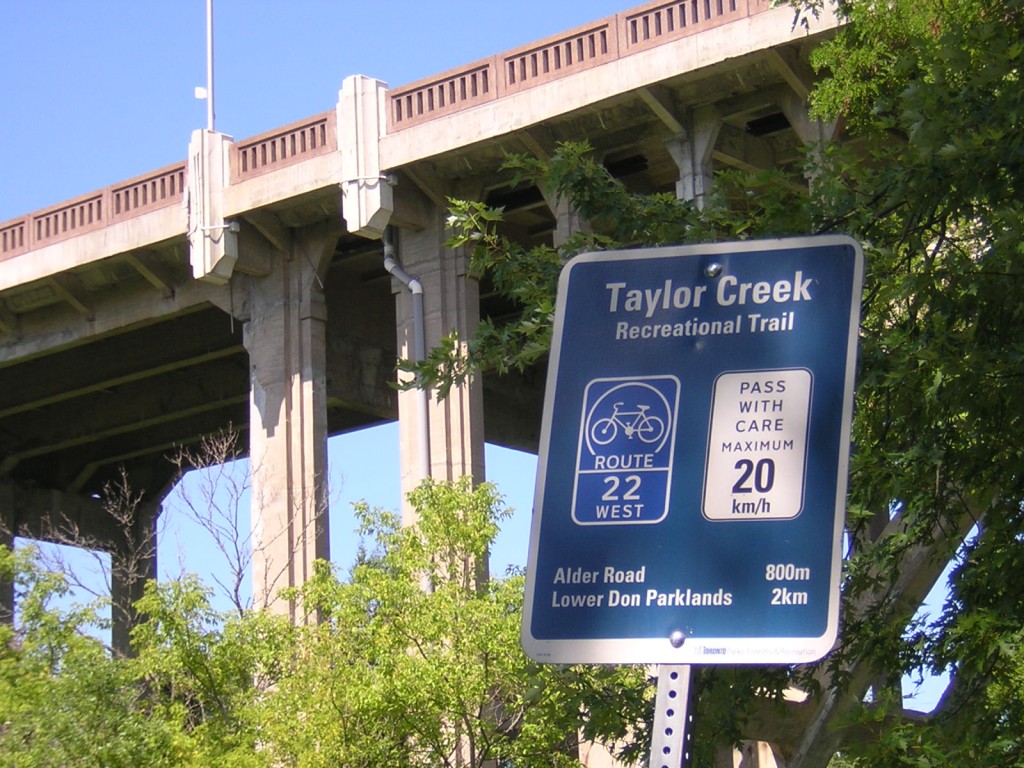 About the Taylor Creek Trail
The trail is pretty flat, but there are enough curves that cyclists should pay attention to the speed limit. It's easy to find pedestrians, or youngsters learning to bike, who don't stick close to the right-hand side of the trail.
The Taylor Creek trail is not a big challenge, unless you want to run or bike up out of the valley. The transition at Dawes Road is pretty forgiving, but the road itself climbs in either direction. As noted, some neighbourhood streets access the park by stairs rather than paved trails.
The park has two washroom facilities and other amenities. I forgot to test the drinking fountain just west of the Dawes Road parking lot. The one near the O'Connor bridge does not work; if memory serves, the city shut off any drinking fountains that are too far away from the water mains, due to health concerns about stagnant water in the pipes.
There's lots of grass, as well as marshy ground, throughout the park. The trail actually follows Massey Creek from the east, until it merges with Taylor Creek.
One great feature of Taylor Creek Park is that you can be out of sight of any buildings at all, thanks to tall trees right beside the path and, also, up the slopes of the valley.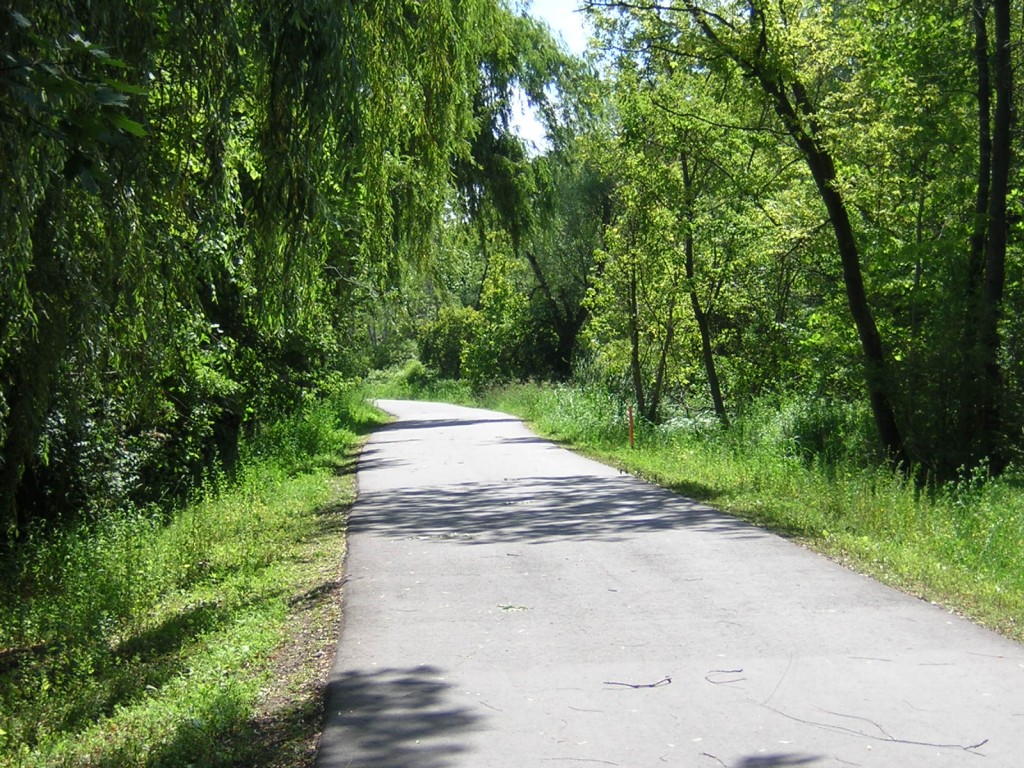 Beyond Taylor Creek Park
The parking lot at the west end of Taylor Creek connects to a trail for the Lower Donlands. I've run that trail from Lake Shore Blvd East, near the mouth of the Don River, and up to Sunnybrook Park. So the Taylor Creek Park trail is a gateway to the Don Valley. And if you go south to the trail just north of Lake Shore, you meet the Martin Goodman trail with options for downtown or to the eastern Beaches.
Looking for More Fitness Options in Toronto Canada?
My blog sometimes notes opportunities to add fitness to your life in Toronto, in addition to annual Toronto events that I find interesting, free or frugal.
For a double-handful of walking or hiking opportunities, download a copy of "BEST HIKES AND WALKS IN TORONTO: 10 Hiking and Walking Trails in Parks and Outdoors" from Amazon.ca to your Kindle reader (or your computer, after you've added the Kindle application).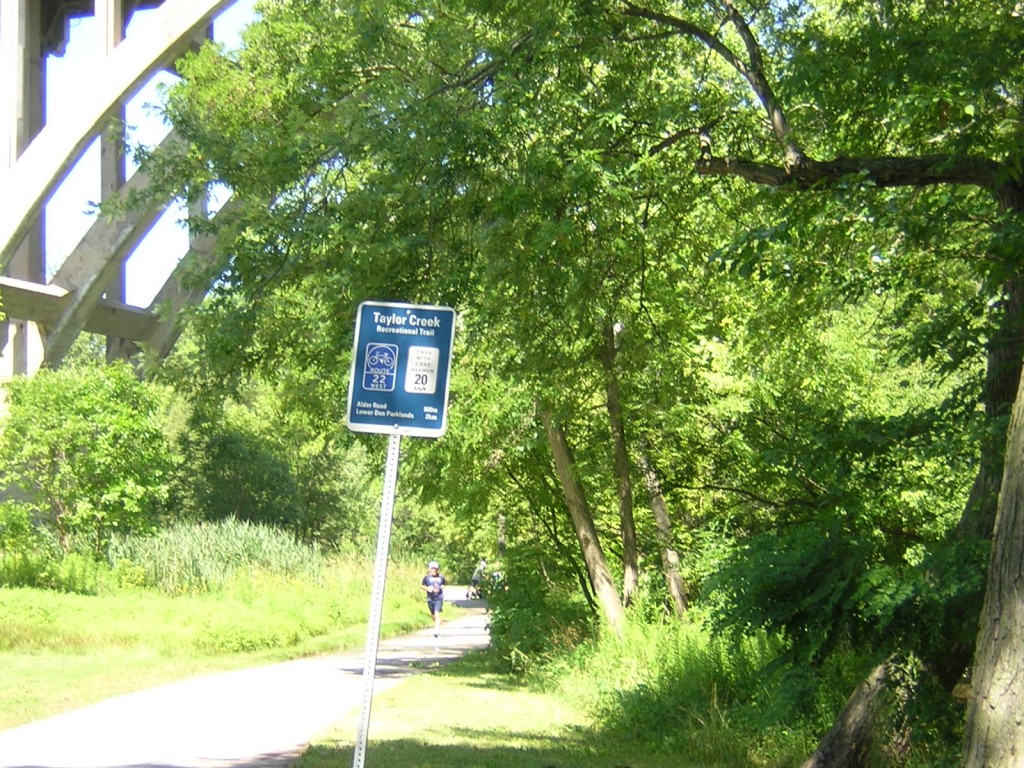 Disclaimer: DeHaan Services has no relationship to the organizer(s); I am not reimbursed for writing this article. (The site is monetized; buy something through an ad and I should earn a commission). However, DeHaan Services does write web site or advertising copy for clients. Our skills are demonstrated in online articles in Decoded Science, Decoded Pregnancy and other online sites. That's why DeHaan Services highlights those online articles on this site.
Click the "Fitnes" category at the bottom of the left-hand column for recent articles in this category. Thanks!
Thanks for reading about Taylor Creek Park in Toronto.