The free Island Soul festival at Harbourfront is one of the top annual summer events in Toronto, arriving during the Caribbean Carnival and the Simcoe Day long weekend.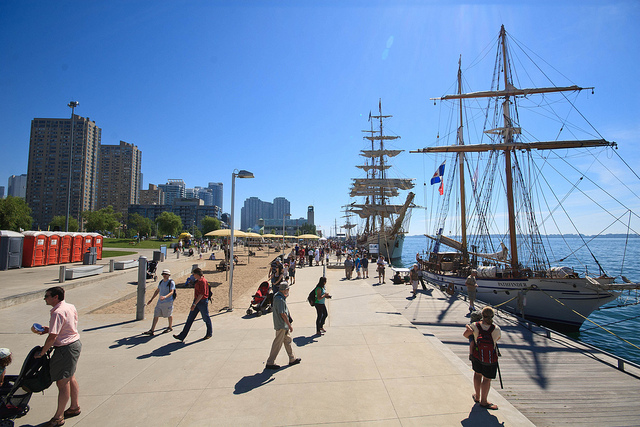 Island Soul at Harbourfront in Toronto for 2015
This year Harbourfront hosts Island Soul from Friday through Monday, July 31 through August 3.
The events focus on the culture and traditions of the Caribbean Islands; not a surprise, since it's a complement to Caribana in Toronto. You can start with by shopping for clothes or souvenirs, with a stop in the World Cafe, on Friday night from 6-11pm. (Food and fashion remain on sale throughout the weekend). A family-friendly DJ session of soca and calypso music follows from 7pm.
What are some of the surprising attractions? SwizzleStick Theatre presents Moko Jumbie stilt dancers at three shows: Friday night, Saturday evening and Sunday afternoon. Your children could learn Oware games; anyone could learn some Djembe drumming too. Did you know the Angolan dance style, kizomba? You can! And Festival Kompa Zouk Ontario presents several dance workshops throughout Island Soul at Harbourfront.
Music performances run throughout the weekend. Check through the whole online schedule for Island Soul at Harbourfront Toronto to see what you can fit into your schedule.
Harbourfront is at 235 Queen's Quay West. Take a little walk south-west from Union Station on the #1 Yonge/University subway. Road construction is finished, but I personally avoid driving and parking downtown. Cyclists should consider taking the Martin Goodman Trail; just be careful with pedestrians sharing the trail on the newly opened Queen's Quay.
Other Options for 2015 Simcoe Day Weekend in Toronto
Remember that you can get a free taste of 2015 Caribana Toronto too, so plan your civic holiday long weekend wisely. If you want more of my ideas from 2013, check my "Toronto Attractions for Simcoe Day, the Ontario Civic Holiday" article; most of these are annual summer events in Toronto.
Looking for More Annual Events or a Holiday in Toronto Canada?
My blog tracks many of the annual Toronto events that I find interesting, free or frugal.
CityPASS offers discount tickets to Toronto attractions, including Metro Toronto Zoo coupons. Buy the voucher online, print it and take it to your first destination for a booklet of tickets. Each location removes their discount tickets but you keep and use the rest at the next four attractions. You save about 45% compared to regular admission prices. The voucher is good for almost two years, but you have to use all the discount admission tickets within nine days. This is terrific for tourists looking for multiple things to do in Toronto, or for a hometown stay-cation. The venues are Casa Loma, the CN Tower, the Metro Toronto Zoo, the Ontario Science Centre and the Royal Ontario Museum in a nine day adventure. That's five things to do while vacationing in Toronto Canada, and at a bargain price thanks to the discount coupons.
Disclaimer: DeHaan Services has no relationship to the organizer(s); I am not reimbursed for writing this article. However, DeHaan Services does write web site or advertising copy for clients. Our skills are demonstrated in online articles in Decoded Science, Decoded Pregnancy and other online sites. That's why DeHaan Services highlights those online articles on this site.
Click the "Toronto Events" category at the bottom of the left-hand column for recent articles in this category. Thanks!
Thanks for reading about the 2015 Island Soul festival at Harbourfront inToronto.