One of my favourite annual Toronto spring events is the Beaches Arts and Crafts Festival. Since I've covered it before, here is a quick summary.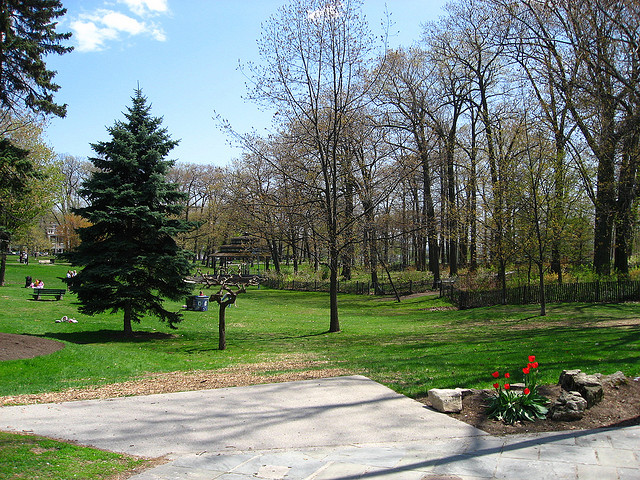 Quick Facts about the 2015 Beaches Arts and Crafts Festival
The Beaches Arts and Crafts Show showcases some 150 Canadian artisans, designers and artists.  The show and sale runs Saturday and Sunday, June 13-14, from 10-6. Admission is free; you can enter a draw for free prizes (including a weekend flight to Ottawa via Porter Airlines); but just see if you can get away without buying something!
The venue is Kew Gardens in Toronto, which is on the south side of Queen St. East, a few blocks east of Woodbine Ave. The best access is via the 501 Queen streetcar. You could take the #2 Bloor-Danforth subway and the 92 Woodbine South bus, then transfer onto the 501 streetcar. Or bicycle along the Martin Goodman Trail.
This year the festival's theme is "Handmade for you", highlighting the unique craftsmanship on display. The arts and crafts include fashion items, jewelry, leather goods, natural skin care products, and visual arts.
Kew Gardens is a lovely place in its own right, but the Beaches Arts and Crafts Festival makes it a very special and busy place.
Besides supporting Canadian artists exhibiting their work, the Beaches Arts and Crafts Festival itself supports Neighbourhood Link Support Services of East Toronto. Neighbourhood Link assists children and youth, seniors, and people seeking employment or housing.
Be inspired by the art, or be inspired by the range of services Neighbourhood Link provides.
Feel free to refer to my previous article, "The 2013 Spring Beaches Arts and Crafts Show in Toronto" to see whether anything has changed dramatically.
Looking for More Annual Events or a Holiday in Toronto Canada?
My blog tracks many of the annual Toronto events that I find interesting, free or frugal.
Disclaimer: DeHaan Services has no relationship to the organizer(s); I am not reimbursed for writing this article. However, DeHaan Services does write web site or advertising copy for clients. Our skills are demonstrated in online articles in Decoded Science, Decoded Pregnancy and other online sites. That's why DeHaan Services highlights those online articles on this site.
Click the "Toronto Events" category at the bottom of the left-hand column for recent articles in this category. Thanks!
Thanks for reading about the 2015 Beaches Arts and Crafts Festival.