Where can you enjoy the 2015 Family Day in Ontario? In Toronto, head for one of these six civic museums that offer special family-friendly programs on Monday Feb. 16, 2015. Admission is well under $10/person, plus HST, unless otherwise noted.
Let's visit the museums in alphabetical order.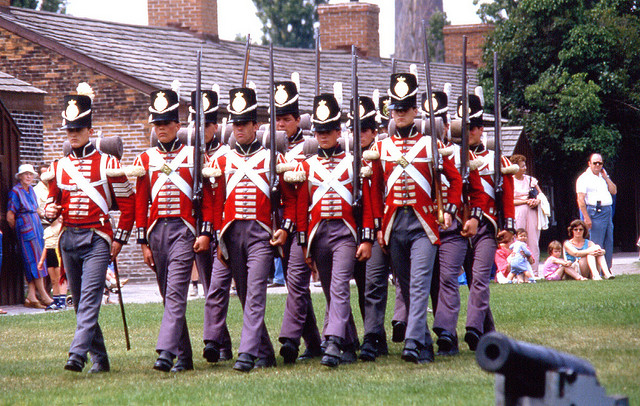 Fort York on Family Day 2015
Fort York uniquely offers military drills for Family Day 2015. They note the Officers' Sword Drill, and hint that families can actually participate in some of the training.
They also offer hot chocolate and freshly baked goods, as well as games and book-based activities.
Fort York will be open from 11am-4pm on Feb. 16.
Fort York is located at 250 Fort York Blvd in downtown Toronto. That's on the west side of Bathurst Street, just north of the Gardiner Expressway and between Lake Shore Blvd to the south and Front Street to the north.
See "Family Day at Fort York" for more Family Day event details, at least while this is still a "current event" on that page.
Mackenzie House, Family Day and Black History Month
Celebrate one day of Black History Month at Mackenzie House, taken from a Victorian perspective. Children can participate in art activities; plus they offer cider and a cookie as refreshments.
Mackenzie House is open noon-5pm. It's at 82 Bond St., between Yonge St. and Church, just south of Dundas St.
See "Family Day 2015 at Mackenzie House", again while this remains a current event.
Montgomery's Inn for an Irish Ceilidh on Family Day
Also open from noon-5pm, Montgomery's Inn features an Irish Ceilidh for Family Day 2015.
Maureen O'Leary will lead a dance workshop and then host the ceilidh from 2-3:30pm. Watch the kitchen staff and share the treats. Children's tales at 1:30 & 3:30pm.
Head to 4709 Dundas St. West, where Islington crosses Dundas. Montgomery Road is uncannily close by.
See "2015 Family Day at Montgomery's Inn" for more details.
From Valentines Day through Family Day at the Scarborough Museum
The Scarborough Museum is running a special program at a great price throughout the weekend, including Family Day 2015. That's Feb. 14-16 from noon-4pm daily.
Activities include a scavenger hunt; treats include cookies and hot chocolate. PWYC admission… "Pay What You Can" is the best deal in the city.
Location is 1007 Brimley Road at Dorcot Avenue; that's about 1/3 of the way north from Lawrence Ave. to Ellesmere Ave.
See "Family Day Weekend at Scarborough Museum" for details.
The Spadina Museum Offers Tours and Toys
Open from noon to 5pm, the Spadina Museum offers tours that begin every 45 minutes starting at 12:15.
The well-off Austin children enjoyed games, music and toys in the 1920s; what will your children think of their amusements?
Located at 285 Spadina Road, at Austin Terrace  this downtown Toronto museum is just north of the famous landmark Casa Loma, which is north of Davenport. St. Clair. Ave. West is a bit of a distance north.
See "2015 Family Day at the Spadina Museum" for details.
Todmorden Mills for another Valentines Day through Family Day Weekend
Todmorden Mills holds its 2015 Family Day activities from from Friday Feb. 13 through Monday Feb. 16, always from noon-4pm.
Walk on a guided outdoor tour, and play indoor parlour games. Plus, you can make your own flag. (It's one way to learn whether your children are plotting to conquer the world…).
The Todmorden Mills museum is at 67 Pottery Road, which dips into the Don Valley, connecting Broadview Ave. on the east with Bayview Ave. on the west. (That's north from Danforth Ave. on Broadview Ave., or south from Moore Park on the west bank of the Don River).
See "Family Day Weekend at Todmorden Mills" for details.
Looking for More Annual Events or a Holiday in Toronto Canada?
My blog tracks many of the annual Toronto events that I find interesting, free or frugal. Often Toronto museums fit the frugal bill.
Disclaimer: DeHaan Services has no relationship to the organizer(s); I am not reimbursed for writing this article. However, DeHaan Services does write web site or advertising copy for clients. Our skills are demonstrated in online articles in Decoded Science, Decoded Pregnancy and other online sites. That's why DeHaan Services highlights those online articles on this site.
Click the "Toronto Events" category at the bottom of the right-hand column for recent articles in this category. Thanks!
Thanks for reading about six Toronto museums offering special programs for the 2015 Ontario Family Day statutory holiday.