The French instituted the Levée ("risen") as a ritual for the favoured to help the king get up in the morning. In the New World, many politicians and vice-regal dignitaries hold a New Year Levée to greet the public. Where in Toronto can you shake hands with our nouveau nobility early in 2015, as this annual winter Toronto event continues?
Remember: it's free to attend, and check the links to the official pages for details about additional entertainment. As a rule, an indoor reception is pretty quiet; outdoor skating tends to include family-friendly music.
The 2015 Queen's Park Levée with Lieutentant Governor Elizabeth Dowdeswell
Join our new Lieutentant Governor of Ontario, Elizabeth Dowdeswell, in the vice-regal suite at Queen's Park on Thurs. Jan. 1, 2015 from noon-2pm. I'd take the TTC to Queen's Park. The 506 Carlton streetcar stop is at University and College; it's a quick walk north to the legislature.
Then take a brisk walk south to Toronto City Hall.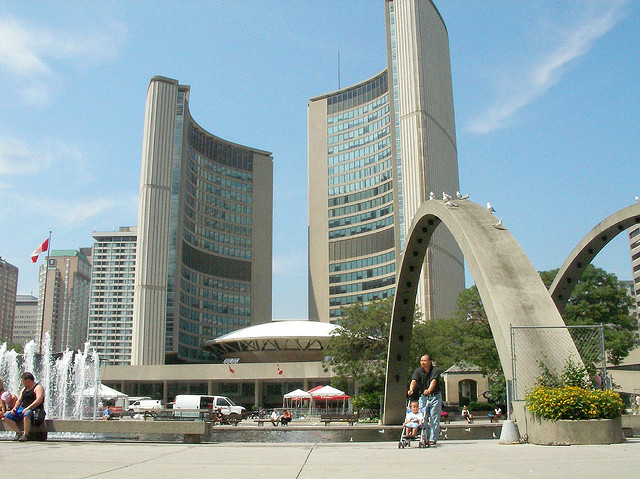 Toronto Mayor John Tory to Hold an Icy Levée at Nathan Phillips Square
Toronto Mayor John Tory's 2015 Levée will be held on Jan. 1 from 2-3:30pm on New Year's Day at Nathan Phillips Square. This brings to partial fruition an idea floated by former mayor Rob Ford, to skate on the outdoor rink. Apparently Mayor Tory will also shake hands indoors at City Hall, as well as skating in the square.
Mayor Tory will return to City Hall from his midnight countdown at the New Year's Eve party.
Toronto City Hall is at Bay and Queen; I'd take the TTC downtown for this event if I weren't already at Queen's Park.
I suspect some other downtown Toronto Councillors plan to join this skating levée.
Deferred 2015 New Year Levées with Other Toronto Councillors
Head to the East York Civic Centre on Sunday Jan. 4 from 1-3pm for the East York New Year's Levée, with some councillors as well as young musicians sponsored by the Beaches International Jazz Festival. Thank goodness Councillor Mary Fragedakis posted this; I'd also read somewhere that Janet Davis will attend as well.
On Saturday Jan. 10, Councillor Mary-Margaret McMahon and MPP Arthur Potts will hold a joint Levée at the Naval Club (1910 Upper Gerrard at Woodbine) from 2-4pm.
That's the same date and time as Councillor Paul Ainslie's New Year Levée, but I didn't find the location in the left-hand menu on his page.
A year or so ago, Scarborough councillors cut out this annual Toronto tradition; I have not found notices for the others by my self-imposed deadline. If any readers can send me a link to more news for their area, I would publish gratefully.
Mississauga Mayor to Host Levée on New Year's Day
Newly elected Mayor Bonnie Crombie will host her 2015 New Year Levée at City Hall and Celebration Square in Mississauga. The indoor ceremony begins at 2pm; but outdoor skating will be available too.
Looking for More Annual Events or a Holiday in Toronto Canada?
My blog tracks many of the annual Toronto events that I find interesting, free or frugal.
Disclaimer: DeHaan Services has no relationship to the organizer(s); I am not reimbursed for writing this article. However, DeHaan Services does write web site or advertising copy for clients. Our skills are demonstrated in online articles in Decoded Science, Decoded Pregnancy and other online sites. That's why DeHaan Services highlights those online articles on this site.
Click the "Toronto Events" category at the bottom of the right-hand column for recent articles in this category. Thanks!
Thanks for reading about these selected 2015 New Year Levées in Toronto.