Distance runners must learn to set their long run pace so they can "stay the course". My latest DeHaan Fitness article, "Discover Your Running Pace for the Long Run", covers that topic with a bit of research and an explanation of how I re-discovered my own pace.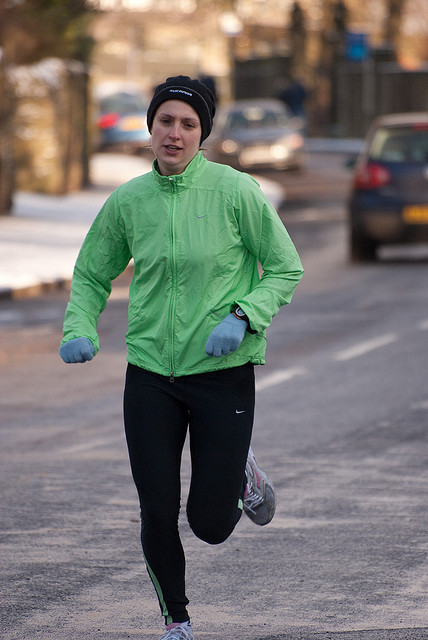 Find and then Improve on Your Sustainable Long Run Pace
As you run longer distances, your leg muscles begin adapting so you can stay on your feet longer and go farther. But you can still tire yourself out much too quickly, by running faster than your sustainable pace.
But of course you don't want to "run lazy"; that doesn't seem likely to give you the training benefits.
My article explains how to set your own long run pace; at least you should discover a slow pace that you can speed up as your stamina improves.
Autumn Road Races such as the 2013 Toronto Waterfront Marathon
This may be "just in time" for people training for the autumn road race season. The highly popular "2013 Scotiabank Toronto Waterfront Marathon" takes over Lakeshore Blvd (among other southern roads) on Sunday Oct. 20, 2013.
Non-runners can support charities by pledging for their favourite athletes in the Waterfront Marathon. They also need volunteers to help hand out water along the route (and many other small but vital tasks).
Ed Whitlock returns! I've written about him before, in "Triumph and Tragedy at the 2011 Scotiabank Toronto Waterfront Marathon". To paraphrase the Jedi master Yoda, "When over 80 years old you are, run so fast you will not".
The route may change from year to year. I haven't run the current route, so check their official Toronto Waterfront Marathon map before you plan where to watch. (I'd go to where King Street divides from Queen, just west of the Don River. Runners reach that location after 35Km of their 42Km race; then they go up and down Bayview for a few kilometres before resuming their run downtown. That's about the distance where people begin to despair; they can see the downtown office towers that mark the finish, but that finish line is still out of reach).
The Toronto Waterfront Marathon is just one of many annual Toronto events that promote fitness and raise funds for charity. It truly is an autumn event, but the picture of the woman running past snow just reminds us that winter awaits.
Distance running serves as a great fitness technique. Part of the trick is learning to pace yourself. You can wear a running pace calculator in a sports watch; or simply trust what your body tells you as you run.
Professional Writing by DeHaan Services
DeHaan Services writes web site or advertising copy for clients. Our skills are demonstrated in online articles in Decoded Science, and Decoded Pregnancy. That's why we highlight these online articles on this blog page.
Americans looking for a new laptop or desktop computer might check Lenovo's lineup of products and services.
To only see our Toronto events (for things to do in Toronto) or fitness articles, please click on the appropriate category in the "Categories" section at the bottom of the right-hand margin.
Thank you for reading about setting your long run pace in time for the 2013 Toronto Scotiabank Waterfront Marathon.
Disclaimer: The information contained in this article is for educational purposes only and should not be used for diagnosis or to guide treatment without the opinion of a health professional. Any reader who is concerned about his or her health should contact a doctor for advice.