I use the Weebly platform for my Blog of Writing, but writing articles there can sometimes be tricky if you care for formatting. Today I found something easy to do but also easy to overlook: why and how to justify text in an online blog.
The Weebly Tip for Text Justification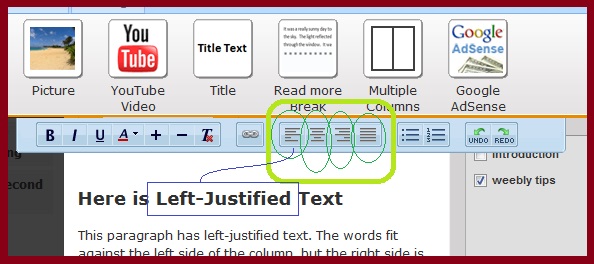 In my article, "Weebly Tip #4 to Justify Text", I highlighted the Weebly icons that control text justification.
This image is bigger than is shown by Weebly.
The article goes on to discuss and display the way text looks under different justification rules.
How to Justify Text in WordPress
When you edit a WordPress page or post in "visual" mode, you should have several text justification icons that look similar to the ones in Weebly. (As I type this, three of these control buttons are shown on one line and the "full justification" icon is below it. That made me wonder, at first, whether WordPress deliberately refused to support full justification. No, they just placed the buttons rather oddly). Notice that the text interrupted by a picture is fully justified within its narrower space.
Most of this article is left-justified, which is the default. While editing this post, I selected all the words in this section (from "When you edit a WordPress…" through "…typesetting details"). Then I clicked the full justification button, which has the bars running across the full width of the icon. After doing so, this section has the full justify feature. It's just an HTML tag, marking the selected text so your computer's browser will work out the typesetting details.
This paragraph was not given the full justification treatment. It should have a ragged right margin. At this point, I'm beginning to wonder whether this DeHaan Services site would look better with full justification rather than the default left justification. What do you think? Send an e-mail or discuss it in Facebook, Google+ or Twitter.
Professional Writing by DeHaan Services
DeHaan Services writes web site or advertising copy for clients. Our skills are demonstrated in online articles in Decoded Science, and Decoded Pregnancy. That's why we highlight these online articles on this blog page.
To only see our Toronto events (for things to do in Toronto) or fitness articles, please click on the appropriate category in the "Categories" section at the bottom of the right-hand margin.
Thank you for reading about how to justify text in Weebly and also in WordPress.