The 2013 Spring Beaches Arts and Crafts Show in Toronto showcases handmade art from 150 Canadian artists and designers. These artisans have been approved by a juried selection process; these "best-in-breed" artists exemplify quality.
(Updated June 10, 2014): The Beaches Arts and Crafts Show returns to Kew Gardens in Spring 2014 on the weekend of June 14-15. The link further down the page to their official site still works.
This annual Toronto event supports Neighbourhood Link, a non-profit service agency whose mission statement is "to promote the independence and dignity of people within their own community".
Where is the Toronto Beaches Arts and Crafts Show?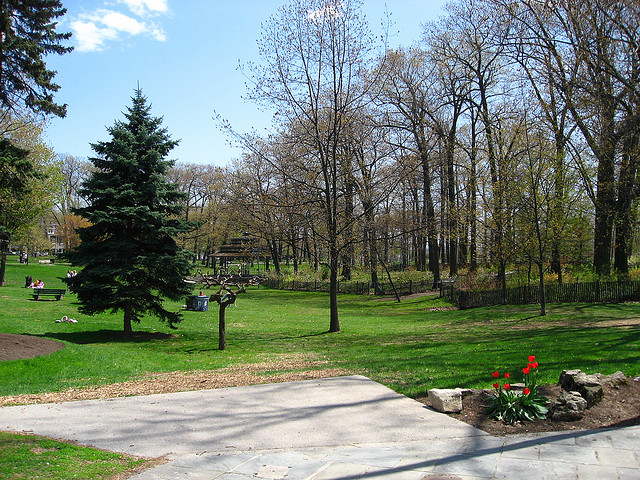 You will find the Toronto Beaches Arts and Crafts Show in Kew Gardens on Queen Street East at Lee Avenue, between Woodbine and Main.
The Best Routes to Kew Gardens
Take the TTC's 501 Queen streetcar, perhaps transferring from the 92 Woodbine South bus.
Or bicycle east along the Martin Goodman Trail, past the elevated swimming pool and then the tennis courts at the foot of Kew Gardens.
Parking is at a premium, so I almost never drive anywhere into Toronto's Beach neighbourhood unless I'm packing a big load.
When is the Toronto Beaches Arts and Crafts Show?
The 2013 Toronto Beaches Arts and Crafts Show is open on Saturday June 8 and Sunday June 9, from 10am to 6pm on both days.
What does the Toronto Beaches Arts and Crafts Show Offer?
The show's mainstay is probably in the visual arts. Fashion is another key offering; other artisans offer ceramics and glassware.
If you haven't been there but have any interest in handmade art, it's a must-see event.
What does the Toronto Beaches Arts and Crafts Show Cost?
Admission is free; come and browse the booths and simply admire their work.
Each artist does intend to make sales, of course; so you may need to spend some money at your own discretion to make your home a bit brighter, or to acquire a fashion accessory. That's up to you.
The official Beaches Arts and Crafts Show site mentions gourmet food, although the nearby stretch of Queen Street certainly boasts a dense population of restaurants and a few pubs.
Are there Other Toronto Events on June 8-9, 2013?
Yes. I've also written about the "2013 Muhtadi Drumming Festival at Woodbine Park in Toronto". Note that Woodbine Park is conveniently located just south of Queen Street East, with Coxwell Ave. as its western border.
The Muhtadi Drumming Festival is yet another free Toronto event, so you can stretch your budget and enjoy two festivals on one weekend.
Woofstock shares this same weekend but is further west, if you prefer dogs to arts and crafts. (Updated June 10, 2014: Woofstock 2014 has already taken place, out east in Woodbine Park).
The weekend is so busy that "8 Fun or Charity Fitness Events in Toronto on June 9, 2013" barely covers the other street festivals and charity fund-raisers.
Looking for More Annual Events or a Holiday in Toronto?
You can find more annual events for your vacation in Toronto; or for local residents wanting things to do in Toronto on almost any weekend in the year.
Ideas for a Toronto Vacation or Staycation
Check the "annual events" or "Toronto events" categories toward the end of the left-hand menu. I especially like to cover summer attractions and special events in Toronto.
CityPASS offers discount tickets to Toronto attractions, including Metro Toronto Zoo coupons. You buy the voucher online, print it and take it to your first destination; let's say it's the zoo. They give you the coupon booklet but remove the Metro Toronto Zoo discount tickets. Visit the next four attractions, where helpful staff relieve your booklet of tickets but leave you with the rest of the information. You save over $40 by spending about $70. The voucher is good for almost two years, but you have to use all the discount admission tickets within nine days. This is terrific for tourists looking for multiple things to do in Toronto, or for a hometown stay-cation: use discount tickets to Casa Loma, the CN Tower, the Metro Toronto Zoo, the Ontario Science Centre and the Royal Ontario Museum in a nine day adventure. That's five things to do in Toronto, and at a bargain price thanks to the discount coupons.
Disclaimer: DeHaan Services has no relationship to the organizer(s); I am not reimbursed for writing this article. However, DeHaan Services does write web site or advertising copy for clients. Our skills are demonstrated in online articles in Decoded Science, Decoded Pregnancy and other sites. That's why DeHaan Services highlights these online articles on this site.
Thanks for reading about the 2013 Toronto Spring Beaches Arts and Crafts Show.