The first online magazine spin-off from Decoded Science has spun. Decoded Pregnancy offers advice and support from a variety of reliable authors with expertise in their areas.
So am I qualified to contribute "What Eye Color Will My Baby Have? Math For Pregnancy Prediction" there?
The Math for a Baby Eye Color Predictor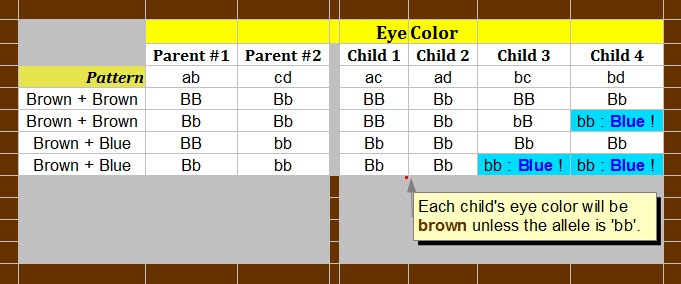 Any "baby eye color predictor" should be based on the parent's genetic makeup.
After some months, baby eye colour is largely based on a pair of alleles (or half of a gene).
If you know the parents' genetics, you'd be able to find the pattern in this chart.
It's simple math…that I can actually do very well, thank you…to compute the probability of blue eyes or brown eyes after that.
So, I'm not an expert on pregnancy; but my article is more about the math, with only a bit of genetics with which to calculate.
It's fun to speculate about your baby: use an online "Chinese baby gender predictor" or a baby height prediction site; but my article discusses the math and science for predicting baby eye colour.
Canadian Notes about Pregnancy
Canadian women looking for non-medical support from a trained professional, whether during pregnancy and delivery or for the post-natal period, should investigate Doula services. Becky Webb's "Hiring a Doula: Benefits of Dedicated Birth Support" is an excellent introduction to what a doula does. You should do further research into "Toronto doula" or the "Calgary doula association", or even "What is a Doula"?
On the other hand, this can be a rewarding career for women who want to "mother the new mother", as Doula CARE ("Canadian Association Registry and Education) says.
From a writing standpoint, I admit to using "color" rather than "colour" in that article, since Decoded Pregnancy is hosted in, and largely aimed at, the USA's pregnant women.
Keep a Pregnancy Journal
It's easy for your insights gained during pregnancy to slip away once the bustle of motherhood takes over.
Amazon's "Sacred Pregnancy: A Loving Guide and Journal for Expectant Moms" is the highest-rated Kindle journal in its class. Compare your journey to author Anni Daulter's views of a woman's personal development during this time.
A slightly older book with a great rating is "The Pregnancy Journal, 3rd Edition"  by A. Christine Harris.
Professional Writing by DeHaan Services
DeHaan Services writes web site or advertising copy for clients. Our skills are demonstrated in online articles in Decoded Science and Decoded Pregnancy. That's why we highlight these online articles on this blog page.
To only see our Toronto events (for things to do in Toronto) or fitness articles, please click on the appropriate category in the "Categories" section at the bottom of the right-hand margin.
Thank you for reading about predicting baby eye colour during pregnancy.
Disclaimer: The information contained in this article is for educational purposes only and should not be used for diagnosis or to guide treatment without the opinion of a health professional. Any reader who is concerned about his or her health should contact a doctor for advice.