Today I wrote "How to Add Custom HTML Code to your Weebly Free Website" in response to a reader's question.
That was a reasonable place to ask the question, since I use Weebly to host that blog as a free website.
Why Use Weebly as a Free Web Site?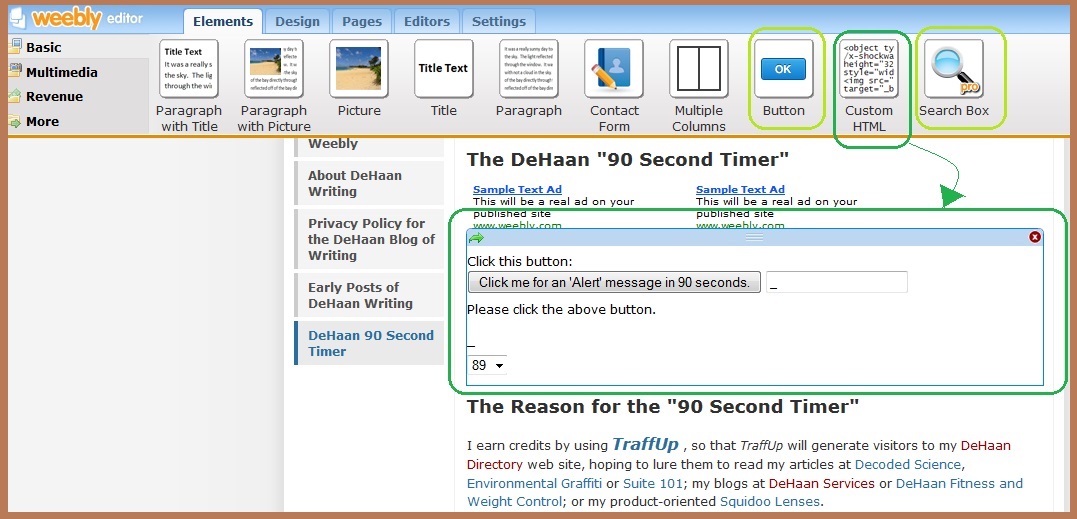 Besides offering a website for free, the Weebly platform allows custom HTML code and monetization for their users.
This is important if you want the chance to scrape every penny from your online blogs.
By contrast, a free web site hosted by WordPress is not allowed to add monetization or very much in the way of custom HTML code. You can indeed switch from the visual WYSIWYG (What You See Is What You Get) editor to the "text" or "HTML" editor; but I'm not convinced you can add absolutely any HTML code at that point. The WordPress host can still drop any code it doesn't like, once you've saved the page or post. You might have a little access to the header or footer, but probably not enough to do what you want.
In general: if you know how to code HTML and Javascript, you can add special effects or features that might not otherwise be possible without custom HTML.
How to Add Custom HTML to a Paid WordPress Site
By contrast, because I pay for this DeHaan Services site, I have access to the HTML code editor under WordPress.
Once you've logged on as an administrator or editor, open the dashboard. Click "Appearance" in the left menu to find the next options. This is where you chose a WordPress theme for your blog.
Click the "Editor" selection. You now see the CSS (Cascading Style Sheet) where you can modify the XML (eXtensible Mark-up Language). In the right margin are other HTML names, such as "header" or "footer". Click on one of those to find yet more HTML (HyperText Mark-up Language) code.
This allows you to add custom HTML code so you can change the theme or add functions like monetization.
On the other hand, there are many free WordPress plugins, as well as plugins for sale. Probably you should get one that does the job you want to accomplish, and follow their directions for adding it to your paid WordPress site.
Since I'm not going to teach you to how to code HTML, CSS or Javascript, that's the end of this discussion.
I once changed a line of code and caused my site to fail, including the logon page and the dashboard. The nice folks who host the site had to load the default theme.
Custom HTML Code for an E-Commerce WebSite
When you're ready to build your own e-commerce web site, check what Big Commerce offers. Their packages let you create your online retail presence quickly, manage your store. They even give you a half-hour appointment with their experts so you can be up and running fast.
You could hire someone to write custom HTML code, plus Javascript, to install your shopping cart and Pay Pal payment widgets. But check Big Commerce's prices first and see whether you should start your online buisness quicker and cheaper with their solutions.
Free Website Creation and Hosting
You can blog contentedly using free website creation and hosting from any number of providers. I have:
The DeHaan Directory hosted by WordPress:

no

custom HTML code and extremely little chance of earning a penny.
My Fitness… blog is hosted by Blogspot, aka Blogger, aka Google. They permit some HTML code so it is monetized.
I have some pages at Wizzley; I don't remember trying any customization, but they support monetization through advertising. If you join them, please use my Wizzley referral. Thanks.
The Second Screen Capture for Custom HTML Code on a Free Website from Weebly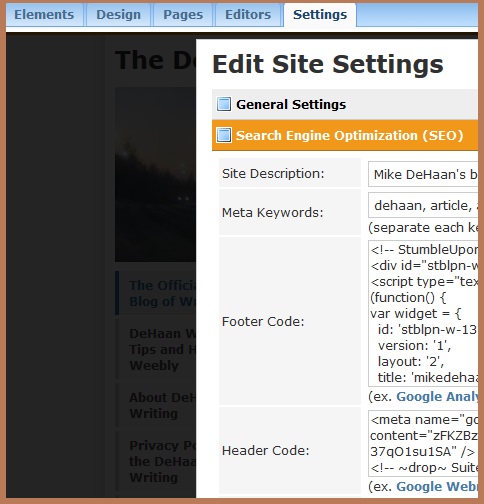 One of the disadvantages of the Weebly platform as a free website is that it has a very narrow column for the blog post. Images are pretty small by default and cannot expand as needed.
So I promised my Weebly readers that I would show off the screen capture pictures here also.
Professional Writing by DeHaan Services
DeHaan Services writes web site or advertising copy for clients. Our skills are demonstrated in online articles in Decoded Science and other web sites. That's why we highlight these online articles on this blog page.
To only see our Toronto events (for things to do in Toronto) or fitness articles, please click on the appropriate category in the "Categories" section at the bottom of the right-hand margin.
Thank you for reading about why and how to add custom HTML code to a free website.