Math teachers can involve their students in a variety of mathematics activities for Pi Day in March; and parents can easily use these fun activities during March Break.
Celebrate the mathematicians' favourite day by adapting the Buffon Needle Drop experiment.
(Updated Feb. 24, 2013): my second Decoded Science article on Pi Day 2013 is "One Circular Math Activity for Pi Day".
(Updated March 13, 2013): my third and final article for 2013 Pi Day 2013 article is "Roll Out the Simplest Mathematics Activity for Pi Day".
(Updated March 14, 2013): Here are two gratuitious online comic references for Pi Day:
In Ryan North's Dinosaur Comics, on Pi Day 2007, T-Rex redefined failure based on Pi Approximation Day.
Today, Strange Quark Comic returned to Pi Day 1593 to ruin Pi Day throughout the rest of history.
What is the Buffon Needle Drop?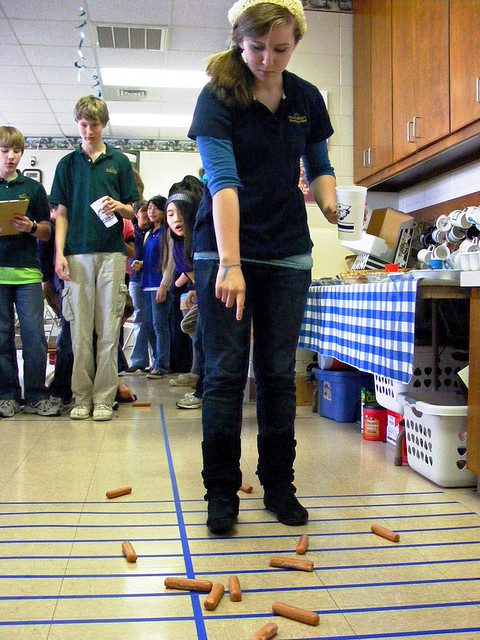 The Buffon Needle Drop estimates the value of pi (π) using the probability that a dropped needle will either land between or across parallel lines that are a specific distance apart.
The good news is that you can drop almost  any thin but tough objects of uniform length, rather than needles. I'd recommend unsharpened pencils, but the picture shows students tossing frozen hot dogs.
How to Do the Buffon Needle Drop Experiment
Read my "The Buffon Needle Drop: a Math Activity for Pi Day" for the theory, the materials and the method to recreate the Compte de Buffon's needle-spinning experiment in the math of probability, statistics and a touch of trigonometry.
Math teachers will appreciate that all students can participate in a variety of ways. Measuring and building the grid of parallel lines is an additional learning opportunity for more "mechanical" skills. Whether students crunch their numbers on paper or with calculators is an additional choice. Everyone can spin a few "needles" onto the grid.
Since this is a statistical experiment, students could be divided into teams. One team might "win" by coming closest to the value of pi, but will cooperation (by pooling all the tests) lead to an even better approximation?
Could Math Tutors Drop Buffon's Needle?
Math tutors might not have the time to run the full Buffon experiment.
If you prepare the grid and worksheet ahead of time, you can show the student how the length of the "needle" compares to the grid. Then  the student could spin and drop the "needle" quite a few times, and perform the calculations. Dropping the needle is probably the most memorable part of the lesson; it also demonstrates that no trickery is involved on the part of the math tutors!
When is Pi Day? What is Pi Day?
Pi Day is commemorated annually on March 14.
As noted, Pi Day is a celebration of the mathematical constant, pi. It also has become a showcase for very bad puns.
Other Pi Day customs include:
Eating a Pi Day pie, preferably a "pi-zza pie".
Wearing a "pi t shirt".
Order your "Pi Day Shirts" now!
Does Canada Celebrate Pi Day?
Although this site often promotes annual events in this city, I couldn't find anything related to 2013 Pi Day in Toronto.
The only Canadian Pi Day celebration in 2013 that I found is at Vanier College at 821 Avenue Sainte Croix in Montreal, Quebec. See "Pi-reciting and Pie-eating contests: Celebrating Pi Day at Vanier College in Quebec" for full details.
If you find a link or can let me know about Pi Day in Canada, please leave a comment here (just solve the Captcha); friend me on Facebook (mention "pi" in your note to me) or go old-school with an e-mail. My contact information is in the right-hand column. Thanks!
(Updated March 14, 2013): The paper edition of the Toronto Star scooped me today. In "Thursday = Pi Day", Carys Mills reported that both Ryerson University in Toronto and the University of Toronto present some Pi Day amusements on campus. As well, the Creative Technologists of Toronto will combine computers and pies at The Handlebar at the Kensington Market district at 9pm. Unfortunately, the Star did not give location details for the on-campus Pi Day events; but the traditional time for most Pi Day events is 1:59pm. (From "3.14159…", of course).
Professional Writing by DeHaan Services
DeHaan Services writes web site or advertising copy for clients. Our skills are demonstrated in online articles in Decoded Science and other online sites. That's why we highlight these online articles on this blog page.
As always, my Blog of Writing adds a writing tip in publicity articles such as the painfully rhetorical "Can the Buffon Needle Drop Estimate the Value of Pi?".
To only see our Toronto events or fitness articles, please click on the appropriate category in the "Categories" section at the bottom of the right-hand margin.
Thank you for reading the Buffon Needle Drop article; hopefully it will help you set up an interesting math activity to approximate the value of pi.