More accurately, in 2004 the NRA ILA published a long list of "Anti-Gun Lobbying Organizations" that included MCC, a Mennonite relief and development agency.
Who are these groups; what was the issue; and how did MCC staff react? I'd written about this for a now-defunct online site, in "Why did the NRA Take Aim at Mennonite Central Committee?".
The Bible versus Online Lists or Assault Rifles?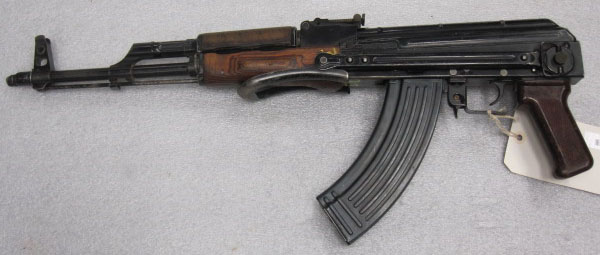 Although the National Rifle Association 's Institute for Legislative Action (NRA ILA) advocates the purchase and use of firearms by law-abiding Americans, their weapon of choice in 2004 was an extensive list of organizations that lobbied for gun control.
Mennonite Central Committee (MCC) was on that list. They support famine relief and sustainable development in the third world, as well as peace and justice in developed nations.
My article follows the short, slender thread connecting MCC to another organization with whom the NRA may have had an understandable difference of opinion.
The Mennonite Church bases pacifism on Jesus' Sermon on the Mount, found in the Bible in Matthew 5-7. MCC's concern seems to focus on preventing gun violence rather than on advocating gun control. Read it for yourself and come to your own conclusions: if the Roman Empire had had rifles instead of swords, would the Bible have opposed gun violence?
(Amazon sells over 300,000 different Bibles, so narrow your search by Bible version or format. For example, in the Kindle e-book format, the NIV (New International Version) of the Bible, published by Zondervan is much less expensive than their genuine leather bound NIV "Quest" Study Bible).
One MCC staffer quoted another Bible verse. Paul's "Letter to the Romans" contrasts the "law of sin and death" with "life in Christ". You might guess that person's view on whether illegal weapons and gun violence belongs with Jesus Christ or with "sin and death".
Does MCC actually lobby for gun control in the United States? Why might they expect the NRA to support a campaign against gun violence? My article briefly explains these issues.
A Canadian Mennonite's Perspective on Gun Control and Firearms Registration
From my perspective as a Canadian Mennonite, gun control in the form of licensing and registration is very similar to licenses and registration for driving motor vehicles. Driving a car in public should mean taking responsibility for a task that involves public safety and demonstrable skills. Buying or selling your car involves registration and safety certification, even in transactions between private individuals.
It seems strange that an American "gun fair" can bypass legislation that applies to brick-and-mortar arms retailers. At least, that's my impression of how the USA deals with firearms control.
It was equally strange that we Canadians would drop the most stringent registration requirements for non-restricted firearms, as summarized in "Changes to the Canadian Firearms Program". Surely it's more important to minimize the risk to innocent bystanders than to maximize the convenience for gun owners to buy and sell firearms with minimized gun control laws.
The usual call to protect the Canadian taxpayer from excessively costly gun control rules is perhaps equalled by the need to minimize health care, policing and judicial costs that follow a shooting rampage. Perhaps the Canadian chiefs of police who wanted to keep the gun registry should have posted a list online, much as the NRA did in the United States.
Professional Writing by DeHaan Services
DeHaan Services writes web site or advertising copy for clients. Our skills are demonstrated in online articles in Decoded Science and other online sites. That's why we highlight these online articles on this blog page.
For one example, I'd covered gun control from a math perspective after the Sandy Hook massacre, in "Could Firearms Statistics Support Gun Control after Newtown"? As always, there's a disarming writing tip in my Blog of Writing: see "NRA Fights MCC with Lists, not Rifles".
To only see our Toronto events or fitness articles, please click on the appropriate category in the "Categories" section at the bottom of the right-hand margin.
Is the NRA Removing a More Recent List of Anti-Gun Lobbyists? (Added Feb. 13, 2013)
I'd been puzzled by a reference to the Kansas City Chiefs in someone's comment about the NRA list. Late tonight, I've seen a few articles claiming that this page had been deleted from the NRA site, such as "NRA scrubs 'anti-gun' enemy list from website, but a version still exists".
Without proof, here is a screenshot of the page I cited in my article; it's from the NRA ILA, "Anti-Gun Lobbying Organizations".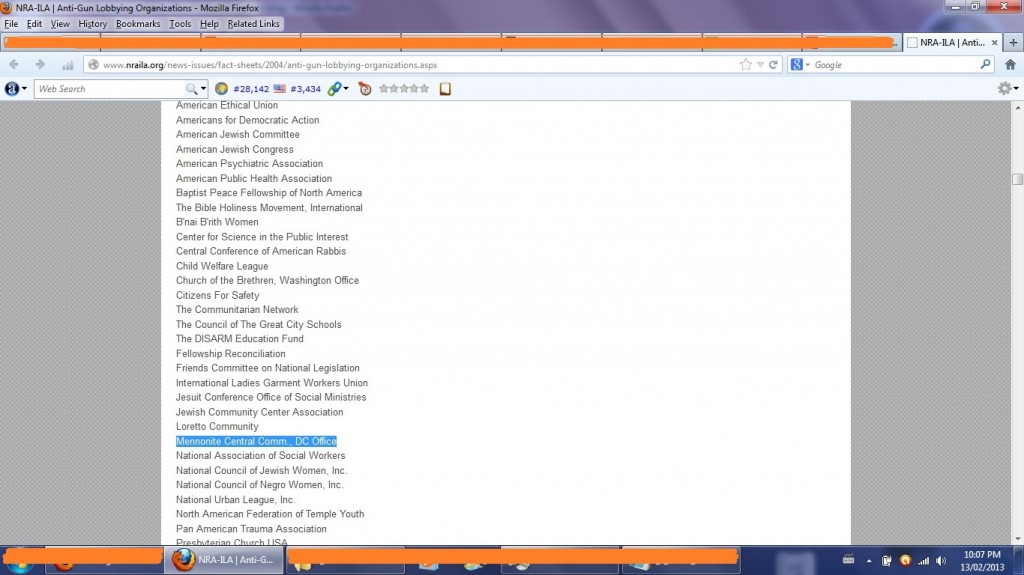 Thank you for reading about the online battle, or minor skirmish, between the NRA and Mennonite Central Committee over gun control.