Just over two years ago, I began several series of articles about different furniture styles. Since January starts a traditional season to hunt for furniture on sale, it's time to review what I've shared since then.
The Coat Rack is Always Popular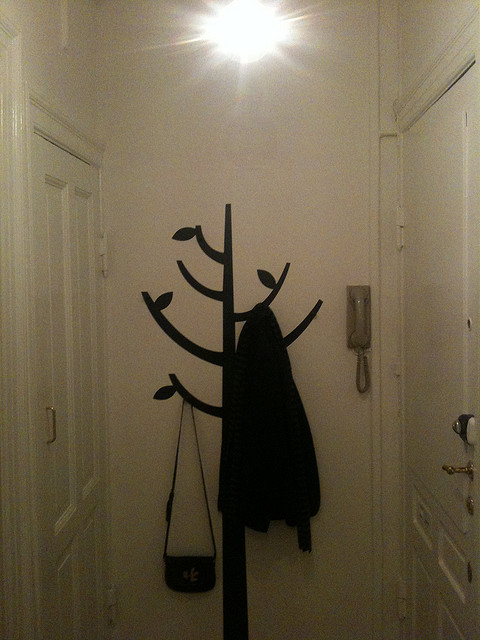 My article,  "Coat Rack Stands", had almost always been my most popular in a now-defunct web site.
It's easy to see why. A coat stand tree is both functional and decorative. It reflects your personal style, but you share it with guests. A stand alone coat rack takes up little room, and you can place it where it's needed or move it easily.
You need to hang coats, scarves, hats and bags somewhere; a coat rack performs this function.
As this picture of a coat stand tree shows, it fits neatly into a cubby space. The "leaf on branch" detail adds to the functionality but is a whimsical design touch. Some coat trees are even more decorative.
A stand alone coat rack can fit into tight nooks; you can move it to a new place easily and keep trying until it works for you.
A coat rack is also an easy way to break into buying online furniture. It's much lower cost than a couch or dining table. It's easy to put together from a kit. (And you know that buying from some brick-and-mortar retail stores will involve "some assembly" with an Allen wrench…after a day spent in the maze).
By the way: some coat racks also function as umbrella stands. Just look for a hoop around the base of the coat stand tree.
Two Coat Rack Stands in January 2013
Just before I began this article, I checked two Amazon sites to select a "popular" and "low cost" coat stand tree.
For Canadians, I'd recommend the "Powell Furniture Heirloom Cherry Twist Standing Coat Rack" because it meets both those criteria. Besides the low price and popularity, cherry wood is very appealing.
In the USA, the "Coat Rack Stand, in Sandy Black Metal Spiral Design" goes against my usual preference for wood furniture. However, it is really inexpensive; it ranks high in their "new and popular" group; and it looks quite stunning for the price.
Religious Styles of Furniture
I'd originally begun to research furniture styles while writing articles about Mennonites and the Amish for another defunct web site. The Amish and Mennonites mainly make wood furniture, rather than metal or plastic.
What's really amazing is that the Amish workplace typically is "off the grid", so they emphasize handcraft and skill. The furniture is often sold in "Amish furniture stores" run by non-Amish retailers, who handle the logistics of trucking and telephone communications.
An almost-extinct group, the Shakers, also made amazingly good, simple furniture. The Shaker furniture style lives on, however, and is often expertly emulated by Amish furniture makers. I'm very impressed by the Shaker commitment to combining simple design with functionality. Wooden Shaker chairs, for example, tend to be light in weight but durable.
Catholic missionaries to California and Mexico developed "Mission Furniture and the Mission Style". In some ways the Mission style blended the memory of European craftsmanship with the reality that the early missionaries couldn't attempt elaborate furniture designs.
Do the Amish resist selling furniture online? Or had I simply not followed up? That's a web search to consider.
Three Final Home Furniture Lenses
Besides working with these styles of home furniture, I also explored a few related topics.
At the time, Amazon's most popular furniture manufacturer was "Winsome Wood Furniture". I still think it may be worthwhile to explore one manufacturer's line of products, especially if you are going to furnish a suite of rooms. For example, if you want a theme to tie together your dining furniture and living room furniture, why not source all the items from one furniture manufacturer?
I added "Casual Dining Chairs and Bar Stools" because the other articles often had examples of kitchen or bedroom furniture. This lens is most appropriate for furnishing a den or "man cave", although these casual dining chairs also work well in a breakfast nook.
I've avoided writing about business furniture, since I prefer researching home furniture. Also, each corporation will have its own guidelines for procuring office furniture. However "Wood Computer Desks" can suit either a home office work station or a simple personal computer stand. Again, this article reflects my preference for wood furniture.
Online Furniture versus Brick and Mortar Retail Outlets
Clearly I'm fine with online furniture shopping; but I admit that it's tough to select a comfortable chair without actually sitting in it. Some of you may enjoy visiting brick and mortar retail stores to "try before you buy" when you find a furniture sale.
While researching this article today, I found a surprising proposition from a brick and mortar retailer. LA Furniture makes an offer at the opposite end of the scale from online shopping.
LA Furniture may "reimburse you for a flight out to Los Angeles where we have our Flagship Store". You'd have to contact LA Furniture directly for the details on their "Locations" page. I can't vouch for this personally, but it's a bold counterstrike against an online furniture sale. I might even feel obliged to buy something from them for their generosity. If you do contact LA Furniture about this offer, be sure to ask about shipping costs.
Professional Writing by DeHaan Services
DeHaan Services writes web site or advertising copy for clients. Our skills are demonstrated in online articles in Decoded Science and other online sites. That's why we highlight these online articles on this blog page.
To only see our Toronto events or fitness articles, please click on the appropriate category in the "Categories" section at the bottom of the right-hand margin.
Thank you for reading these articles about different styles of (mainly) wood furniture.