About a year ago, I learned that there are two Toronto triathlon competitions; and that each has more than one event. I sorted it out in "To Untangle Two Toronto Triathlons in 2012".
Now it's time to remind triathletes to register for your 2013 races.
Two Toronto Triathlon Organizations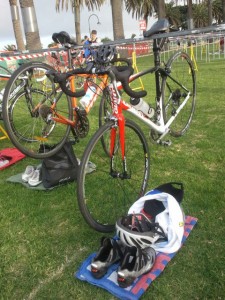 The simplest introduction to these triathlons is by month: July or August.
The
Toronto Triathlon Festival

of July 19-21, 2013

The 2013 Toronto Triathlon Festival, or TTF, takes the weekend of July 19-21, with Olympic distance and Sprint distance races, including relays.

The start zone is at Ontario Place, with the swim before transitioning to bicycle on the Gardiner Expressway and Don Valley Parkway. You then run parallel to the lake and finish in Coronation Park.

As you know, the Olympic distance has 1,500 metre swim, followed by a 40 Km bike and 10 Km run. The Sprint distance covers exactly half of each.

Interested triathletes should start with their official page, "Important 2013 TTF Registration Info". The "Registration" button is plain as the nose on Pinocchio's face, but I had to look awhile before seeing it at the far right of the top menu.

The Toronto Triathlon Festival opened registrations in December, so the clock is ticking.
Toronto Island Triathlon Weekend

: Tentatively August 24-25, 2013

As of Jan. 19, 2013, MultiSport Canada says that the dates for all their triathlon races are tentative. However, the Aug. 24-25 weekend is posted for the Toronto Island Triathlon Weekend.

The venue is the Toronto Islands; the ferry fare is included in your entry fee.

Saturday's race is "Give it a Tri", which covers a 400m swim, 10Km bike section, and 2.5Km run.

On Sunday, the Sprint Duathlon and Sprint Triathlon are contested.
Sprint Duathlon starts with a 5Km run, 20Km bicycle section and finishes with a 3.75Km run.
Sprint Triathlon covers exactly the same distances as the July Festival's Sprint distance: 750m swim; 20Km bike; 5Km run.
Their information is at "Toronto Island Triathlon Weekend".
Prepare Early for Two 2013 Triathlons in Toronto
Triathlon races truly test an athlete's fitness, and require both planning and mental focus during those events. It's exciting to see a healthy enthusiasm for triathlon in Toronto, to go with the many charity running events.
Travelling triathletes should scout ahead for repair and rental shops. Where can you get bicycle repairs in Toronto on a weekend?  Is there a triathlon wetsuit rental shop in Toronto? When are they open?
Online retailer Light in the Box includes bike accessories in their broad selection of discount-priced, quality goods.
Again the important differences between the two events include:
Dates: July

versus

August.
Distances: Olympic and Sprint

versus

Sprint and Give-it-a-Tri.
Venues: Ontario Place (connected by bridge to the mainland, a few kilometres west of the ferries)

versus

the Toronto Islands (only accessible by ferryboat. The Mythbusters demonstrated that riding a bicycle underwater is futile, in the "It is impossible to ride a bicycle under water" segment of a mini-myths episode).
Looking for More Annual Toronto Events?
Check the "annual events" or "Toronto events" categories toward the end of the left-hand menu for other fascinating, free or frugal annual events in Toronto.
Disclaimer: DeHaan Services has no relationship to the organizer(s); I am not reimbursed for writing this article. However, DeHaan Services does write web site or advertising copy for clients. Our skills are demonstrated in online articles in Decoded Science and other online sites. That's why DeHaan Services highlight these online articles on this blog page.