My latest DeHaan Fitness article, "Resolve to Lose Weight with More Sleep in the New Year", applies a pair of recent studies to recommend the simplest possible New Year resolutions that can promote healthy weight loss.
Sleep More for Less Weight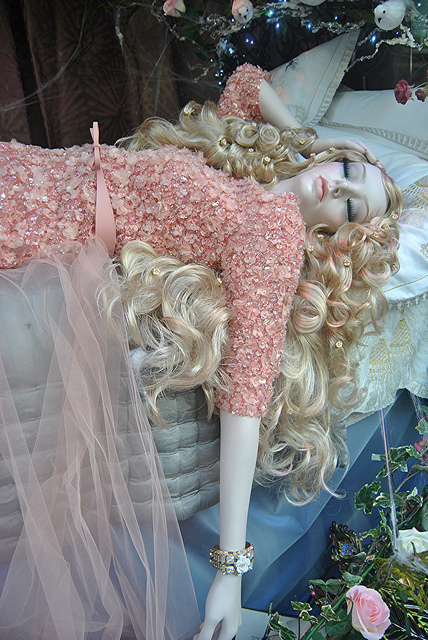 Two recent research studies found links between sleep patterns and weight control. One link is sleep deprivation and excessive appetite that cannot be satisfied properly. Another is that disruptions in sleep patterns may cause unwanted weight gain.
This image of "Sleeping Beauty by Elie Saab" might exaggerate the value of a beauty sleep. She didn't get nearly enough exercise to maintain her athletic fitness; but she wasn't over-eating, either.
By the way, I also researched "Elie Saab". Apparently Amazon carries some upscale Elie Saab women's fragrances for sale to Canadians and Americans; just search for "Elie Saab in perfume". The British can just shop at Harrods where they search directly for "Elie Saab perfume".
(Updated 2013-03-20): You can find other weight loss tips and fitness suggestions in my DeHaan Fitness and Weight Control site. In my view, the only successful fast weight loss programs must combine diet and exercise with your commitment to maintaining healthy habits even after the program is complete.
Publicity for my Weight Loss through Sleep Article
In my Blog of Writing, "Sleep, Weight Loss and New Year Resolutions" includes a restful writing tip.
Professional Writing by DeHaan Services
DeHaan Services writes web site content or advertising copy for clients. Our skills are demonstrated in online articles in Decoded Science and other online sites. That's why we highlight these online articles on this blog page.
To only see our Toronto events or fitness articles, please click on the appropriate category in the "Categories" section at the bottom of the left-hand margin. Remember that DeHaan Services also provides guidance in weight control and fitness, and offers a free initial consultation.
Thank you for reading why you should resolve to sleep more.