Surprisingly, the answer is "yes", at least according to one government agency. I wrote "Did the 'Canadian Mennonite' Become Political in 2012?" in response to a news item and problem facing this Christian denomination's news magazine. Unfortunately, the web site with that article is now defunct.
The 'Canadian Mennonite' News Magazine Makes the News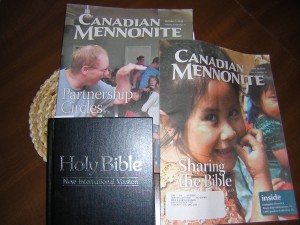 This paper magazine still thrives, however! The 'Canadian Mennonite' is a news periodical serving one of the largest Canadian Mennonite denominations.
A government agency sent them a warning about some of their content.
More details, and links for background and other news articles, were found in my article.
Promoting my Article about the Canadian Mennonite
My Blog of Writing promotes and informs, since "Preview of a 'Canadian Mennonite' Article" includes a Canadian Mennonite's writing tip.
Professional Writing by DeHaan Services
DeHaan Services writes content or advertising copy for clients. Our skills are demonstrated in online articles in Decoded Science, and other web sites.
To only see our Toronto events or fitness articles, please click on the appropriate category in the "Categories" section at the bottom of the left-hand margin.
Thank you for reading about my article proving that current events do indeed happen to Canadian Mennonites.