(Updated Nov. 1, 2013): You probably want to read "Commemorate Remembrance Day 2013 in the GTA" instead.
As I promised in yesterday's "Choose a 2012 Remembrance Day Ceremony in Toronto", today has a few Remembrance Day parades or ceremonies for people living in the GTA.
What is Remembrance Day?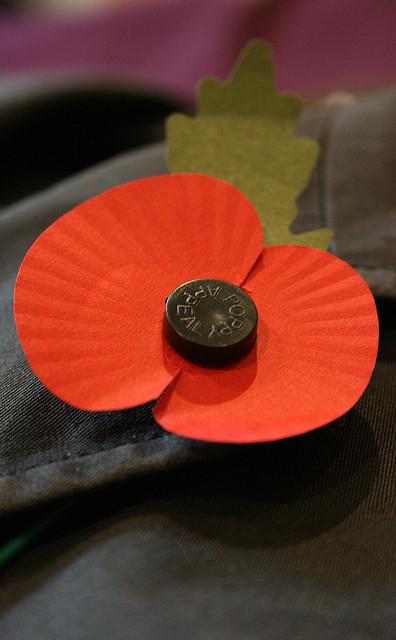 Remembrance Day, also known as "Veterans' Day", "Armistice Day" or even "Poppy Day", dedicates some time in the late morning of November 11th to remember especially those who served their country in wars. The fact that many soldiers and civilians die because of armed conflicts gives all the more reason to seek peaceful solutions. Yet, if countries do raise armies and send them to battle, the least we should do is take care of those who return injured, and the families of those who do not return at all.
The Royal Canadian Legion uses funds from the poppy appeal to support Canadian war veterans and their families. The annual tradition is to wear the Remembrance Day poppy from early November until the end of the ceremonies on Nov. 11.
This article covers civil ceremonies and parades. Many churches also hold special services on or just before Remembrance Day. Some prefer to recognize "Peace Sunday" for a message of hope for a better future, although the date may not coincide with Remembrance Day.
Remembrance Day Events in Oakville Ontario on Nov. 4 and Nov. 11, 2012
There will be two separate events to remember veterans in Oakville in October 2012.
On Nov. 4, 2012, marchers will assemble at around 10am at the Bronte hall of the Royal Canadian Legion at 79 Jones Street.
On Nov. 11, the Remembrance Day parade traditionally finishes in George's Square for an 11am service. I haven't found the starting time and parade route.
My sources for these events are the Oakville Fire Fighters' schedule and Inside Halton's "Bronte Legion's Remembrance Day service will be on Sunday".
Two Remembrance Events in Mississauga Ontario on Nov. 9 and 11, 2012
Mississauga will hold a "Remembrance Day Ceremony" in Celebration Square, 300 City Centre Drive, starting at 10:45am on Nov. 9, 2012.
At the same location, on Sunday Nov. 11, the live broadcast from Ottawa's national ceremony honouring veterans will be shown on monitors starting at 10am.
Two Remembrance Day Parades in Markham Ontario on Nov. 10 and 11, 2012
Markham holds two different parades to mark Remembrance Day 2012.
Two parades are scheduled in different areas of Markham.
The Nov. 10 parade in Markham starts near 7 Washington Street, at 10:30 from the Veterans' Hall. The parade will use Highway 7, along Washington, Centre and Jerman Streets.
Another parade will use Main Street, Unionville between Carlton Road and Fred Varley Drive from 10am to noon on Nov. 11, 2012. Wreaths will be laid at the cenotaph at the Crosby Arena at 210 Main Street and Carlton Road in Unionville at 10:30.
Information about these parades was gleaned from the "Council Agenda, Wed. Oct. 3, 2012" , "2012 Markham Remembrance Day Service & Parade" and "Unionville Remembrance Day Service".
Seeking Local Remembrance Day Services?
While I confined myself to Internet searches, the most likely source of information for local 2012 Remembrance Day services include your community newspapers or local-interest radio stations.
I'm sure that these are only a few of many Remembrance Day services in the Greater Toronto Area, but it should be a starting point for you to find a Remembrance Day 2012 event in your municipality.
Looking for More Annual Toronto Events?
Check the "annual events" or "Toronto events" categories toward the end of the left-hand menu.
Disclaimer: DeHaan Services has no relationship to the organizer(s); I am not reimbursed for writing this article. However, DeHaan Services does write web site or advertising copy for clients. Our skills are demonstrated in online articles in Decoded Science, and other web sites. That's why DeHaan Services highlight these online articles on this blog page.