By now most Toronto residents should know that the Scotiabank Toronto Waterfront Marathon runs on the Sunday after Canadian Thanksgiving Monday.
Some special events will mark "2012 Marathon Week in Toronto" [PDF], as proclaimed by Toronto Mayor Rob Ford.
The Marathon Torch at Alexander the Great Parkette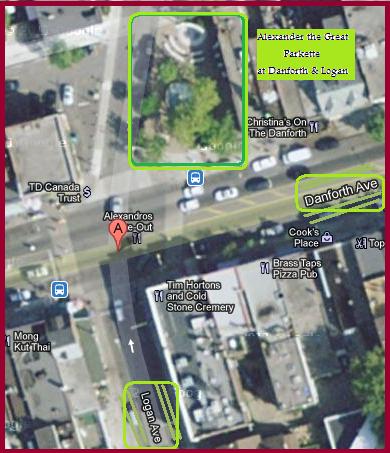 On Thursday Oct. 11 from 6:30-8pm, the flame of Marathon will ignite Toronto's spirit, values and ideals for the 2012 Scotiabank Toronto Waterfront Marathon.
Alexander the Great Parkette in Toronto is the venue; the torch-lighting ceremony begins at 6:30pm and should end by 8pm.
The mayor of Marathon, Greece, is expected to head the delegation.
Local restaurants at Danforth and Logan Avenues should be ready to serve anyone's appetite for supper, after the Greek dancing and music whets our enthusiasm for the marathon run.
Two Mature Runners for Marathon and 5Km
I have a soft spot for Ed Whitlock and Fauja Singh, who will grace the 2012 Waterfront Marathon with their speedy presence in the men's masters category.
Whitlock, a Canadian living in Milton, Ontario, is the prohibitive favourite in the "men aged 80-84" range for the marathon distance.
Singh, a resident of London England but originally from India, is taking it easy in 2012 with a mere 5Km race. Last year, he set age-specific records for a number of distances during Toronto Marathon Week. Of course, a year ago, he was a mere stripling at age 100.
There's more detail about last year's Scotiabank Toronto Waterfront Marathon, and especially about Singh and Whitlock in my "Triumph and Tragedy at the 2011 Scotiabank Toronto Waterfront Marathon".
Also, "Seniors Running for Fitness and Glory in Toronto Marathon" moves from recognizing Whitlock and Singh's capabilities to consider the importance of exercise for seniors of various abilities. My DeHaan Fitness site can't miss the chance to comment on exercise for seniors, especially when featuring two such awesome athletes.
The Scotiabank Toronto Waterfront Marathon is one of the most remarkable autumn Toronto events, with its huge number of participants, volunteers, and innocent bystanders.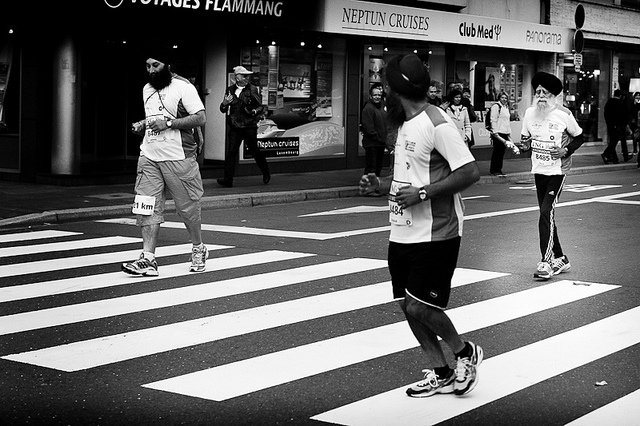 Cheering Stations and Road Closures for the Scotiabank Toronto Waterfront Marathon in 2012
Yes, some roads will be closed on Sunday Oct. 14, 2012 for the Scotiabank Toronto Waterfront Marathon.
Please see the official site for road closure details [PDF].
By now drivers should have noticed the rather appropriate-for-Hallowe'en "road closure" signs, with black lettering on their festive orange background. It's only a few hours on Sunday, folks; please give the runners their due for their effort, pain and fund-raising for charities.
May I suggest watching the marathon at one of the official community cheering stations. Help a non-profit organization in your neighbourhood win the "Community Challenge" in 2012.
My suggestions for spectators are for three locations:
The start line is on University Avenue at Armoury, with the runners heading north. Pick a spot around Gerrard Street to see the thousands of eager, fresh athletes. Just don't expect to cross University for quite some time; it will be a seething mass of highly-motivated humanity.
The western turnaround point is along Lakeshore Blvd West, just west of Parkside Drive. The cheering station should make it fun. This is the one-quarter mark for the marathon, so even the half-marathon runners should still be pretty fresh.
The half-marathon turns north from Lakeshore Blvd onto Bay Street, while the rest continue east. The half-marathon has about 1300m left before the finish, so those athletes will either be ready for the final sprint or feeling exhausted.
Kew Gardens, on Queen Street East, hosts another cheering station. It would be a great spot if you bicycle along the Martin Goodman Trail; but forget about transit or driving to reach it. Watch for the west-bound runners who have about 8.5Km left to go; they can see downtown Toronto in the distance, but it's so incredibly far away. This stretch of Queen Street East, through Eastern Avenue, will be the place to witness inspirational determination despite fatigue and pain.
Runners passing the cheering station at Church and Front Streets get their final pick-me-up from the entertainment, and also from knowing they are within about 1200m of the finish line.
The Scotiabank Toronto Waterfront Marathon truly is an annual autumn Toronto event worth watching from whatever vantage point you can find.
Looking for More Annual Toronto Events?
Check the "annual events" or "Toronto events" categories toward the end of the left-hand menu.
Disclaimer: DeHaan Services has no relationship to the organizer(s); I am not reimbursed for writing this article. However, DeHaan Services does write web site or advertising copy for clients. Our skills are demonstrated in online articles in Decoded Science, and other web sites. That's why DeHaan Services highlight these online articles on this blog page.